In the last two years we've looked at hundreds of RVs, from travel trailers to 5th wheels to Class As. We considered them all. After all that looking, why did we settle on the Heartland Bighorn 3875FB?
The idea of RV living is one that Julie has had on her mind for years. Before she met Brandon, she figured she'd set off in something small but reasonably sized (sorry, just can't handle the shower/toilet combo) – she was thinking a Class C or maybe a small Class A.
As she was considering traveling solo, her biggest concern was security and she really liked the idea of being able to transfer from the driving space to the living space without exiting the rig.
Of course, as things tend to do, the decision got complicated when she met Brandon and he so easily jumped on board the idea of tiny mobile living. His inclination was towards a 5th wheel. He'd pulled trailers and felt 5th wheels were easier to two than pull-behind trailers. And, he really liked the idea of knowing that if something broke on the tow vehicle we'd still have our house (and vice versa). Of course, neither of us knew there was such a thing as a mobile RV repair specialist.
After visiting the local RV lots and walking through some of everything, Brandon had Julie convinced that a 5th wheel was the route to go. Overall, it seemed that 5th wheels had more room. And, while it would just be the two of us and a cat, we both needed space to work.
We both leaned towards the idea of getting a toy hauler and using that space as our mobile office. It would give plenty of room to work and to live, separating our home and office. We really loved the Grand Design Momentum toy hauler, and for almost a year we were pretty convinced that was the way we would go.
That was until we attended Workamper Rendezvous and did the RV Home Tour. Seeing just how much room some of the Class As have and also seeing how people were actually using that space made us think that a Class A might work.
When we finally sold Julie's house and got serious about looking, we kept our options open. When it came down to it, the best RV for us was the one that would get us on the road the soonest. We looked at a bit of everything and once again when we walked into a Class A we really saw that we could make the space work.
To get us used to living and working in a small combined space, we moved the loveseat into the office we were already sharing and converted it into an office/living room combo. It worked. The space felt right and after we really felt like a Class A was the way we wanted to go, so that's where we focused our search.
Until, we came to the conclusion that we just couldn't afford the Class A we wanted. We weren't ready to do another renovation after spending months getting Julie's house ready to sell. That combined with being set on a diesel-pusher just pushed Class As out of our price range.
Back to the drawing board!
Our focus returned to the original plan of a 5th wheel. Initially, we were still thinking that a toy hauler or a bunkhouse model was the way we would go. But, as we thought about how comfortable we'd become with living and working together in the same small space, we realized we really didn't need a separate office space. This opened the door for us to expand our search.
We began again, walking through the local RV lots, touring 5th wheel after 5th wheel.

At first, Brandon really didn't love the rear living floorplans. He'd even vetoed them at one point, until Julie pointed out that he'd just vetoed like 80% of the 5th wheels that exist. We wanted to be able to enjoy watching TV and playing video games together, which meant that we wanted the TV directly across from the loveseat, so that also vetoed a lot of floorplans.

Since we both needed desk space, the ideal setup seemed to involve a floorplan with a loveseat and two couches (with both couches being removed for deskspace). We briefly considered the front living layout until we realized that the couches are on risers and it wouldn't work to remove them and put in desks in those areas. (That was OK with Julie as she was never a fan of the front living rooms – they are just too big).

As we thought about it more, we realized we didn't really need the dinette and likely wouldn't use it (we are eat on the couch kind of people). With that in mind, we just needed to remove one couch.
Our search got narrower and narrower.
Then we walked into a Montana 3931FB and fell in love with the large spacious front bathroom. Additionally, the kitchen was fairly large with lots of pantry storage.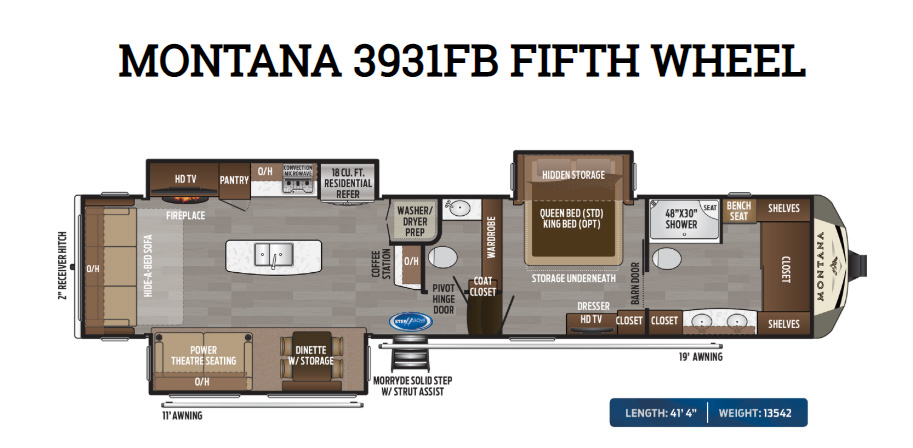 Sure, we'd seen front bath floorplans previously in our search, but at the time we were so stuck on needing a separate office space that we never really considered them an option. However, now that we we had decided we wanted to merge the living and workspace, we were able to really consider this floorplan.
The next question was could we find one used in our price range? So, we headed back home and began the search.
Front Bath Floorplans
Of course, Montana isn't the only one to make a front bath floorplan. So, while our initial focus was on the Montana model, we also checked to see what similar models were out there and made a list of our top choices:
Montana 3931 FB
Montana 3930 FB
Montana 3921 FB
Montana 3920 FB
Heartland Bighorn 3875 FB
Heartland Bighorn 3950 FB
Heartland Bighorn 3870 FB
Heartland Bighorn 3871 FBO (replaces the half bath with a small office space)
Grand Design Solitude 373 FB
Grand Design Solitude 372 WB
Redwood 3901 MB (and WB)
Vanleigh Beacon 39FBB

In the end, the only ones we were able to find in our price range were the Montana and the Heartland. We were looking at 2015 and 2016 models in order to stay in that price range.
What we love about the Heartland Bighorn 3875 FB
In the end, we obviously chose the Heartland 3875FB, even though we'd never seen one personally until we drove 800 miles and walked through ours before signing the paperwork.
We had to make our decision based simply off the floorplan differences. There were a few things that made us lean towards the Bighorn 3875FB over the Montana with the similar floorplan.
A few of the differences in the floorplans were
Montana vs Heartland
Two bathroom sinks vs one
toilet placement
laundry hookup location
Bighorn 3875FB

Montana 3921
We really didn't feel we needed two sinks in the master bath. We were already used to sharing one sink in our current house. We felt that having the toilet right next to the felt unnecessarily crowded. So, even though we'd be giving up some bathroom closet space, we felt it was worth it.
We didn't really give much though to whether the laundry was in the bathroom or the kitchen. Mainly, because we didn't expect to find a unit that already had a washer. While we both agreed it would be nice if it did, it wasn't a prerequisite and it wasn't high on our priority list of things to add to the rig.
That said, one of the upsides of buying used is sometimes you get some really nice upgrades you weren't expecting.
The unit we ended up buying does have a washing machine, and we've really appreciated that. Having it, we'll say that we'd rather have it in the front bath than in the kitchen. Our laundry is already in that bathroom, so it wouldn't make sense to lug it to the kitchen.
Another bonus feature we weren't expecting in the Heartland Bighorn 3875 is the pull-out desk in the living room. Between the TV and the fireplace is a section that pulls out creating a great little workspace. Julie has taken that area as her workspace, and when she needs a second monitor she can just hook directly into the television.
Brandon decided that the dinette area is plenty of room for his desk, so we no longer feel the need to remove a couch to make the space work well for us.
So, that's why we chose our Heartland Bighorn 3875FB. In the end, price did play a factor as well. While we couldn't find either model closer than 500 miles away, the particular unit we bought was priced almost 10k less than most of the other units we came across.
We're definitely happy with our choice so far, although we do wish we saw more Bighorns on the road. Sometimes we feel like the blacksheep as the only Bighorn (or even only Heartland) in the park.