We've not yet had to sell an RV. However, from the beginning of our journey, we knew we intended to buy a used RV, regardless of what type we ultimately purchased. So, other than window shopping at dealerships to decide what layout we wanted, we did most of our RV shopping online, and in the process we were amazed at how many people didn't really seem to want to sell their RV.
Over the months we were shopping, we saw all manner of RV listings, some good, and some terrible. We also talked to a lot of owners, and viewed quite a few used rigs. Some of those listings (and even some of those rigs) made us question whether the seller really wanted to sell their RV.
Below are my tips from a buyer on how to sell your used RV. If you want to sell something, you need to think like the buyer. If you are selling a junk rig that someone is likely buying just to tear apart some of these tips may not apply, but most of them still will. The more you are asking for your rig, the more important all of these will be to helping you find a buyer in a timely fashion.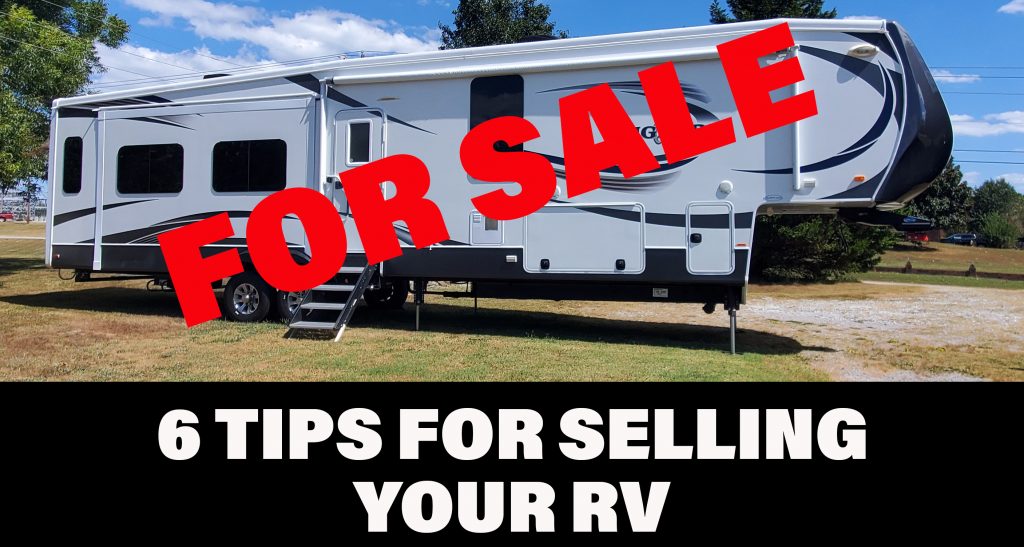 8 Steps to selling your used RV
This started off as just 6 steps (or tips) but then turned into 8 and even another bonus tip.
1 . Find the paperwork on your RV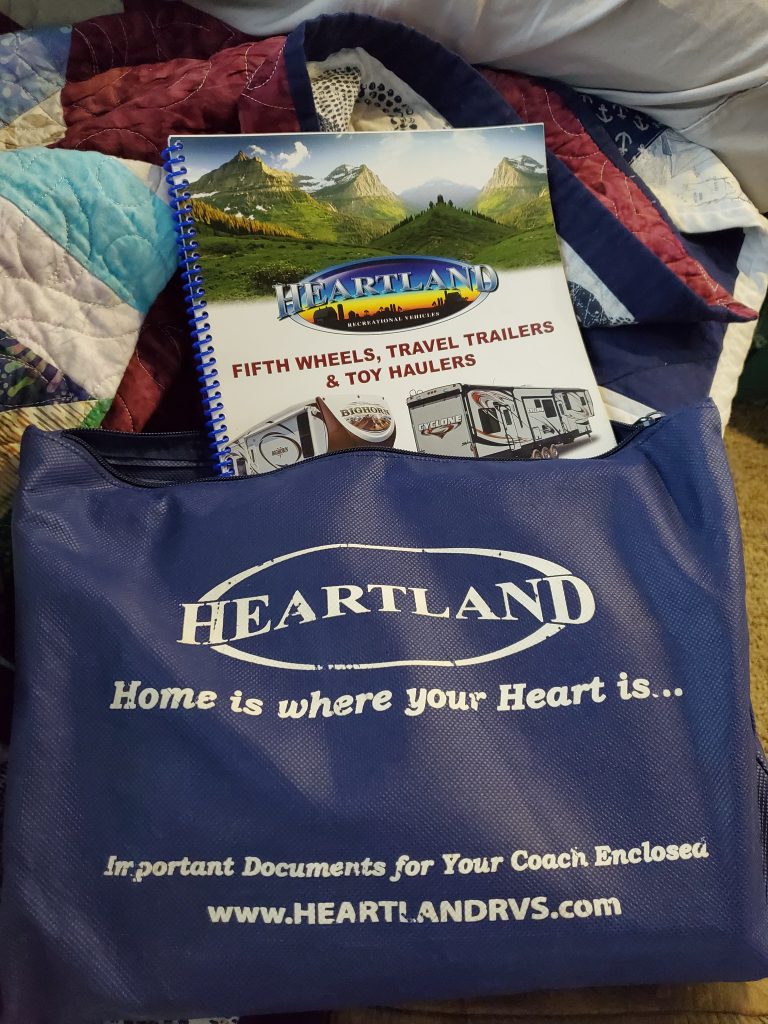 You can't expect to sell something if you don't even know what you have. Make sure you know the year, brand, make, & model and amenities of your rig. The more you know, the more you can share with buyers to help them actually want to purchase your rig. Most buyers are not just looking for any old rig (there are plenty out there). They want a specific model, so tell them what you have.

Additionally, make sure you have your maintenance records. If you've kept your rig up it's going to be a lot more appealing to a buyer than if you tell them that you've not done a thing. RVs need maintenance (just like a car).
If you've not maintained your RV (or even if you have) you may want to consider having a professional inspection done prior to listing your RV. This way you can be aware of any issues that the rig may have and repair them in advance. The ability to provide a clean inspection or show that you've had those repairs done can go a long way to convincing a buyer that your rig is worth buying.
2 . Make a list of any upgrades you've made to your RV
If you've had your rig more than a few months you've likely made some changes. You know your rig. If you've made any changes or upgrades to your rig since purchasing it, write them down. Did you add solar? Did you install a generator that you plan to include in the sale? Is the mattress original or did you upgrade to something comfortable?
Same thing with any repairs. Have you had to have your A/C repaired or replaced? What about your fridge? If there's one thing that's certain with an RV it's that things break. As a buyer of a used rig it's actually comforting to know what's already been replaced/repaired (because we are potentially less likely to have to make that same repair soon).
3 . Remove your personal belongings
People are looking to buy a nice, clean RV, not your stuff. In one case we drove three hours to look at (and potentially purchase a rig). I actually had a cashier's check in hand to buy this rig. The seller knew if all went well we'd be driving it home that day. Yet, we walked into a rig that was not only dirty (with dishes left uncleaned after the last use) but personal items in every nook and cranny. I couldn't help but wonder what his plan was for if we did decide we wanted to buy it?
Make sure to do this before you take photos. Or, at least put everything away and out of site. In such a small space any clutter can make an RV just look messy. Messy can mentally equate to un-cared for.
4 . Clean the RV from top to bottom, inside and out.
If the value is good enough, it won't matter if it's clean. If the buyer is likely buying it to gut it, it won't matter if it's clean. But, if you are selling a late model rig, or even an older rig that is in good condition and being sold as ready to use, it needs to be clean when you show it. There's a lot that photos can forgive but viewing a rig in person it becomes obvious when you've not cleaned.
Just as with clutter, dirty mentally equates to un-cared for. If you didn't bother to keep your rig clean, what else didn't you bother to do?
If you plan to sell your RV with the current bedding then make the bed before photos (and before any showings). If you aren't letting the bedding go with the RV, then remove it before showing. As someone buying a used mattress, I'd like to be able to see what kind of condition it's in. Also, I really don't want to have to wonder if the bedding is included.
When cleaning take smells into account. The same rig we drove three hours fully intending to buy smelled like the inside of a restaurant. It wasn't pleasant. Granted, the cleanliness of the rig was not the reason why we didn't buy it (it had bigger issues). Cleanliness can be overlooked, to a point. But, taking that little extra effort will go a long way to helping you sell your rig faster and for the best price.
5 . Take lots of high-quality photos
There is no such thing as too many photos. Take photos of the inside and the outside of the rig. Be sure to include close-up photos of important features as well as wide shots that showcase the layout and features of your rig. If there's a special feature (like central vacuum, or washer/dryer hookups) be sure to include a picture.
When taking pictures be sure to do so in good light. Make sure that it's a sunny day and all windows are open and lights are turned on before you take pictures inside (and use a flash setting). Low-quality photos do nothing to help a buyer and will likely decrease their interest in your rig.
Consider doing a video tour, in addition to still photos. Simply walk through the rig (slowly) with a video camera (or using the video recording setting on your phone). Just make sure all the lights are on and blinds are open when you do this to ensure the best lighting possible.
6. Price it right
Many buyers want to price their rig based on what they still owe, or (worse) based on what they paid for the rig. However, rvs go down in value. The best thing you can do is cosult the NADA for a current valuation of your rig.

You can also take a look at other similar rigs on sites like RVTrader and RVUSA to see how they are priced. From there how you price your rig may be adjusted based on additional features yours may have, as well as condition, and how fast you want to sell it.
Tip: What you owe has nothing to do with the price you set. Unfortunately, if you financed your RV you probably owe more than it's worth. A buyer has zero interest in what you owe, they are only interested in what the rig is actually worth.
7 . Write your ad
Make sure the ad starts with the year, make, & model (this should actually be the title of your listing). Be sure to list out all features of your RV, as well include any upgrades or additional items you will include in the sale (power cords, hoses, generator, washer/dryer, etc).
We were amazed at how often we found ads that didn't even list the the make and model of the rig. Or, that listed the info but had zero photos, or photos taken in the dark. Or, we thought they provided great info only to call and find out that the rig had a flood title or some other deal-breaker.
The more info you provide in your ad the more likely that those who contact you are fully interested and won't be wasting your time (whether on the phone or with a showing).
While some websites may have word or character limits, there is really no such thing as too much information for a buyer. The more you can tell us about the rig the more info we have to make a decision if that is the right rig for us.
8. Post your ad
Cast a wide net. Most buyers looking for used RVs are looking for specific models, so they are willing to travel to find the right one. We searched up to 900 miles away to find ours.
Post your ad on every site you can find (including, but not limited to, Craigslist, Facebook Marketplace, & RVTrader.com) . Each website has it's own requirements and limitations (regarding text length and number of photos). You may need to adjust your listing for each one, but make sure to include the most important features.
You may find it helpful to link between your ads, if you have one long one that is able to include all the info you have available. Or, you may find it helpful to create a webpage that provides all the details and all of the photos in one place. Then link to that page from your other listings.
Double check your ads, and make sure you know how people will expect to contact you. Some websites require that users contact you through their system. Facebook Marketplace is like this. If you post your phone number in an ad on Facebook Marketplace it will be hidden from potential buyers. The only way they can contact you is through messenger – so if you don't use messenger, you may miss potential buyers.
I know we had several rigs that we found on Marketplace where the sellers had requested people call them, but Facebook had hidden those phone numbers. I would message them asking for their contact info and sometimes it would take a month to get a reply. By then I'd moved on.
In the end, selling an RV is a lot like selling a house. In fact, it's just like selling a house. The only difference is you are likely doing all the work yourself, rather than hiring an agent to tell you what to do or to do the marketing.
Sell Your RV
Trying to sell your used RV can be difficult and stressful. But, there are buyers and if you market your RV correctly you can create a win-win situation for both you and the buyer.
Tools
camera
computer
internet access
cleaning supplies
Instructions
Find the paperwork for your RV and note the year, make & model
Make a list of any upgrades you've made to your RV
Remove all personal belongings
Clean the RV from top to bottom, inside and out.
Take LOTS of high-quality, well-lit photos
Price it right
Write your ad (Start with the year, make & model)
Post your ad on every site you can find
Consider creating a website to better showcase your listing