How we manage to get enough bandwidth to work and game from the road.
One of the first questions we had to answer for ourselves when moved into our RV, and the question we get most often from others is "How do you manage internet in your RV?" More specifically, how do we get enough bandwidth that we can both work full-time from our rig, stream entertainment, and event play video games – no matter where we are.
Our first couple of weeks in the rig we relied on park WIFI, and using our phone's hotspot. But, there are a few problems with doing this long-term.
Note: Usually Julie writes our blog posts, but she's not techie enough to understand half of this topic let alone explain it. So, this post is a dual effort between Brandon and Julie to share a technical topic in a way that hopefully the non-techies can understand it.
Why can't you just use the RV park's WiFi?
We have stayed at a few RV parks that have had excellent WiFi and had absolutely zero issues while we were there. Unfortunately, these are the exception and not the rule.
First off, not all RV parks even offer WIFI and if they do, it can be slow, sporadic and extremely overused, especially the prime time local hours of 6:00pm – 11:00pm. Second, we have encountered some RV parks that had 'WIFI rules' which included a set number of connected devices, and limitations on streaming services like Netflix and Hulu. Now, while we doubt most RV parks monitor individual usage, the rules are there, and can possibly be enforced. Third, we don't want our stays at RV parks limited to only the ones that offer WIFI.
Why not just use your cell phone's hotspot?
As we mentioned earlier, this is what we relied on heavily during our first few weeks. But, there are a few problems. The first is data caps, as most cell phone plans limit how much data you can transmit via hotspot before you are throttled. The second is data caps in that most cell phone plans don't offer much data in the first place. The third is that you are limited to only the towers your phone provider can access.
We are both on Verizon with two different plans. While Brandon had a fair amount of data rollover that we were able to use during those first few weeks. Julie's plan, while it allowed hotspotting, throttled the transfer speeds so much that it was just about unusable.
Cellular Networks to the Rescue
Relying on a single cellular provider is great if you are primarily staying put in one location. However, a provider that has great coverage in one area, may have zero coverage on the other side of the country. We decided that the best thing to do was to use multiple providers. Based on where we plan to go, we decided the best networks for us would be Verizon and AT&T.
The next task was finding plans that provided unlimited data at a price we could stomach. We asked for some input from our friends on Instagram and took the info they gave us to create a setup that we felt was best for us.
Before I jump into our setup, I do want to point out that everyone's needs are different when it comes to internet. Not everyone needs a setup as robust as ours. If the primary reason you use internet is to watch Netflix, you don't need our setup.
As with anything, do your research and put together a setup that's best for your needs.
Our Internet Needs
We do a lot with the internet. Brandon is a programmer, who uploads/downloads some pretty large files. Julie works online as a freelance writer and marketer and also uses a fair amount of data (although, nothing close to what Brandon needs). We also both regularly need to do video teleconferences. Add in some Netflix and online gaming, and we can easily hit 500 gigs of data in a month.
We were able to track down an unlimited AT&T plan and a grandfathered unlimited Verizon plan. In time, we found that we pretty much solely relied on the AT&T plan. We went through two different Verizon plans and ended up with both having issues and either just getting cancelled or not working. Then after a year with our AT&T plan it also got cancelled (AT&T recently went on a flurry and cancelled many unlimited plans). After that, we moved over to an unlimited AT&T plan via MobileMustHaves.com.
Even "unlimited plans" have data caps
While the plan is listed as unlimited there is a cap of 500gigs of transfer per month. If you hit that cap they will turn off your access until your billing cycle resets (ask us how we know that?).
Streaming will eat the most data. An hour of streaming HD quality TV can easily eat a gig of data. Gaming (Brandon plays World of Warcraft) uses about half that. Downloading updates can also use a lot of data.
A few tips that we've found helpful:
Disable auto-updates (within the settings on your computer and other devices)
Set your connection as a "metered connection" and add a data cap within each device (if possible).
Unfortunately, some devices (like our smart TV) don't have these options, but by setting them where we can we can maintain more control over our data usage. Then, when we do happen to stay at an RV Park that has WIFI, we can connect to it and do all those updates.
Connecting all the devices
In addition to needing a lot of data, even though there are only two of us, we have a lot of devices that we need to connect to the internet. At the time of this writing, we consistently use three laptops, a printer, two Nintendo Switches, two tablets, a Roku, an Amazon Alexa and a Google Home. To manage all of those devices, a WiFi network for our devices is pretty much mandatory. We needed a good router.
We also needed a device that could use both the Verizon and AT&T Networks. Fortunately, Pepwave offers a line of products that works much like your typical home router, but instead of connecting to your cable company, it accepts a cell phone SIM card and offers cell phone network connectivity.

We settled on the Pepwave MAX BR1 MK2 purchased from MobileMustHaves.com
Key features of the Pepwave MAX BR1 MK2
Offers router WiFI functionality similar to a home router (once configured)
Two SIM card slots for two different cellular connections
Can use another WiFI (RV Park, Starbucks, etc.) to access the Internet
Downsides of the Pepwave MAX BR1 MK2
Setup isn't 'Plug and Play' – but the MobileMustHave.com does offer an affordable setup, training, and tech support package
For the most control, it's recommended to have some knowledge of technology/networking
Only uses one cellular network at a time, no bonding on this model
(Note from non-techie Julie: I had to ask Brandon what bonding meant. Evidently, if the router has bonding you can actually use both of your cellular networks at one time, which could greatly increase your connection speeds. However, it could also eat through your bandwidth at a faster pace.

Pepwave login screen
Pepwave Explained
This router is an industrial grade router, marketed for mobile and/or remote applications with setup and configuration handled by a company's IT technician. Most consumer grade WiFi routers purchased today come with an easy three step configuration process to have everything connected and working that is easier than setting the clock on a microwave.
Unfortunately, this is not the case for the Pepwave routers. We would recommend that you have some technical knowledge of WiFi routers and be comfortable with reading the User Manual and going through a manual configuration and setup process. If this isn't you, definitely take advantage of MobileMustHave.com's setup, training, and tech support package.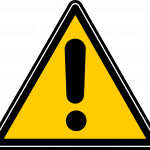 Brandon recommends reviewing these User Manual sections before purchasing to determine if you feel comfortable configuring the Pepwave Router:
Configuring the LAN Interface(s) … page 48
Configuring the WAN Interface(s) … page 62

Focus on Cellular WAN.. page 70
Focus on Wi-Fi WAN.. page 76
As a recap, the Pepwave MAX BR1 MK2 offers three ways to connect to the Internet:
Cellular Network – connects to cell phone networks for Internet
Another WiFi Network – connects to an RV Park WiFi similarly to your phone or tablet
Ethernet – connects via a typical Ethernet cable (Not Applicable for our discussion) 
Additionally, the Pepwave router offers three different levels of Priority, with 1 being the highest
In the example image above, in the Priority 1 section, the Cellular network is connected with full bars of strength.  The Green square indicates that the network is currently Active and in-use. In Priority 2, the WiFi (using 2.4 GHz) is connected with full bars, however the Yellow square indicates it's ready but not in use, along with 'Standby' indicating this as well.
The different connections can be mixed and matched, depending on which configuration will work best for your current situation.  Here are screenshots of some different configurations with a quick explanation:

In the configuration above, both the Cellular Network and the WiFi (2.4GHz) are listed as Priority 1, so both networks will be used for Internet access.

In this configuration, The WiFi (2.4GHz) is in Priority 1 with Cellular on Standby in Priority 2.  Notice that the 5.4 GHz WiFi is in Priority 3 and is currently in 'Scanning' mode looking for networks.  Found networks can be found by pressing the 'Wireless Networks' button.  
Cellular Network Details – Use one or Both SIM Cards
To connect to the cellular network, at least one SIM card must be installed into the Pepwave device.  If there are two SIM cards installed, then further configuration options are available:
Option 1: Use Both SIMs, identified as SIM A and SIM B
Option 2: Use only SIM A
Option 3: Use only SIM B
If Option 1 is selected, a preference of using SIM A or SIM B is available but not required.  This is useful if one SIM is preferred to be used, but if connection is lost, then the other SIM starts getting used automatically.
Options 2 and 3 limit the Pepwave router to specifically only use one SIM or the other.  In this configuration, if the selected SIM card loses connection to the cellular network, then Internet service is interrupted until a connection is re-established or the other SIM is manually selected in the router configuration web page.
Why we manually fine tune our Cellular Network preferences
At first glance, it would seem that always using Option 1 would be ideal.  In a 'set it and forget it' situation, this would be best, overall.
However, we consistently use a considerable amount of data every month.  The image above shows that we have used 233.85 Gigabytes of data with another 9 days in the billing cycle left – and this is just what we've used from AT&T!  These kinds of data usages sometimes lead to our download speeds being severely throttled by the cellular provider, especially during those peak usage times (typically between 6:00pm – 11:00pm local time).
This is where manually selecting SIM cards comes into play.  We manually select one SIM or the other to 'spread' our data usage across both SIM cards and if one SIM becomes throttled, we will simply switch to the other SIM manually so the throttled account can't be used at all.
Brandon believes there is a way to fine tune the cellular configuration to handle this automatically but hasn't yet felt the need to figure it out just yet. 
Pepwave's Always On
Having a consistent WiFi network for all of your devices while stationary is mandatory, but what about on travel days?  Pepwave devices have a terminal block for being hard wired into a 12v system. Conveniently, RV's have a 12v system, so electrically adventurous people can connect it so that it's always on!
This sounds great, especially to those with fifth wheels and travel trailers – all of those tablets can still be connected on travel days without having to deal with cell phone hotspots while in the vehicle!
But for those that are not comfortable with hard wiring, or just simply don't want to run wires (Brandon really didn't want to run wire), we have been using an alternative that has been working great.  Have you ever used a UPS (Uninterruptible Power Supply)? Brandon swears by these for all expensive electronics.  For those that are not familiar with a UPS, it's a device that not only protects your equipment from voltage spikes, it will continue providing power to your electronic devices when the power goes out.  There's more to it than this, so if you're interested, you can read more on APC's website.
Most UPS systems are large and clunky and would be overkill for our simple Pepwave device.  Luckily, APC offers a small UPS specifically for cable modems, routers and VoIP systems. We purchased the APC UPS Back-UPS Connect two months ago and it has kept our WiFI up and running smoothly through RV park moves and RV park power outages without any issues whatsoever.  If an always-on Internet connection is required and there is an adversity to hard wiring into the 12v RV power, we highly suggest this product.
You will need a few other items to make this all work without issue. Here is the full list:
This option is a bit pricey, but we felt it gave us more flexibility as it can be easily removed from our current rig and moved into a new one with no new wiring, and we can move our device if needed.
Note: we love our rig, but it's huge, so realistically we do expect to downsize.
When we Upgrade…
We have absolutely enjoyed our Pepwave MAX BR1 MK2 for the past six months that we have owned it, with no major issues.  The only thing Brandon has really had to do is tighten one of the antenna nuts as it had gotten loose and was causing connectivity issues to the 2.4 GHz WiFi.  A light twist with a pair of pliers corrected this issue.
One thing that we didn't realize when purchasing this device is that it only has one LTE-A Cellular modem.  This limits the device to only using one SIM card at a time. When we decide to upgrade, we will be considering one of the upgraded devices that Pepwave offers.  Brandon is really considering the Pepwave Max HD2, as it offers two Cellular modems and has four Gigabit Ethernet ports for hard wired devices, such as a Network Attached Storage (NAS) that he plans on setting up in the near future.
For now, though, we're quite happy with our current RV internet setup and the connection that it offers us. We love that it will allow us to be fully mobile and connect from anywhere. Whatever upgrades we do, we know we'll go through MobileMustHaves because they are awesome and have gone out of their way to not only provide great products but service that goes with it.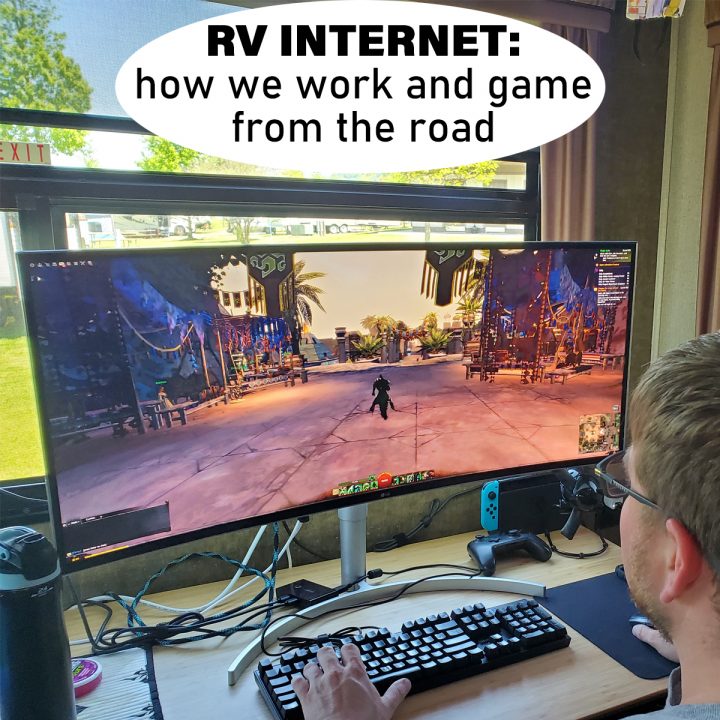 Get Enough Bandwidth to Work & Game From Your RV
Materials
Pepwave Max BR1 MK2 router
Unlimited data plan(s)
APC UPS uninterruptible power supply
20AWG 3ft DC male-to-male power adapter
DC 12V 5A power supply adapter
Instructions
Use the Pepwave router to connect all your devices seamlessly and switch between your data plan(s) as well as campground WIFI
Get an "Unlimited" data plan (or two) to ensure you have enough bandwidth
Get an APC back-up for the router so that you can still access the internet even when the power is out.