Our seventh month of full-time rv living found us back on the road, heading south across Alabama and into Mississippi.
I can hardly believe we've completed seven months full time on the road. Granted we took a two month break in one spot, but honestly that didn't feel like long enough and we really weren't quite ready to hit the road again when we left. But, left we did and we are fully back on the road.
We had a plan for this month, but we know what happens when you plan. Thankfully, we were able to adjust and go with the flow. It's one of the things we do best. Despite our plans changing, and even spending multiple weeks in a location that gave us (way too easy) access to restaurant deliveries, somehow this month came in at our cheapest month yet.
Month 7 by the numbers
Dates: December 26 – January 26
2 States
3 campgrounds
430 miles
$1853 spent

Where we spent our seventh month on the road
We spent the first few days of this month finishing off our time at Lake Guntersville. We were so not ready to leave. I think we both could have stayed there for another month and been just fine. Somehow those two months off just did not give us the rest that we both wanted and needed. We needed to reach a point of boredom, but it didn't happen.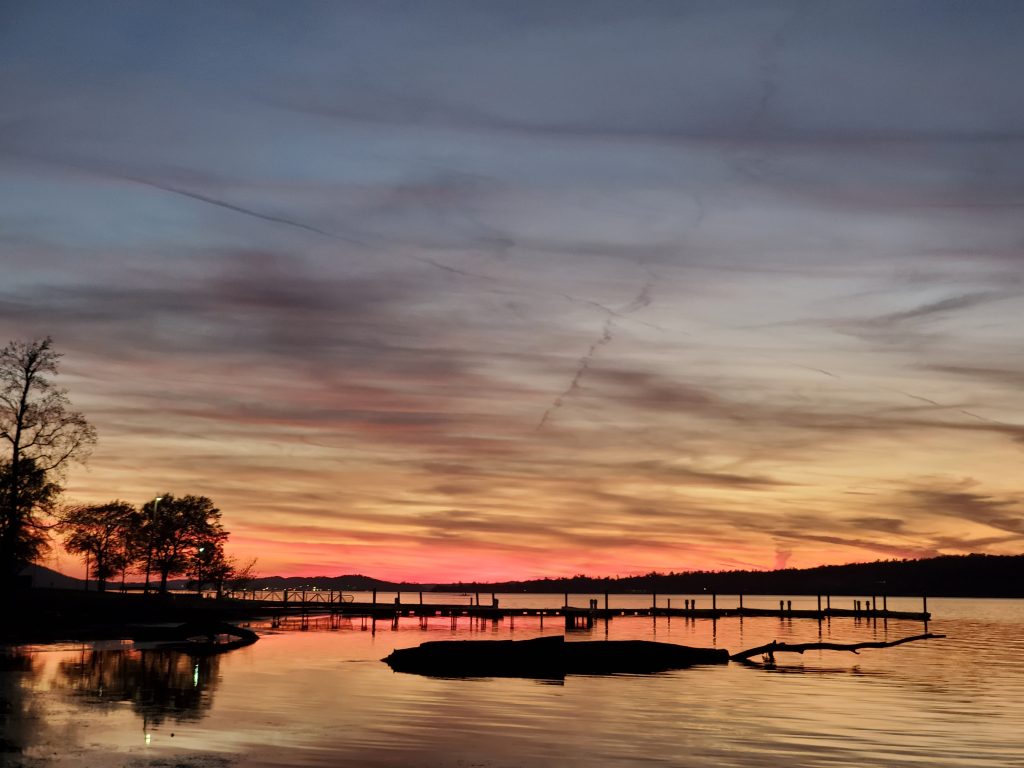 We hit the road on December 29 and headed about 150 miles south to Tuscaloosa. Our plan was to stay there for about 10 days and spend New Years with some friends. After looking at our options in the area, we settled on Coaches Corner RV Park, which is right in the heart of Tuscaloosa. It's primarily a seasonal RV Park catering to tailgaters for the Alabama football games. As such, their off-season prices for weekly or longer rates are really great. When we arrived the campground was pretty much empty! After figuring out where we were going to park, Brandon had a great idea. This was the perfect place for me to finally get behind the wheel. So, I did. Granted I never went over 10MPH but I did drive the rig around the block a few times before pulling into our (pull-through) site.
Had we been able to see the future we probably would have opted for a back-in site further back in the campground, but alas our crystal ball is still broken.
One thing I usually do before we even arrive at a park is check to see if we can get Instacart deliveries. We could and had our pick of several grocery options. But, what this park gave us that we've never had before is access to restaurant deliveries from multiple delivery companies. I also found multiple pizza places with gluten-free options, and got really excited when I saw that there was a Hungry Howies and that they have gluten-free. This was my favorite pizza place when I lived in Michigan but I haven't seen it since. Our first night in Tuscaloosa I confirmed that it's still as good as I remember and that their gluten-free dough is the best we've had yet.
We had a great New Years as planned, but as we all know that next week went a little sideways. We had planned to leave Tuscaloosa on the 9th to head across Louisiana to Texas for our RV maintenance course that RV Training Academy. However, after the storming of the Capitol on January 6 we debated if that was our best course of action. Our course was scheduled for the same week as the inauguration and with all the threats surrounding it we wanted to be close to home if something did happen. At the last minute, we decided to postpone our course and stay in Tuscaloosa for two more weeks.
While we were in Tuscaloosa, we made sure to visit The University of Alabama, getting a tour from our friend who works there. And, we made a trip over to Moundville Archeological Park, which we wouldn't have managed to do if we hadn't extended our stay. Moundville actually has a campground, which we'd suggest checking into if you are visiting the area. Only a handful of their sites have full hook-ups though, and we only saw one that we MIGHT have been able to get into with our big ole Bessie.
Thankfully, nothing did happen at the inauguration. But, we were glad we stayed put nonetheless. It gave us a chance to continue to enjoy restaurant dining and also gave us a chance to finally get bored. At the end of those two weeks were ready to leave. With our schedule rearranged we decided to take our time getting over to Texas and took a detour down to the Mississippi Gulf Coast for a stop at the Silver Slipper Casino Beachfront RV Park in Bay St. Louis, MS.
The RV Park is about a half mile from the casino, just across a 2-lane from the beach. It was amazing to have such awesome views from every window in our rig. It was even more amazing to just walk across that road onto the beach. Although, it rained the first half of our stay and the water pressure was terrible after the rain, overall it was a great stay and definitely a worthy stop. The campground is basic, but offered everything we needed (full hook-ups, picnic table, grill, great views). And, the price was about half of what we normally see for beachfront spots.
Cost breakdown of month seven
Looking at our total spending, this was our cheapest month on the road yet. Although, if we removed the cost of repairs and maintenance during month 6 it would have been about $100 less than we spent this month. We were able to stay comfortably inside the $2000 budget that we've been shooting for since we started.
Our total site rent came in at $754 and some change. We spent $618 at Coaches Corner. Had we known we'd be staying for three weeks we could have saved even more by paying the monthly rate. However, we'd only originally planned to stay 11 nights and as such booked two weeks (because it was cheaper than a week plus 4 days). We paid on average of $18/night for our last few nights at Lake Guntersville (thanks to managing to get a monthly rate) and an average of $41/night at Silver Slipper.
Our total grocery bill (despite using Instacart exclusively) came in at $386, about half of what we normally spend on groceries in a month. I'm not really sure how that worked out, other than that we ate out a LOT thanks to the availability of restaurant delivery.
Our total restaurant spend was $518. Surprisingly, despite all those meals we had delivered this was not our most expensive month for dining out.
Our fuel bill was also pretty low as we only needed to fill up once. But, 90 gallons of diesel isn't cheap, so that came in at $195.
Our total spend for the month came in at $1853
What we loved
Although this month definitely had some stress, there was a lot to love. We started and ended the month with beautiful views – starting at Lake Guntersville and ending looking out over the gulf.
We loved getting to spend time with good friends. This is something that none of us have been able to do enough of over the last year. Thankfully, these friends are as introverted as we are, and she's a nurse who gets tested for COVID twice a week. As such, we felt safe spending time with them.
We loved how easy RV Trip Wizard makes it for us to change our plans. The radius tool makes it so easy to see what's within a day's drive from any location. We used that to find our stop on the Gulf. Sometimes we don't know where we want to go, we just know how far we want to drive.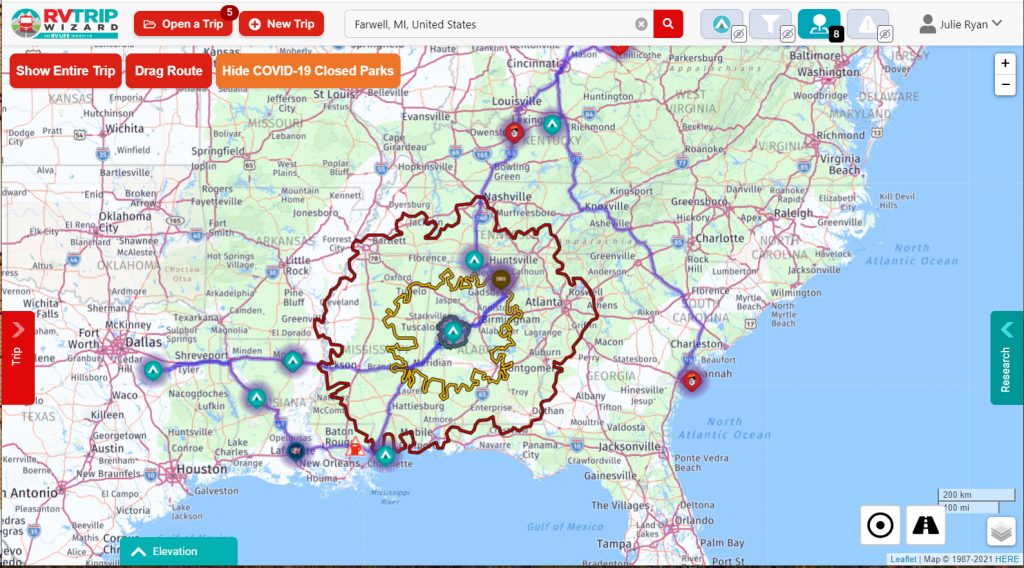 We even loved that we finally got bored. I think that's one of the difficult things about life on the road. Often we are moving at such a fast pace that we are leaving a place before we are really ready. This creates an internal struggle that often adds to the stress that comes with constant travel. Our goal for this next year is allow ourselves to get bored more often.
What's next for us
We will finish off our stay on the beach and then head across Louisiana for a stop just south of Lafayette, before continuing on to Athens TX for the RV Maintenance course at the National RV Training Academy. We'll stay there for 3-4 weeks before heading back to North Alabama for a short stay.
We'll be heading north this summer to NW Michigan, but we've got a few months worth of travel between now and then. It's wild to think that we are working on our eighth month on the road, and before long we'll have a full year under our belts. Right now there's no end in sight for us. We love what we're doing and there's just too much of this country to see.