At the base of Scott's Bluff National Monument lies Robidoux RV Park, a quaint little city-owned RV campground with everything we needed for a short stay to visit the monument and more.
As we traveled south from South Dakota to Colorado we decided to stop off near Scott's Bluff National Monument. Thanks to COVID our park options were limited, thankfully the option we had turned out to be not only a pleasant surprise but an enjoyable stay. We spent almost a week at Robidoux RV Park in a roomy site with awesome sunset views of Scott's Bluff.
We hadn't had a really roomy site since we left Alabama, and we hadn't seen actual real green grass since probably Missouri, and Robidoux RV Park turned out to be a treat on both counts.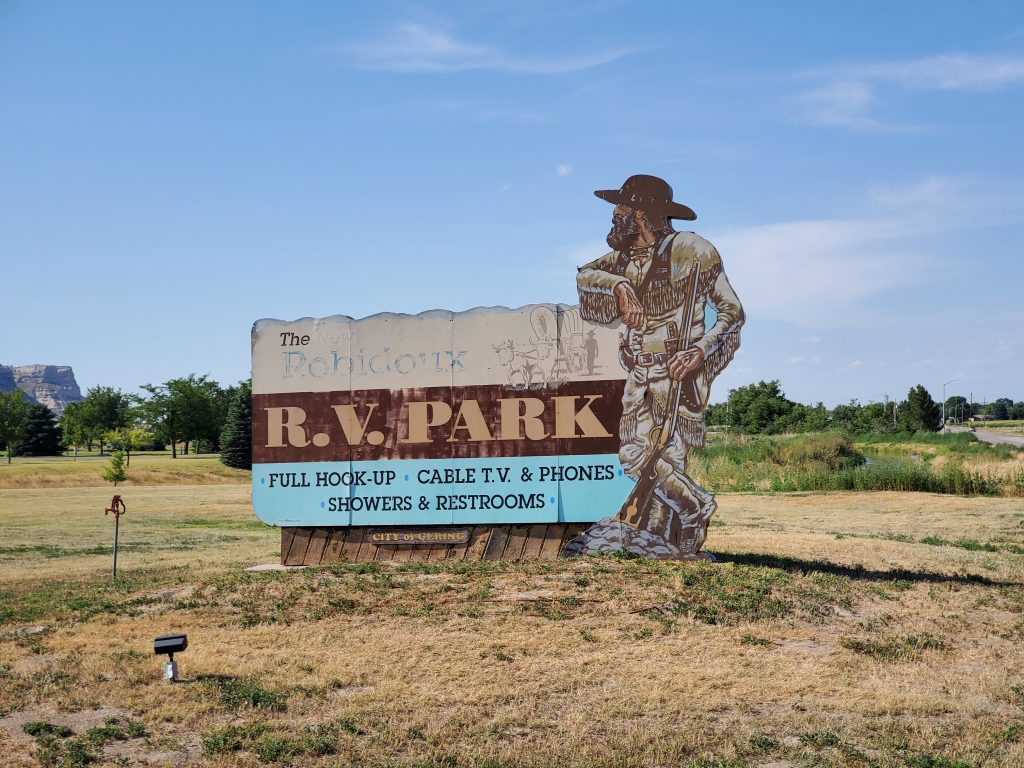 Booking A Stay at Robidoux RV Park
The park was a bit under-staffed when we visited and this showed in trying to get a reservation. They don't really have online booking, so I submitted a reservation request online. The website said someone would call to confirm. No one ever called me, so I called to see if I could get a reservation and was told that they didn't have a space that could accommodate us for the time we wanted to stay. When I got off the phone I found that I'd actually received an reservation confirmation in my email but, it didn't provide any info about the site. I called back to try to confirm the site size and just make sure we were good and could never get anyone on the phone. So, we rolled the dice and headed on anyway, hopeful that all would be well.
Checking in at Robidoux RV Park
When we arrived to check in the lady working the office told us that the site they'd originally booked us in would likely not work for us, but thankfully she was able to move us to a different site that was more than adequate. I'm not sure where we would have been originally, but the site were were placed in gave us a beautiful view of Scott's Bluff from our back window, and our yard was twice as big as any yard we'd had in the previous few months.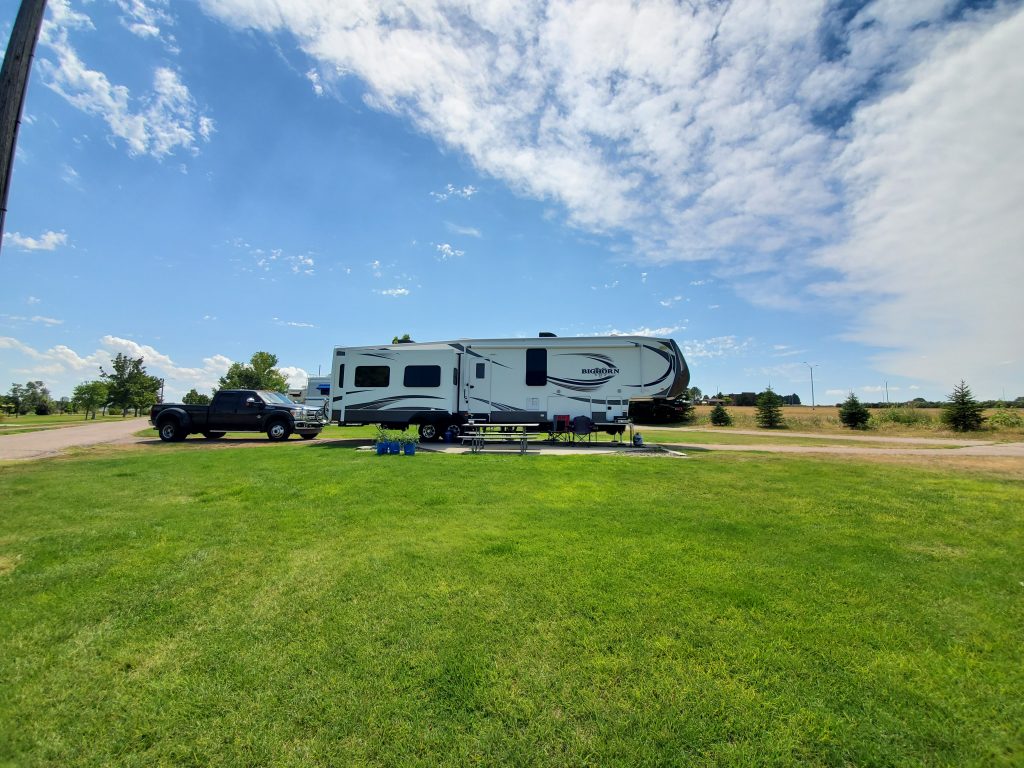 Robidoux RV Park is owned and managed by the city of Gering, Nebraska. It's an older park but seemed to be maintained well, despite being under-staffed. The site sizes and setups vary from the roomy pull-through site that we had to smaller sites and even double pull-throughs for those camping with family and friends.
Pros of Robidoux RV Park
There were many upsides to this park. From the beautiful large, concrete sites, with huge grassy yards (did I mention we hadn't seen green grass in a few states?) to the perfect view of Scott's Bluff National Monument.
The price is great for full hookups. Although we were only staying six nights the lady who checked us in applied the weekly rate, which dropped the price to under $28/night.
The location at at the base of Scotts Bluff, not only gave us a great view of the monument, but also afforded easy access to the national park, as well as to the towns of Gering and Scott's Bluff. Both cities are small and run together such that you really aren't sure where one ends and the other begins (I think the train tracks divide them or something). Between the two cities we had access to everything from Lowe's and Harbor Freight to groceries and a local pizza place with great gluten-free pizza.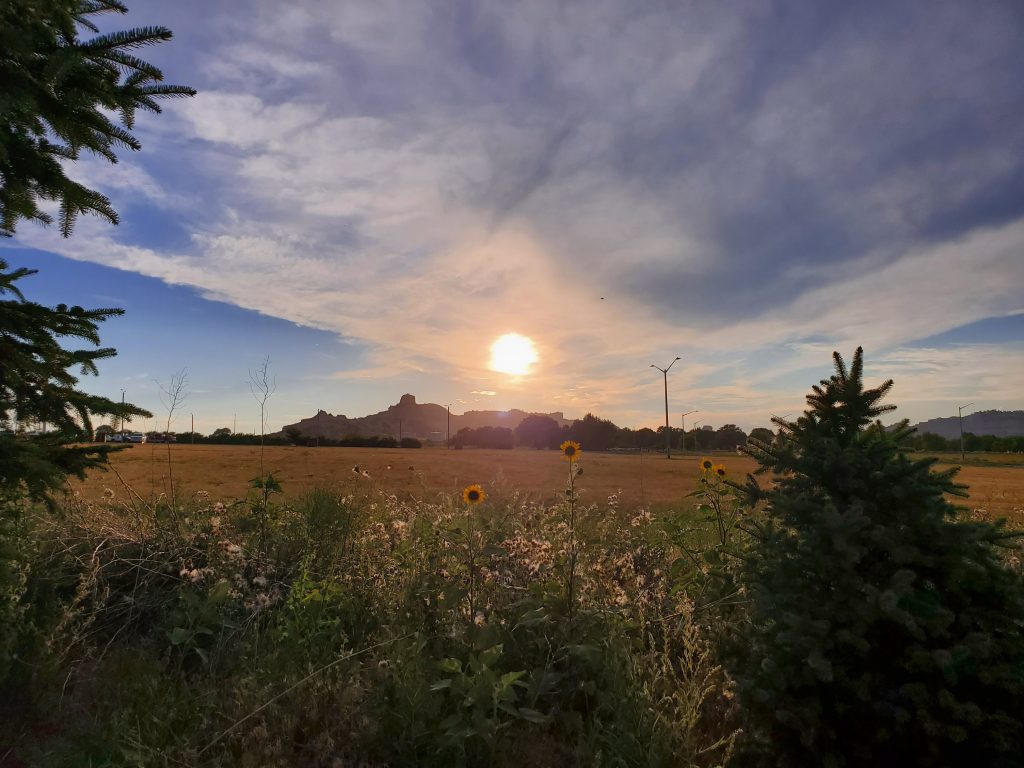 Cons of Robioux RV Park
There really wasn't much to complain about here. The biggest thing was that the sewer pipe sticks out of the ground about 18″ making it difficult to get proper angle for flushing. Also, the pipe was a bit wide and even with our adapter donut our sewer hose didn't fit securely in the pipe, forcing one of us to apply pressure on top of the elbow anytime we were flushing, to avoid ending up with black tank matter all over their beautiful grass.
Despite being just off a main road, road noise wasn't bad at all. A few blocks away there is a baseball field and their local farm league was active while we were there. There was a baseball game every night and they keep the volume on the announcer high enough for the entire valley to hear. Consider it free entertainment.
Things to do near Robidoux RV Park
We were only at Robidoux RV Park for six nights but we packed a lot in. The day we arrived we found that Sam & Louie's Italian Restaurant served gluten-free pizza, so we made that our first stop for an easy dinner. The pizza was tasty enough that we actually ate there twice during our stop. Brandon also really enjoyed their wings.
We couldn't just sit at the base of Scott's Bluff National Monument and not actually visit it. You can drive through the center of it anytime and we chose and we did that one afternoon. The visitor center was closed but the park itself was open (and like many parks during the summer of COVID, it was free to access), and you could enter and drive to the top of the monument until about 4:30pm each day. We made sure to drive up as well as walk around the trails. However, it was about 100 degrees (seriously) when we visited (it was early August, after all), so we didn't stay up there long. It's definitely worth a visit to the top, though, the views are amazing.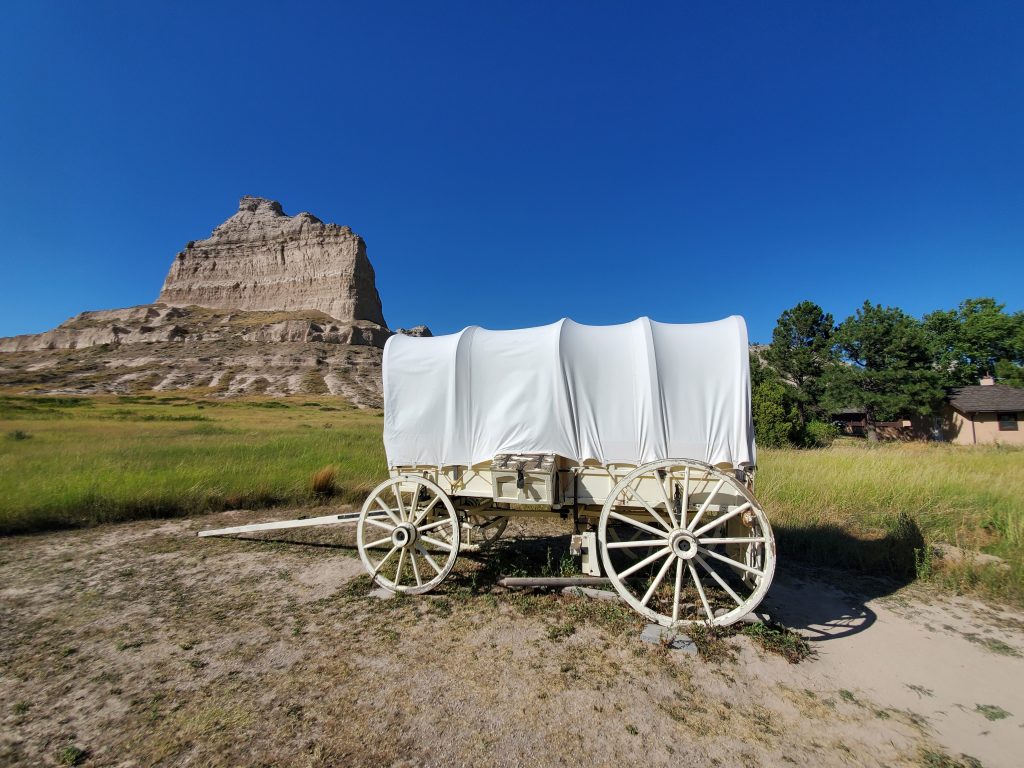 Scott's Bluff National Monument served as a major landmark for early pioneers. Later, travelers would use Mitchell Pass, which runs through the natural valley at the heart of the monument. However, the earliest travelers used Robidoux Pass to the south of the monument because it was easier to traverse. Interestingly, although it would seem that Mitchell Pass would be shorter, geographic studies have found that the two routes were nearly equal in length.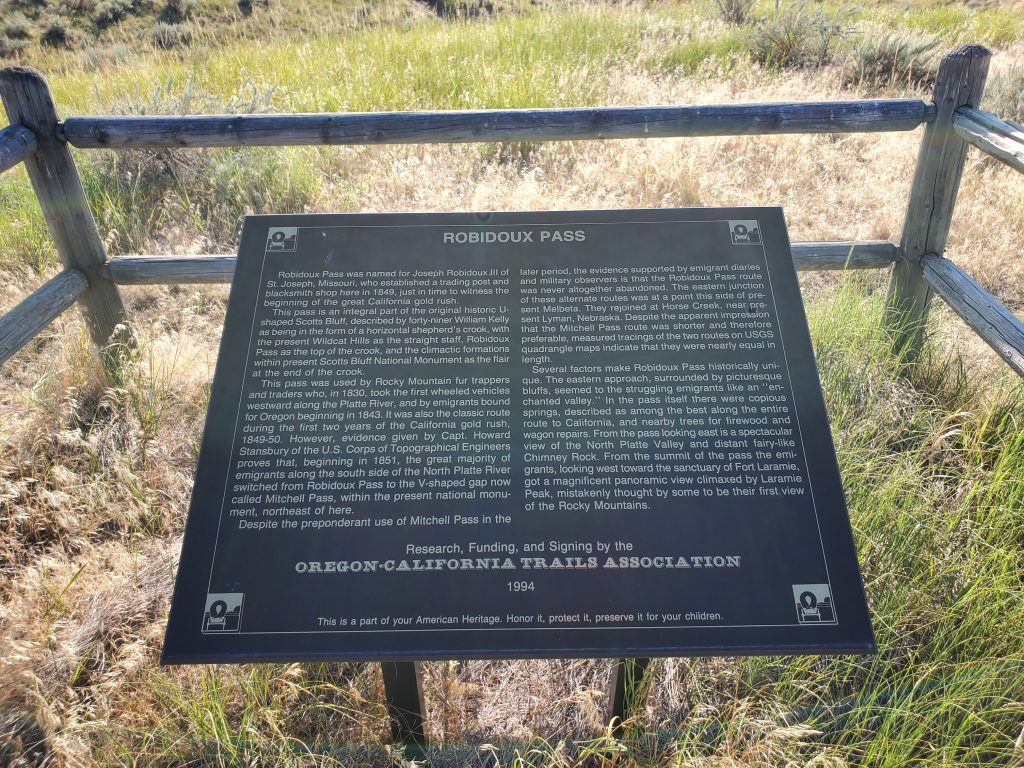 After checking out the views from the top of Scott's Bluff, we decided to go check out Robidoux Pass and Robidoux Trading Post. The Trading Post is a reconstruction of the original trading post established along the Robidoux Pass. The outside is open for visiting but otherwise there's not much to see there. The roads out to the trading post and pass are all gravel, and there is plenty to see along the route. You can still view the ruts from the wagon wheels along the original pass, and there are white markers along the way showing you the original Oregon Trail, as well as markers where known dead are buried.
Winery Near Robidoux RV Park
On most every stop we try to find local wine. Robidoux did not disappoint. Well, actually it was Scott's Bluff that provided the wine, via Papa Moon's Vineyard. They offer not only wine but some really great cider. We actually enjoyed their cider more than the wine and took some home (and wished we'd bought more).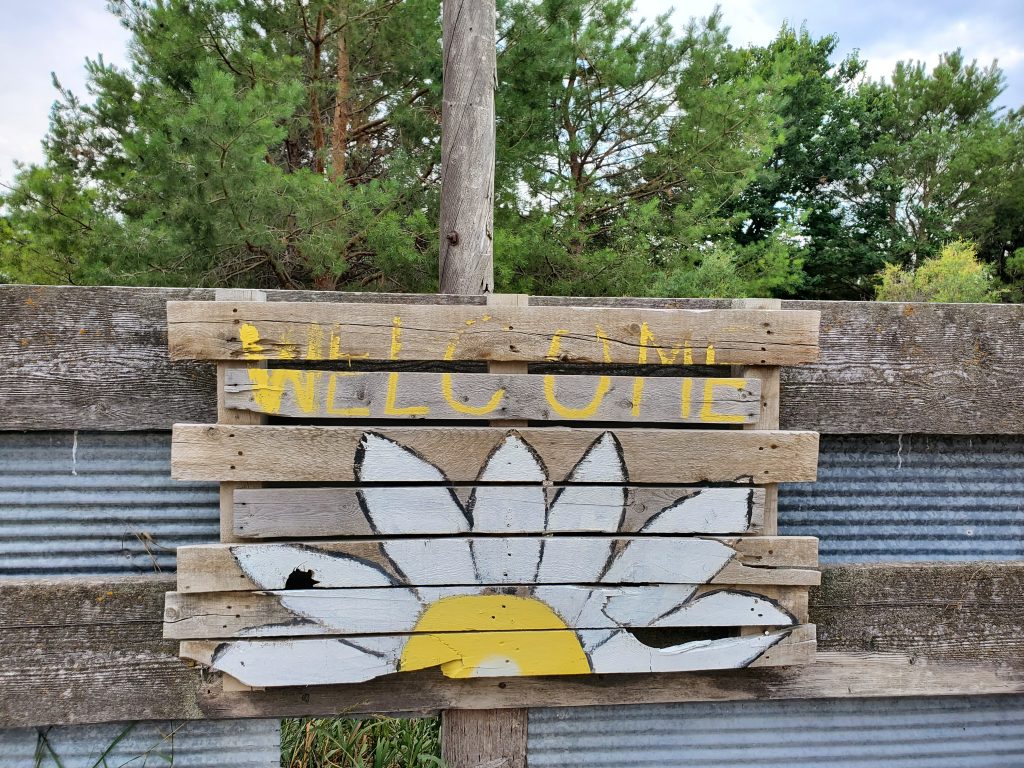 While we were there we ran into a two other couples who were visiting and staying at the vineyard, which also serves as a Harvest Host. Turns out we were already friends with one of those couples on Instagram and the ability to hang out and chat with them really made our day. We capped off our visit there with an amazing sunset.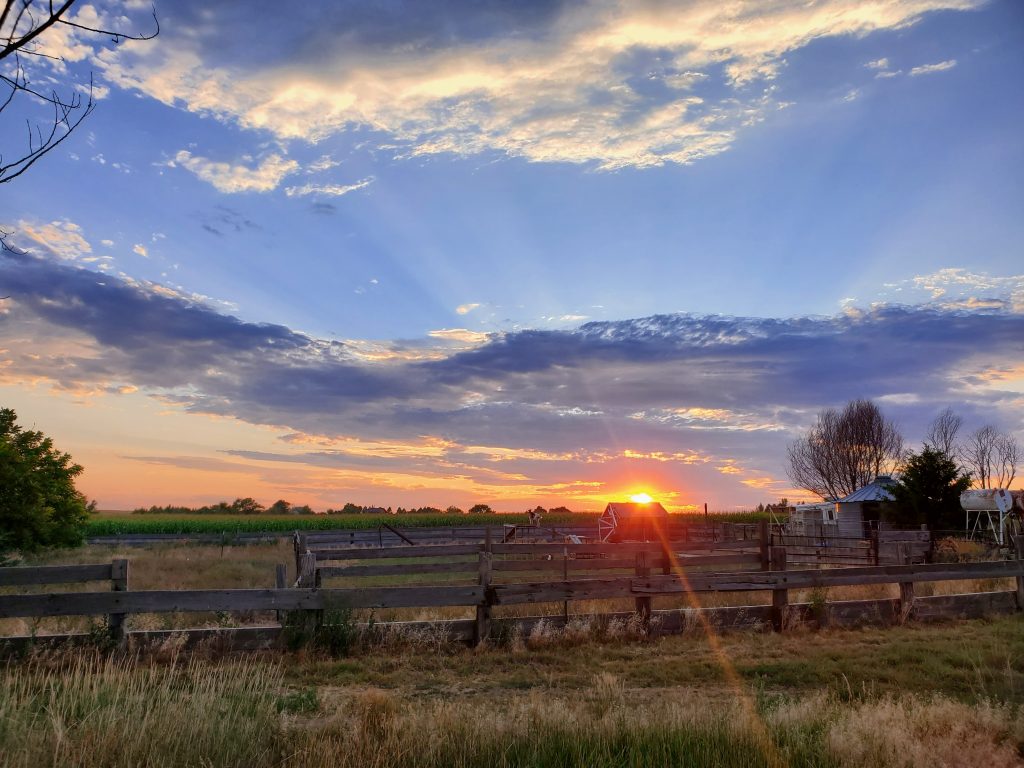 Robidoux was definitely an enjoyable stop and one that we'd recommend for the history, as well as the wine!