KOA campgrounds are everywhere. They are typically easy to book and access as you travel. But, is it worth it?
We've heard a lot of mixed reviews about KOA campgrounds in our time as RVers. We've got friends who love them and default to them when they travel, because they are generally close to the highway, always have online booking, and easy to get into. Our experience has not shown any of those to be necessarily true.
When we first hit the road, KOA was not on our list of places to stay. Just looking at the prices for the campgrounds, we felt they were over-priced in comparison to other options. But, we'd never really checked one out.
Our first experience at a KOA was not as campers. While we were in the Black Hills of South Dakota we got lucky and found that some friends were also in the area. They were staying at the Rapid City KOA, so we went to visit them and check the place out.
The campground seemed nice enough. The biggest benefit there was that it was close to town (right in Rapid City) but didn't feel like you were in town. We felt the sites were a bit tight, but based on the few hours we spent there with friends we couldn't really find fault with the place.
Just a few weeks later we found ourselves staying at a KOA and quickly learned that the reasons our friends give for liking KOAs are not always true.
Denver East KOA Holiday
As we headed down into Colorado, campground options were slim, especially for full-hookup sites that could fit a rig of Bessie's size (42′), on short notice. We needed stop near Denver and the best we could manage to find was a KOA that was on the outskirts. I don't know that this campground would be on the way to anywhere. Denver East KOA in Strasburg, CO was an hour outside of Denver and not close to anything, except (thankfully) a grocery store. The rate was $65 a night (which wasn't exorbitant for Colorado in the summer).
After paying for a KOA Card we brought that down to just under $60 a night. The KOA card is KOA's frequent camper program. It costs $33/yr and with it you save 10% on your stays. After doing the math we figured out it would be worthwhile even if this was our only KOA stay. 10% off of 8 nights at $65, would save us about $48. Minus the $33 for the card, we came out $13 ahead.
$60/night bought us a tiny site. We knew it would be short, as we'd been told when we booked it was just 65′ and we'd have to unhook. Not a problem as we had fully intended to unhook and we've stayed at plenty of places with shorter sites that required us to park a bit sideways. Sadly, our site was not just short but extremely narrow. There was barely enough room to squeeze past the picnic table as we walked from our front door to the truck. Generally, the site was claustrophobic and I don't think other sites were better (unless we'd paid for an upgraded patio site).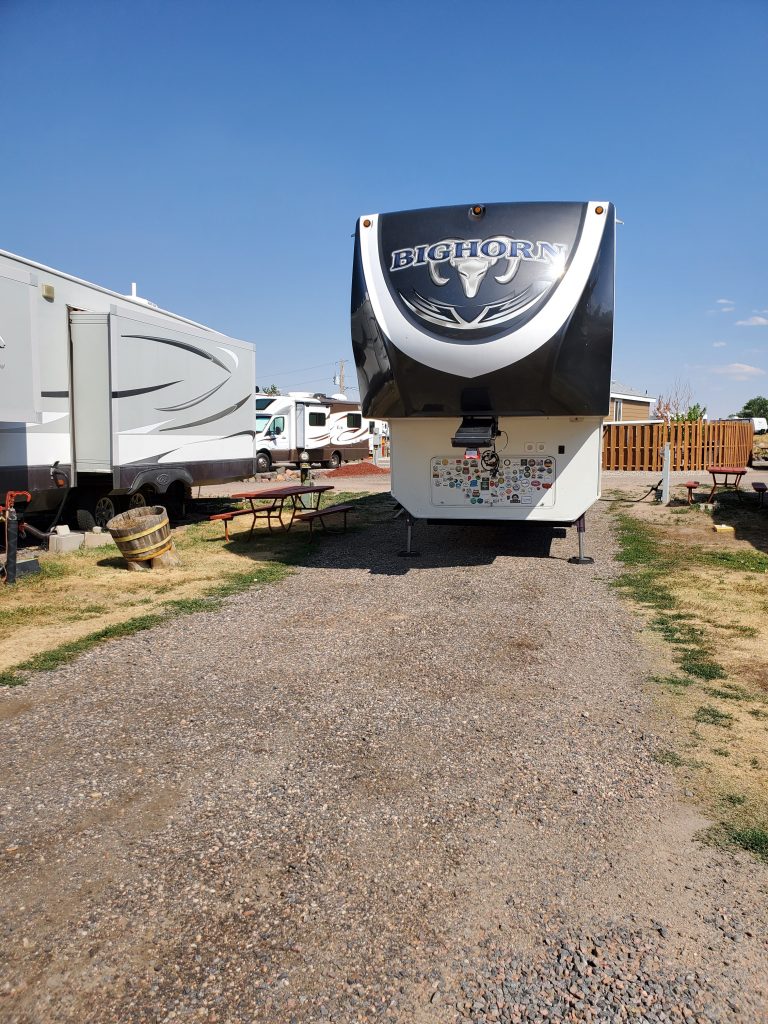 Pueblo KOA Journey
As we headed south to the Colorado Springs area the site shortage continued and once again our only options were KOAs. The Colorado Springs KOA started at $80 a night. We opted to stay further south just north of Pueblo at the Pueblo KOA Journey.
The Pueblo KOA is neither in Pueblo or in Colorado Springs. It's located about 15 minutes north of Pueblo and about 40 minutes south of Colorado Springs. There is a KOA Holiday closer to Colorado Springs (but the price was much higher). After saving 10% with the KOA card, we paid about $52/night.
Our site was much larger than the site we'd had at the Denver KOA, giving us plenty of room to park our truck and even enough room that we felt comfortable pulling out our grill and chairs to hang out outside.
That said, the entire campground had a desert feel to it. All gravel with a few small trees interspersed, leaving you completely exposed to the (sometimes brutal) Colorado sun. And, with nothing to block the wind, we couldn't really even use our awning.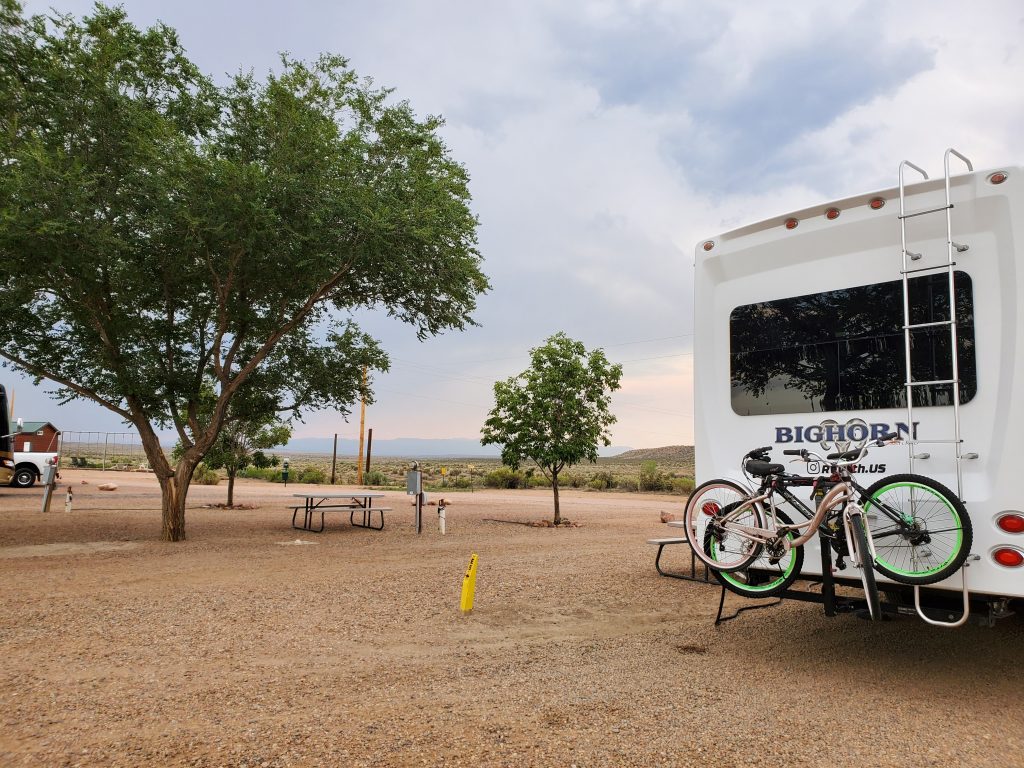 We actually had a pretty fun stay at this campground, although I think that had much more to do with having family come visit with us. My nephew and his wife stayed in the tent sites both weekends we were there. The tent sites were also full gravel and very small.
South Bend / Elkart North KOA Holiday
As we headed to spend the summer of 2021 at one campground in Michigan, we weren't sure if we'd ever use those points. However, after looking at our route to get to our summer spot, we realized that our best bet for an overnight on the way was a KOA just south of the Michigan/Indiana state line.
We considered staying at a fairground (which we've never done) but after talking to them we felt really unsure if someone would actually be there to show us where to go. It was a "call this guy when you arrive and bring cash" kind of thing. In the interest of a low-stress stop after a very long day of driving, we booked the KOA. The price for the base site we booked was $65/night.
We were no more impressed by our stay at the South Bend KOA than we were on our previous KOA stays.
Redeeming KOA Points
In addition to saving you 10% off your stays, the KOA card allows you to accrue points with your stays. Once you reach a certain point you can exchange those points for a further discount off a stay. After staying two weeks at KOAs in Colorado we'd built up just under 20,000 points.
Knowing that our points would expire before the summer was over, I thought it would be great to use them and save a bit of money. But, there's no way to redeem your points online.
If only things were that simple. When we arrived at the South Bend KOA, the gate guard directed Brandon to go ahead and park and sent me inside to check-in. When I asked them about applying points they had no clue what I was talking about. I think the guy who was initially checking me in was fairly new, though. Eventually, an older lady that I took to be the office manager came over to help and finally figured out to how to apply my points (in addition to the original 10% discount). That $25 discount knocked our one night stay down to $41.27!
Our site was unlevel and cramped. After careful maneuvering between trees to park, we then spent an hour to get level – not something you want for a quick one-night stopover. This campground was definitely in the woods to the point of feeling claustrophobic.
3 Types of KOA Campgrounds
KOA has three tiers of campgrounds, starting with the Journey campground. Followed by the KOA Holiday, and the top tier – KOA Resort. We've stayed at three KOAs now – two Holidays and a Journey (and we couldn't really tell much difference).
The Holidays both had on-site restaurants along with other random amenities (often at extra costs). The Denver KOA Holiday had an on-site BBQ restaurant and a community garden. The community garden was a nice touch, but sadly it sat mostly untended and overgrown. We did manage to snag a couple of tomatoes though.
The South Bend Holiday also had an on-site restaurant (not open when we were there), a "petting zoo" which consisted of a mule named Jenny, and an overgrown? mini golf (they claimed a mini golf but all we could see was tall grass). I believe their website listing also claimed a bouncy pillow – but we never saw it.
Overall, we really couldn't tell much difference between the tiers. The items that did create a difference should not have affected the price because they were all items that cost extra. We actually enjoyed our stay at the KOA Journey more. Perhaps owing to the price difference (it felt like a better value?).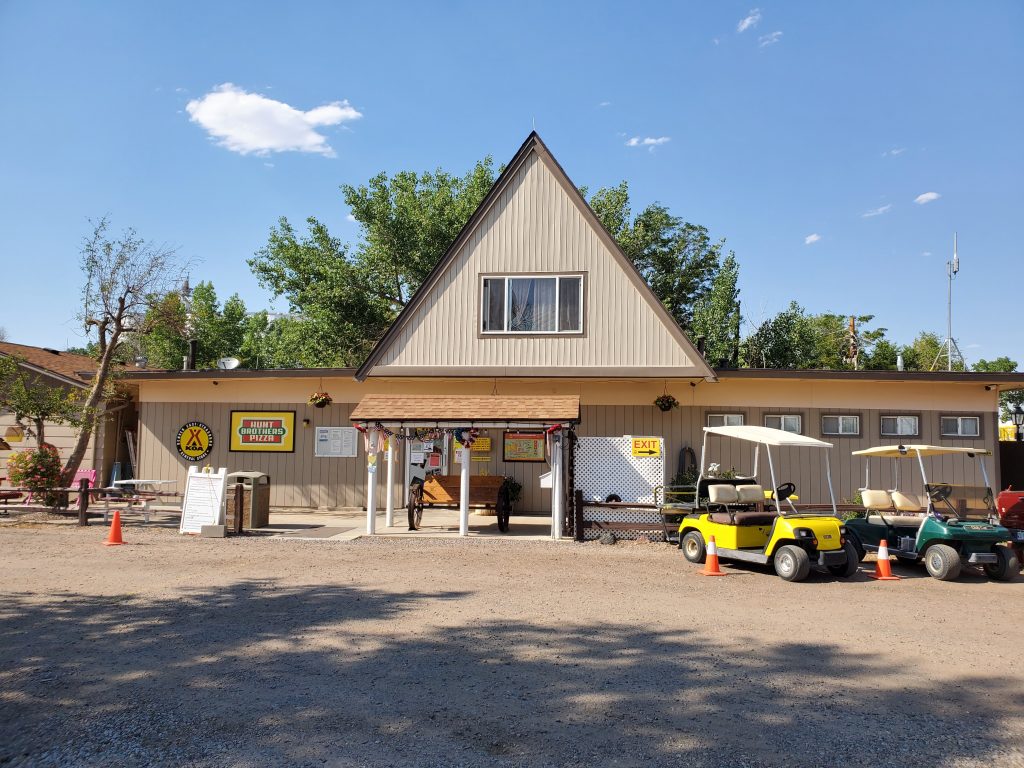 Pros & Cons of KOA
As much as we dislike KOA, there are others who love them, and the reasons are pretty consistent. I think we've shared what we believe are the cons above, so I won't rehash those.
Pros
Ease of Access. They are typically found near the highway and are easy to access. While some private parks and campgrounds may require you to go out of your way a bit to reach them. Rarely (in our experience) are they as convenient as the one we visited in Rapid City.
They are consistent. We often hear that people like KOA because they know what they are getting, and we can agree they are consistent. If you don't care to research your stays and read reviews to see what's out there, KOA is an easy choice. If you've stayed at one, others will be similar. They are typically all gravel/dirt, with bits of grass where it can grow, and lots of trees.
They are easy to book. While so many other private campgrounds and parks still force you to call to book your site during business hours, KOA campgrounds can be booked online 24/7. This is a pretty huge pro, especially for those who are trying to plan a trip in the evenings when all you get on the phone is a voicemail.
Friendly cancellation policy. KOA allows you to cancel without losing your deposit up to 48 hours in advance. However, they do charge a $10 cancellation fee – unless you are a KOA Rewards VIP and call the campground you booked at to cancel. (To be a KOA Rewards VIP you've earned 20,000 points in their system that year). If you cancel less than 48 hours in advance you forfeit your deposit (equal to the first night's stay).
We generally find that cancellation policies at campgrounds vary widely -anywhere from no charge whatsoever to cancel (we've seen this surprisingly more than we would have expected), to campgrounds that charge a cancellation fee on top of your deposit depending on how close to your stay you cancel. Always ask about the cancellation policy when you book. Cancellation fees and potential lost deposits is one of the reasons we avoid booking in advance as much as possible.
For us, the pros of KOA campgrounds rarely outweigh the cons. More than anything for us, it's about price. If those same campgrounds were 25% cheaper (or priced in line with other campgrounds) we'd probably consider them. We've stayed at campgrounds that used to be KOA and without the KOA name they are able to charge a lot less. And, interestingly, those same campgrounds seem to be better cared for, with nice level sites. But, we're willing to spend time doing the research on the campground options before booking.
RV life and camping is different for everyone. Find what works for you, but don't fall into a trap of staying only at one place or one brand and missing out on so many beautiful places.