Month 9 took us to 5 campgrounds in 3 states. It also brought us tornado warnings, a new toilet, and our first flat tire.
Hard to believe it's been 9 months already, and yet sometimes it feels like it's been so much longer. We've experienced so much and learned so much. We traveled a fair amount this month, but it felt calm after dealing with the Texas Snowpocalypse.
Month 9 by the Numbers
Dates: Feb 28-March 31
3 States
5 Campgrounds
783 Miles
$2740 spent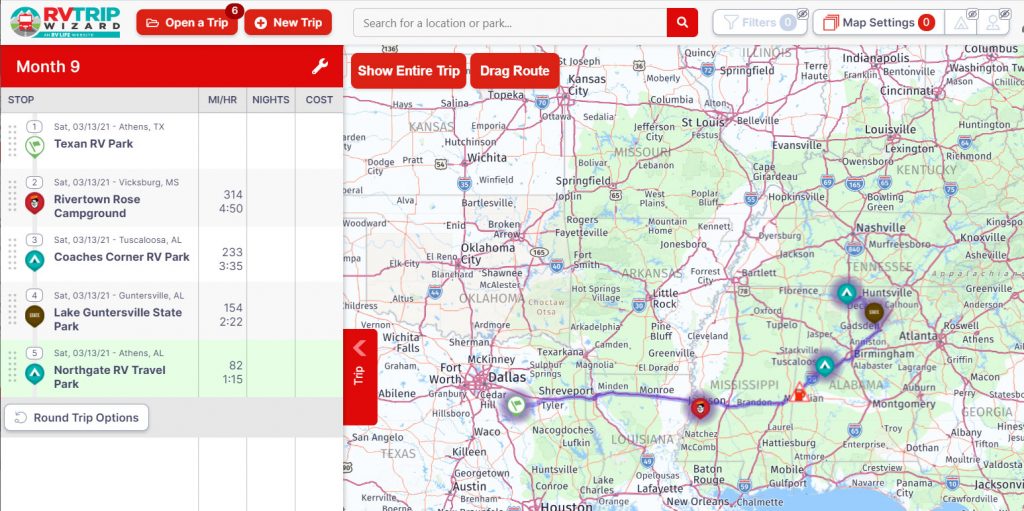 In an effort to start covering our months on a calendar basis, I've included the last day of February into this month (making it 32 days).
Our last couple of months have been rather more expensive than we prefer. I don't know if the cost of food has just risen or if we've just been spending more. After months with very little dining out, we ate out a lot more last month simply because we were in a place where we could get a variety of foods delivered.
Where we spent our ninth month on the road
Month 9 started and ended in Athens. We left the Texan RV Park in Athens, Texas, stopping for a week at Rivertown Rose in Vicksburg, Mississippi, before heading back to Coaches Corner in Tuscaloosa, Alabama where we spent a week visiting friends again. Then we headed back to Lake Guntersville State Park, where we met up with some friends we made last year when the RV Entrepreneur Summit turned into the Covid Spring Quarantine, and finally ended the month back at Northgate RV Park in Athens, AL.
After dealing with the freezing weather and then the RV maintenance course in Texas we were ready to relax for a minute, but we felt the need to head back towards Alabama. We'd initially wanted to stop in Monroe Louisiana, as that would have been perfectly halfway to Tuscaloosa but the park there was full. The next best good stop was Vicksburg, MS where we found Rivertown Rose RV Park.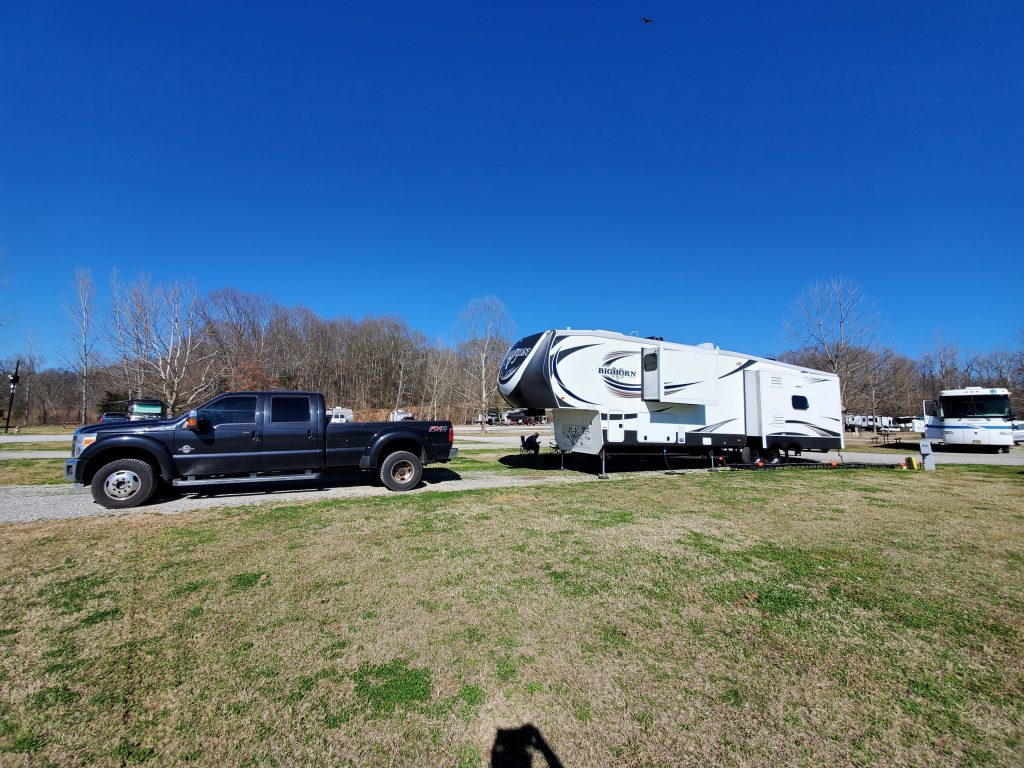 Rivertown Rose is a very nice, clean, park with long pull-throughs on the outskirts of Vicksburg but within 10 minutes to Walmart, Lowe's and most anything else you might need. It's just off the highway but the noise wasn't bad and the park is surrounded by trees and woods on three sides.
The only issue we had there is that the hookups are at the very back of the very long pull-throughs. With our rig as far back in the site as we felt comfortable, the 30ft of sewer hose we had on hand was still not enough (by about 5ft), warranting a search for additional hose.
This was the second time in two months we've found ourselves at a campground where we wished we had more sewer length. We made do at Poche's Place by just leaving everything closed unless we were dumping then making sure someone was basically standing on the elbow to avoid it popping out. However, this time that wasn't an option. We noticed this was a bigger hassle for those in Class As with a toad, who had to choose between hooking up to the utilities or disconnecting their toad.
From Mississippi we headed back to Coaches Corner in Tuscaloosa, where we spent most of January. Our second stay here was as pleasant as our first. The owner is a really great guy, and the location is perfect. While there is train noise, the ability to get delivery from any grocery store or restaurant in town more than makes up for it.
Next we headed back to Lake Guntersville State Park. We spent two months here last Spring (at the beginning of Covid) before we headed out on our travel journey, and again this winter. This stop was arranged to meet up with some friend we made last Spring. However, had we calculated for Spring Break, we probably would not have made those plans. The park was overwhelmed with kids and although not as full as when we left last May, it felt just as busy. We still enjoyed our stay, and it gave us a chance to take care of some things we'd been putting off – like finally replacing our master bathroom toilet (that broke just before we left Guntersville in December).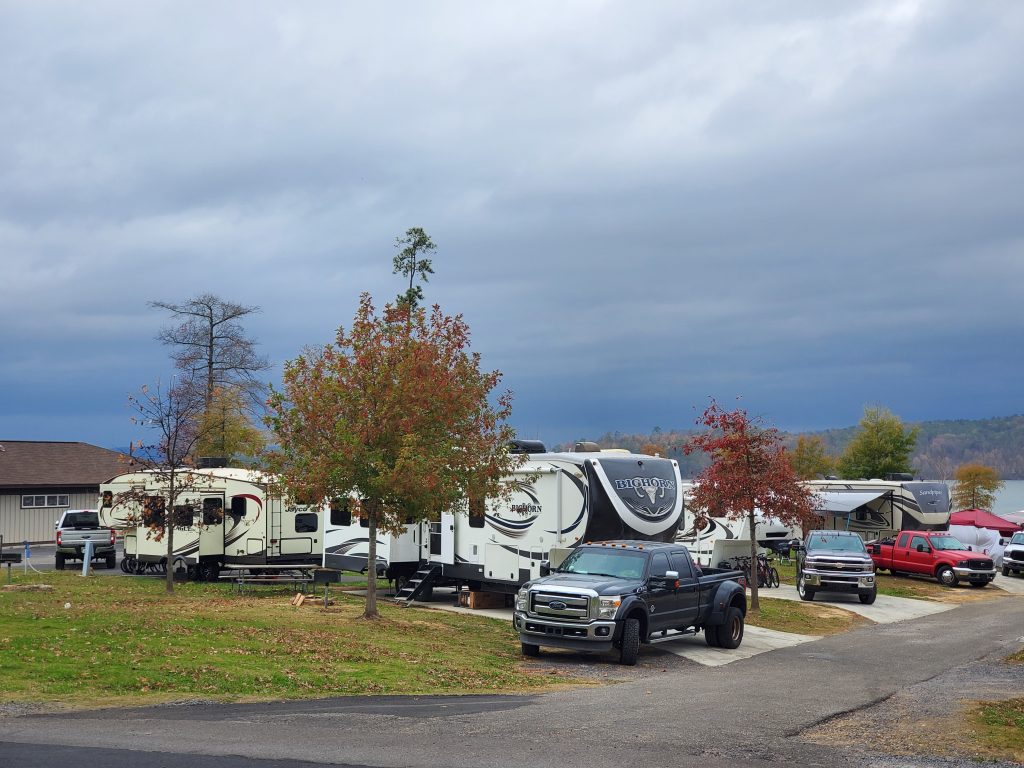 Our first flat tire experience
If you've ever wondered if there's a good time to have a flat tire? The answer is no. But, if you're going to have a flat tire, the best time to have it is when you are sitting still AND have a spare easily accessible.
The morning we were preparing to leave Lake Guntersville, we were met with a surprise when we lowered the rig down off the jacks. One of our friends was walking by and pointed out that we had a flat tire. Yay! At least it had stopped raining earlier that morning (after another night of really bad storms). We couldn't find why it was flat and thankfully, when we bought the rig we had all 5 tires replaced, so we had a full spare that matched our others. With help from our friend, Nick, Brandon got the tire changed in record time.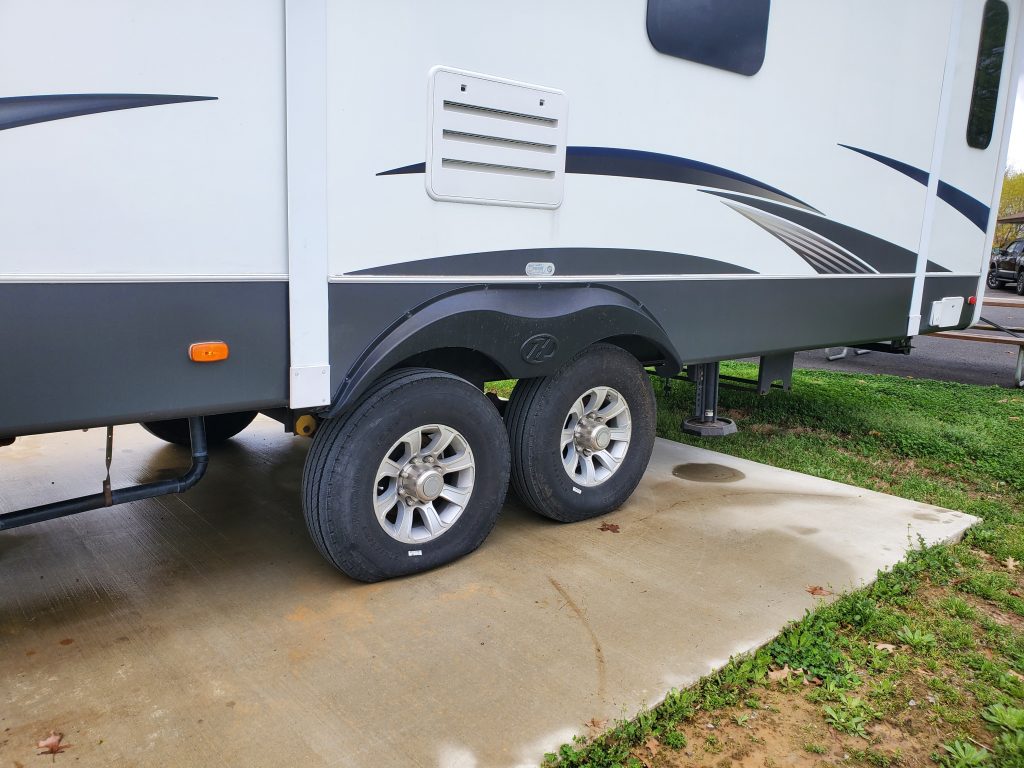 When we left Guntersville, we drove just 80 miles north to Athens, AL – Brandon's hometown, where we stayed at Northgate RV Travel Park. This is a short stay RV Park. Once again we completely miscalculated things. This park is usually pretty quiet and easy to get a spot at the last minute. However, when I called to book I learned about Snowbird Migration Season. Northgate is just off I-65 just south of the AL/TN state line – a prime place to stop when making the North-South migration. Thankfully, they were able to get us in, but we had to move to a site without sewer halfway through our stay.
Cost Breakdown of Month 9
Our total cost for month 9 was high, but not as high as month 8, with the total coming in at $2740. Rent was our largest expense, although within our budget at $856.
Our grocery bill was almost as high as our rent, coming in at $809. We were really surprised to see that groceries were still rather scarce even in Mississippi after the February freeze, with many grocery shelves still pretty bare. It wasn't until we hit Tuscaloosa that we saw a stocked grocery store and we took advantage of that to restock. We also took advantage of having access to Instacart again Tuscaloosa restocking our gluten-free favorites from Aldi. (We learned the hard way that trying to take our truck to the Tuscaloosa Aldi is not a good idea.)
Our dining expenses were also on the high side at $423, likely because we did make use of the ability to have some of our favorite restaurants deliver.
Fuel expenses were about average at $297. Most of our driving was on travel days. We've realized that driving that big truck limits how much we want to get out during the week, simply because we don't enjoy having to deal with fighting narrow city roads and finding parking.
Special expenses of about $350 included upgrading our sewer hoses, items to fix our A/C issues (we hope), and plumbing bits and bobs we'd need to replace the toilet and seal off the old hole in the half bath after tossing our old toilet in Texas.
We find it's generally a good idea to replace all hoses every 6-9 months, just because the weather will break them down. We'd ordered a new water hose to meet us in Texas, because the old one was starting to leak a bit. But, after dealing with the freezing weather in TX we felt it was time to go ahead and replace our sewer hoses, as well. We also bought some extra sewer hose in Vicksburg, because the hookups were so far away from our rig.
What we loved
We loved stopping for two weeks in Guntersville. It's a perfect place to "get away". We can get deliveries (Amazon and groceries), but we're close enough to get out if we choose to. Being on the lake is always relaxing. We were able to get some things down during our off weekend – replacing the old toilet and adding a bidet left us feeling quite accomplished. We also enjoyed getting to catch up with some of the friends we made last Spring.
We also enjoyed our stop in Tuscaloosa, both the time we were able to spend with friends and the ease of access to all things food (a dangerous thing).
What we'd do differently
We've learned that as much as we love Lake Guntersville State Park, we don't love it when it's really busy. We also don't enjoy tornado season in Alabama. We are both from Alabama, and we've both lived through many tornado seasons. But, we learned during our first Spring in the RV that a tornado warning in an RV is a very different experience than in a house.
We both lived through the tornados of 2011 with damage to our homes, yet I wouldn't say that either of us have ever been afraid of a tornado. But, in an RV you can't just "ride it out". You have to find a safer place, whether it's a bath house or an actual shelter. Once again, during our stay at Lake Guntersville we experienced two severe weather days that sent us scrambling up to the Lodge. The first was expected to be very bad, so most of the park had cleared out, except a few of us full-timers. We made the choice to go up early primarily because we both had calls that we didn't want to be interrupted by the storms. Thankfully, things never really got too bad in our location with the storms diverting and missing us.
The next week, the park was a lot more full, and while others headed to the Lodge early we opted to stay in the comfort of our rig watching the weather. At one point there was a storm with rotation that appeared to be heading in our direction so we finally packed up and went to the Lodge to find our friends. The second we walked in we were reminded just how crowded the park was. We managed to track down a couple of our friends hiding (from the crowds of kids) in an alcove and once again the storms diverted avoiding us.
We've agreed that we plan to avoid tornado alley in the Spring from now on, and while we'll definitely be back to Lake Guntersville State Park, we'll try to limit our stays to December through February when the park is quiet and the risk is low. Nothing quite like having an entire section of a state park to yourself.
We're also now aware of Snowbird Migration Season (April/May & October, typically) and that Easter is a major camping holiday (just like every other holiday) so we'll plan for those in the future.
What's next for us
We opted to spend most of the month of April in Alabama, back at Sharon Johnston Park, to give us a bit more time with family and to wrap some things up in the area before we hit the road to Michigan, via a stop in Ohio, where we'll spend the summer. We also bought a car while we were at Northgate, to make getting around town(s) easier.
Caveats
I wanted to add a couple of caveats to this post and explain how we manage our budgeting. We have a combined account that we use for MOST of our expenses. We also each have our own accounts for managing personal expenses unrelated to being on the road. As such, sometimes RV-related expenses get processed through a personal account and don't end up in this final tally. For instance, this month I know we bought a toilet (which would add another $200 to our special spending, but it got processed on a personal account).
We also pay our insurance through our individual accounts, so that's not included here. Our RV insurance runs about $171/month as we do have full-timer coverage.