Our experience staying at Lake Guntersville State Park campground for two months, what we learned and what you should know.
In the first 9 months we owned our rig, we spent about two and a half months at Lake Guntersville State Park Campground. Our first visit was for a week in October of 2019 and the second visit lasted about two months in the spring of 2020.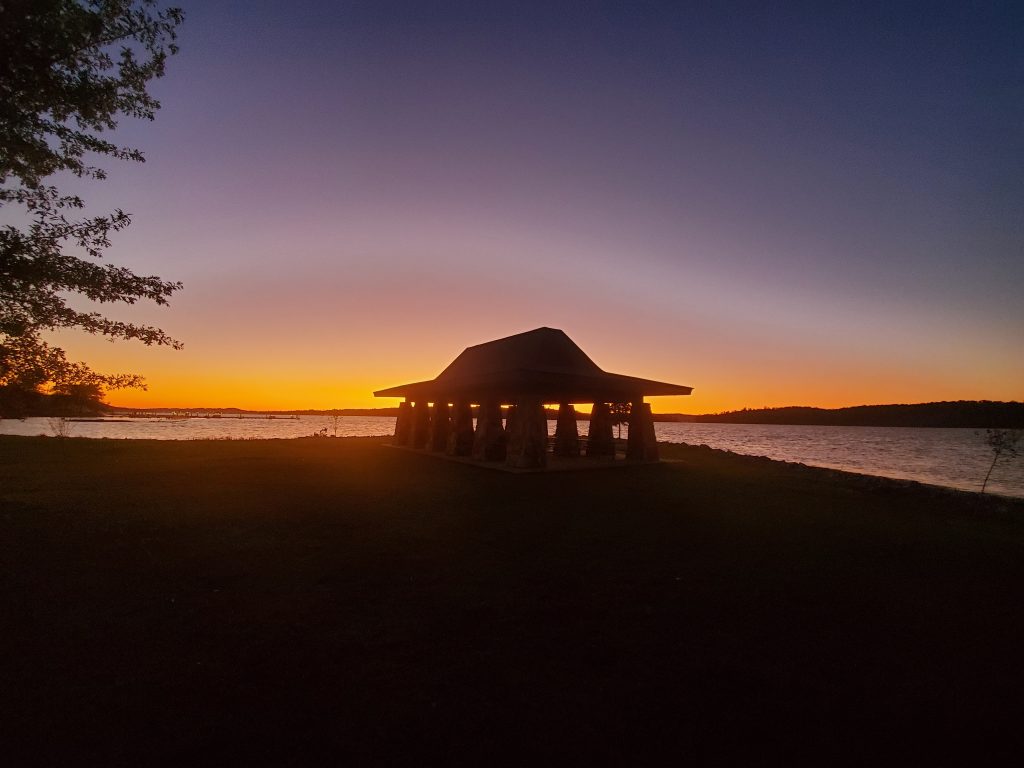 First Visit to Lake Guntersville State Park Campground
We had originally planned to visit Lake Guntersville State Park campground with friends in September of 2019 and they'd actually called and held three spots together for our group. However, when we looked at the spots they'd held we realized that the largest they'd gotten was a 40′ site. At just under 42′ we can squeeze into a 40′ site, but we'd rather not. We called and moved across the lane to a 45′ site.

Then life happened, and our friends had to cancel at the last minute, and rescheduled for Columbus Day weekend. We were OK with that as delaying would actually allow us to stay longer than a weekend. However, when we called to reschedule, the site we'd previously booked was already taken. We asked for a site nearby of the same size. It wasn't until we arrived that we realized the site they'd moved us to was the site our friends had originally booked us into – the 40′ site.

We squeezed in. But, it was a tight squeeze, especially the first night when the campground was 100% booked and the people staying in the spot next to us had three vehicles encroaching into our "yard".

Thankfully, as the weekend ended and people headed home, we found that we could deal with the space. We'd originally planned to ask about moving down closer to the water once the campground cleared out but after after the neighbors left, we decided we were content with our spot and our view.
One size does not fit all
When booking your site, double-check the size of the site you book online and make sure it's going to be large enough for your rig. The lot sizes vary greatly and the larger lots are mixed in throughout the park.
Booking online allows you to view the size of each lot before you book it. However, calling to book, or booking in person could lead to some issues if you aren't double-checking the lots as you go. We ran into this again when we went down to the office to reserve our spot for the RV Entrepreneur Summit in March.

Due to the setup of the reservations, we couldn't book online and we decided since we were there it might be easier to just go to the office and book rather than call and do it over the phone. We may or may not have been wrong.

Even though the summit had booked off most of the campground, we were evidently already late to reserve, so there weren't a lot of options left. We wanted to face the water, which decreased our options even more.

After taking a look at the available sites we settled on one that looked good, and thought all was well for our next visit.
Returning to Lake Guntersville State Park Campground
Our second visit to Lake Guntersville state park began in mid-March of 2020, just as Covid-19 was hitting the US and things were beginning to shut down. We had planned to attend the RV Entrepreneur Summit, but just before we arrived the decision had been made to cancel the event and move it online.
There were already quite a few people at the park for the event, and because we had to stay somewhere and we were ready to leave Quail Creek, we headed over anyway.
After a long and stressful day, that included a small collision with our rig, we finally arrived at Lake Guntersville at about 5pm. The office was closed and we checked in at the gate and they assigned us our site.
There was no way we were getting into that site. I have no idea what we were thinking when we thought we could fit in that site back in the fall (other than that the person working the desk had told us it was big enough for our rig).
Brandon parked the rig half into the site (because he was going to make it work if we had to) and Julie walked back to the gate. Because the after-hours hosts don't have access to the computer, they had a difficult time figuring out what spots were free for how long, but he finally gave us a new site number that would work for at least a night or two.
Except that when we pulled up to it, someone was already parked there. So, Brandon parked off in the overflow lot and Julie walked back to the gate again… in the end they asked us to just park in the overflow lot for the night. It actually wasn't a bad spot at all. While it's not full hookups they did have power and water. We would have been fine staying there a few nights if needed.
However, that was not to be the case. Since the summit had moved online, quite a few people had cancelled their reservations, and the next morning we were able to move to a very nice spot near the water.
Soon, a week became two as things continued to shut down around us. And, while we weren't able to keep this spot for our entire stay, the office staff had no trouble finding us new sites where were able to enjoy some amazing views.
Over the course of what turned into a two months stay, we enjoyed six different sites. While none of them were perfect (there's really no such thing), they were all really great. Additionally, we made some amazing friends among others from the #RVESummit who decided to stay on and wait out the stay-at-home orders.
We only moved on when we did because we needed to get back closer to Huntsville so that Brandon could close on his house. Yes, in the midst of Covid-19, we managed to get Brandon's house finished, listed, and sold.
Things to know about Lake Guntersville State Park Campground:
Lake Guntersville State Park is about 30 minutes of winding roads from Guntersville or Albertville (home of the nearest Walmart). We know this because we made the trek way too many times during our first stay, thanks to some plumbing issues that sent us scurrying to Walmart at midnight-thirty.

The little store at the campground office does have a decent supply of items in case you need something like beer, chips, a sewer cap, or other basic necessities – but it closes at 4pm.
Instacart does deliver Aldi and Publix to the campground! We learned this during our second stay and took advantage of it several times.
The campground is rather large and spread out, but the sites are for the most part fairly tight (as are the roads within the campground), and all sites are back-in. It may be worth walking down and checking out your site before you drive down and attempt to park.
I doubt there is a level site in the place. Although, there are a handful of paved sites that are pretty close to level (in section E). Plan ahead and bring a few extra leveling blocks or 2×10 boards to assist in leveling.
In case of tornado the bathhouses (located throughout the park) act as shelters, or you can (as we did) go up to the Lodge, as they have areas in the basement where you can go when there is a warning. It's North Alabama, it's not likely to experience a spring without a tornado (we experienced two tornado warnings during our two month stay).
Laundry facilities are located in the C and E bathhouses. They are generally clean and affordable.
Deer are common sights around the park. During our first stay, after the park cleared out, we actually had deer walking through our campground. We even managed to introduce Ollie to one. Please don't feed the deer.
The lots closest to the water do not have much shade, thanks to a tornado that went through several years back. But, the further you get away from the water the more shade you can enjoy. Also, sites further from the water tend to be a bit quieter.
Monthly sites are available but they are first-come-first-serve from April-September. If you want one, you'll likely have to show up and pay the weekly rate for a while and keep checking to see if someone leaves. After we'd been there a month with several extensions and the office staff had gotten to know us well they began to let us know when they expected monthly spots to open up. We continued on in weekly spots only because we didn't know how long we'd be staying.
You can only reserve weekly spots for two weeks at a time. I believe at one point we did manage to get one of our spots for about three weeks, only because we'd already reserved it for two and then it happened to open up early, so we were able to change an existing reservation to that site.
This is a great place to bring your pets. All of the sites have nice grassy areas, and there are even two fenced dog parks (one for big dogs and another for little ones).
We would absolutely stay at Lake Guntersville State Park again. When we left they said it was the busiest it had been in 10 years. Everyone was trying to get out of the house after being cooped up due to Covid-19. As a result, the park was a lot busier and noisier than we really like. We'd likely avoid it during the busiest seasons but it will be one of our go-to campgrounds when we are in North Alabama.
Amenities
Free Wifi – no
Pool – no
Hot tub – no
Laundry – yes (FREE)
Showers/Bathrooms – no
Shaded Lots – no
Pull-though Lots – yes
Cell Service – Verizon and AT&T
Park Ratings
Ratings
Overall: ⭐⭐⭐
Accessibility: ⭐⭐⭐⭐⭐
Amenities: ⭐⭐⭐
Cleanliness: ⭐⭐⭐⭐
Quality: ⭐⭐⭐⭐
Service: ⭐⭐⭐
Noise: ⭐⭐⭐⭐⭐