In our first 9 months of living full-time in our RV, we spent four and a half months at Sharon Johnston Park campground (over three different stays). Why we call this park home.
I still remember being about 6 years old, catching my first fish at a fishing rodeo at Sharon Johnston Park. As an adult living in Huntsville, I knew the park was nearby but I couldn't really remember where. Then we bought an RV and needed a place to park it and in searching found Sharon Johnston Park again, and I'm so glad that I did.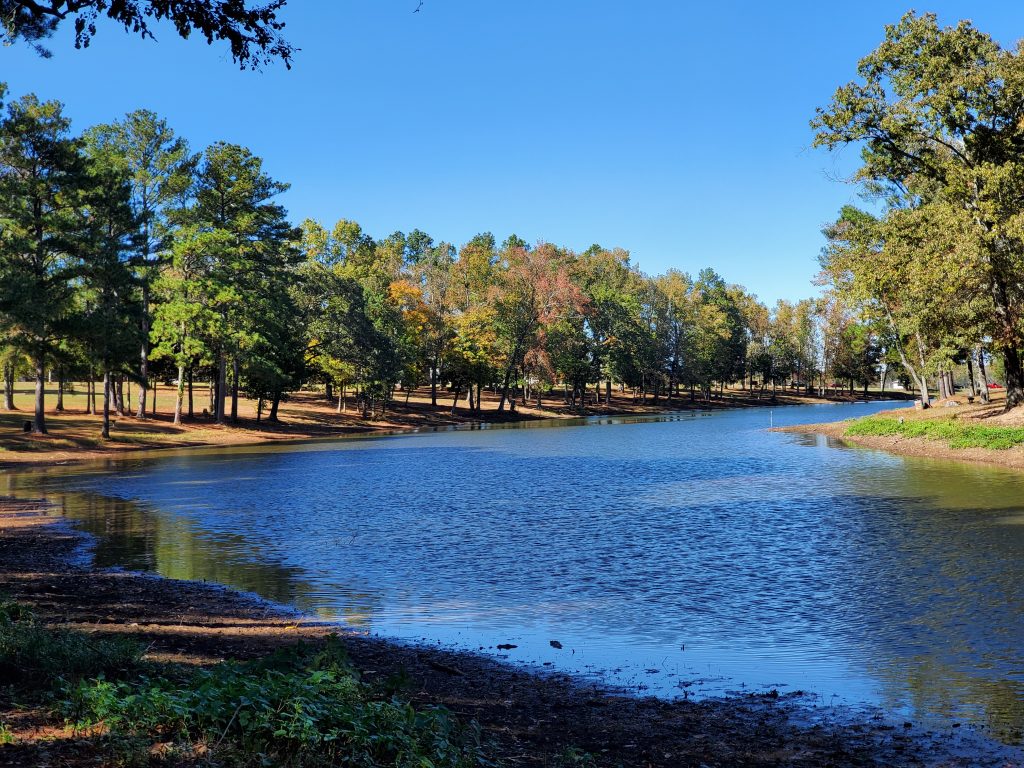 We'd just moved into our 42' 5th wheel, but we weren't quite ready to hit the open road, so we needed a place to stay for a while. Sharon Johnston checked all the boxes. It was only about 2 minutes to downtown Huntsville and offered a good monthly rate in a beautiful setting. That we'd be just 10 minutes from my mom didn't hurt.
Although Sharon Johnston Park looked good on paper, we really didn't know what to expect as it had been about 40 years since I'd visited the park, and we really knew nothing about it or the area. I'd read mixed reviews on the campground, specifically the site that we were to occupy. We were pleasantly surprised when we arrived.
The park is located just off of Winchester Rd in New Market, AL. There is a Dollar General about 5 minutes from the park, and a Wal-mart and Publix about 15 minutes away, as well as several restaurants in between.
The park occupies both sides of a public road and has several gated entrances. The campground is at Gate 1 (it's actually easier to spot the sign for the Wedding Pavilion, but if you are on the lookout for campers you shouldn't miss the gate).
The park is beautiful. The park staff take great care to keep the park immaculate, from keeping the lawn mowed, to gathering the sticks that fall from the many trees throughout the park.
In addition to the campground, Gate 1 provides easy access to the stocked fishing pond, a baseball field, gathering pavilions, and a wedding chapel. Just across the road from Gate 1 is the park office, pool (usually open from Memorial Day to Labor Day), a walking track, and soccer fields.

Gate 3 provides easy access to the Frontier Town, playgrounds, and the fishing pond, as well as the rodeo arena. Gate 4 accesses the shooting range -open to the public on the weekends.
We really enjoyed seeing all that the park has to offer. When we arrived we had just missed the Fall Festival (held the last weekend in September) – a family-friendly event featuring hay rides, pumpkin painting, bounce house, and more. When we arrived at the beginning of October the park was decked out for fall, giving it such a homey feel.
We began our stay in site 6. Sites 1-8 are full-hookup sites intended for short-term stays. The sites are perfectly situated giving both privacy and open views of the baseball field and fishing pond. They are all shaded, making them perfect spots to enjoy a weekend. The cons of these sites (and of many of the sites in the main campground) is that they are not very level. They are sloped down from back to front, making leveling blocks necessary – even with our auto-leveling system.
The shade in these spots are perfect in the summer, and allowed us to be comfortable without the constant need for A/C (despite the days still being >90 degrees in October. We stayed in this site for about three weeks. Eventually, opting to move to a more level site without as much tree coverage (due to falling leaves and falling temperatures). Once it began to rain, we did find that water accumulated across our patio area, often leaving us in the mud.
We moved over to site 34 (conveniently located right next to the new laundry building). While this site was also unlevel and required boards under our tires on one side, it provided a better location for a long-term stay. They were still in the process of building the laundry room while we were there (it opened the week after we left) so we did have some construction noise in both sites.
We loved staying in the main part of the campground. It was generally quiet and peaceful. We stayed about three months from mid-October to mid-January (2020) and enjoyed watching the seasons change.
We learned that in past years they had hosted a big Holiday festival and were a bit disappointed that they were no longer doing so.
In addition to the main campground there are about 15 pull-through sites. These are accessible just outside what I would consider the main campground (which is surrounded by trees on every side). The pull-through sites are in the open and do not afford nearly as much space as the back-in sites in the campground proper.
We returned to the park in June to find it mostly full. We were placed in the pull-throughs and it felt like we were in a different park. We missed the coziness of the main campground, as well as the spaciousness of the sites.
A large portion of the campground is occupied by people staying there long-term, although you wouldn't know it to look at the park. The park website says there's a 4 month limit on monthly stays but we knew at least a few people who had been there far longer.
During our first stay, the pull-through sites were gravel with grass areas and mostly occupied by contractors staying monthly. However, during the four months we were away, they'd paved the pull-through sites and in doing so all of the contractors had been moved into the main park. Some stayed there, while a few returned to the pull-through sites (or left entirely).
When we returned all that was available to us was a pull-through site. It felt like a different park. Even though, we had friends just one row over from us, the trees made it feel like they were much further away. We missed the feel of the main campground, and we definitely missed the shade. There is none in the pull-through area. We spent the month of May there with our dual-layer blinds pulled the entire time to block out the heat (and even then it got a bit too warm)… and that was just May.
We still enjoyed our return stay, and feel this is generally our favorite park in the Huntsville area. When it comes to full hook-up 50amp sites, Sharon Johnston park can't be beat.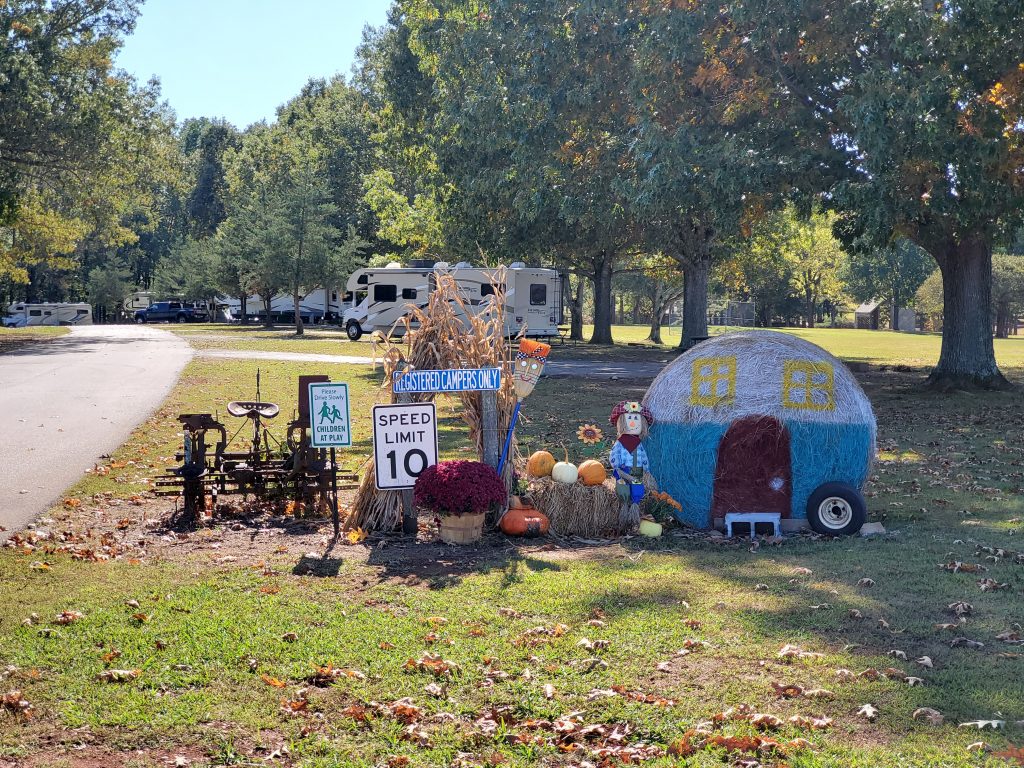 Checking in at Sharon Johnston Park Campground
The check-in process at Sharon Johnston Park is unique (at least we've not stayed anywhere else with a similar process).
When we booked at the park for the first time we were told what our site would be. When we arrived we did not find a campground office and we weren't sure how or where to go to check in. We asked some other campers and they directed us to the camphost site (site 9), but no one was there (there was a sign that they'd be back in an hour).
I finally called the camphost and he told us to go ahead and park in our site and he'd be over shortly to check us in. We did and he did and all was well. It was just a bit confusing since we weren't told to expect this.
A new camphost took over about a week or so after we arrived at the park, but the process is still the same. If you are checking in, just go ahead and park your camper, then head over to site 9 (if the camphost hasn't already come to you) to pay and check in.
One other thing to note is that if you pay with a card you'll pay a little bit more, at least on monthly rates. They basically just pass on the tax and processing fees to you. You can save a little by paying cash.
Pros of Sharon Johnston Park campground
Spacious sites. The sites here are by far the most spacious we've found. Nowhere in the park do you have neighbors on more than two sides, and even those neighbors are usually far enough away you could usually fit another site in between.
Quiet. After spending a couple of months at a much larger park we so appreciated returning to Sharon Johnston and the quiet peace that exists there.
So much to explore. There are 250 acres to explore and such a small portion is taken up by the campground. There's a 12-acre stocked fishing pond (that hosts annual fishing rodeos), large playground, Olympic-sized swimming pool, a walking track, a Frontier town and more. Even after spending four months there I don't think we explored it all.
Clean facilities. The bathhouses are old but clean. The laundry is new and very clean.
24-hour laundry. The laundry room is accessible 24 hours/day, via a door code.
Security. One of our favorite things here is the security of the campground. The park gates are locked just before sunset each night. As a registered camper, for a small deposit you can get a key to the campground gate. This ensures that people are not just randomly driving into the campground after dark.
Cons of Sharon Johnston Park Campground
The gates. The locked gates are both a pro and a con. They are a pro because we appreciate that not just anyone can come driving through. They are a con primarily in the winter when we were often returning after dark and having to deal with locking and unlocking the gate.
Unlevel sites. Most of the sites in the main area of the campground are not level. Make sure you have leveling blocks/boards, and if you have a 5th wheel – a 5th wheel tripod (especially if you're staying long). [Note: since staying here we've landed at a few spots where we literally could not get our 42′ 5th wheel level, so looking back these sites aren't bad at all.]
Below ground water connections. The water connections are below ground, making them difficult to access and connect to. The box that contains the connections often fills up with water in the rain, making them even more problematic.
Distance. It's about 15 minutes to Walmart, a grocery store (Publix), and a few restaurants, and about 20-25 minutes to downtown Huntsville. It can feel like it's really far away from things. However, on our last stay we found out would could compensate for this by using Instacart. We could get Instacart deliveries from Publix, Kroger, and Aldi.
We definitely feel the pros of Sharon Johnston Park campground outweigh the cons, and after staying at several campgrounds around north Alabama, it's definitely our favorite.
Free Wifi – no
Pool – no
Hot tub – no
Laundry – yes (FREE)
Showers/Bathrooms – no
Shaded Lots – no
Pull-though Lots – yes
Cell Service – Verizon and AT&T
Park Ratings