Our 11th month on the road actually takes us off the road for a while. We won't be traveling like we have the last year. Instead, we'll be staying in one place and using that as a homebase to explore the beautiful state of Michigan.
Are we still full-time traveling if we sit still for six months? That is the question that we begin month 11 with. After spending the last year and a half moving at least every month or two, we decided to spend the entire summer in one location. We began month 11 on the road to our new destination – Traverse City, Michigan – where we will spend the next several months.
Month 11 by the numbers
2 States
2 Campgrounds
580 Miles
$2180.86 spent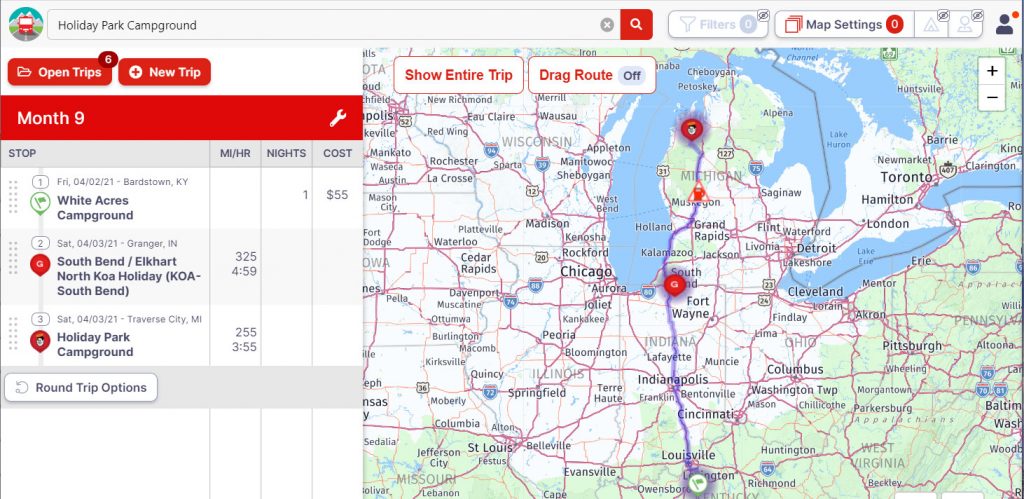 Where we spent month 10
On May 1 we left White Acres Campground in Bardstown, KY and headed up to a KOA campground just outside of Elkhart, IN, where we spent one night before continuing on our trip to up to Traverse City, MI where we are spending the summer at Holiday Park Campground.
We arrived at Holiday Park RV Campground on May 2, found our spot and dropped our jacks. Even over a month later it doesn't seem real that we a) are sitting still for so long and b) that we get to spend the entire summer here. It's beautiful.
Everything about this "season" of our travel is different than what we've done in the past. Before leaving Alabama, we bought a car, so this was the first time that we've not been together while driving.
We stayed connected via Walkie-talkies, and for the most part Brandon set the pace with the rig and I just set the cruise behind him. The car we picked up before leaving Alabama has adaptive cruise so it adjusts speed based on the vehicles in front of it.
Why are we sitting still?
Northwest Michigan has been in our sites since we bought the rig. I grew up spending summers here and lived here for close to a decade in my 20's. It's a beautiful area – in the summer, and I've wanted to get back and share it with Brandon.
We'd originally planned to head into Michigan last year when we hit the road, but when COVID hit it didn't look like Michigan was even going to be open for travel, so we opted to head West where we knew travel wouldn't be an issue, and where the majority of the things we wanted to see were outside anyway.
As things calmed and we saw that Michigan was open for travel we began to look at it as a viable option for this year. Initial thoughts were traveling as normal, but the area isn't cheap, so that meant visiting either early in the season (before Memorial Day) or late in the season (after Labor Day) for affordability. I also began to look at workamping options, and reached out directly to a handful of campgrounds that we were interested in staying at, offering up my experience in online marketing, social media, and web design, as well as expressing an interest in standard workamper opportunities, helping out in the office, with reservations, etc.
After talking to a couple of different campgrounds, I heard from the GM at Holiday Park RV Campground. They were interested in us as workampers, IF Brandon was willing to work as well, but they couldn't give us a site if it was just me. Brandon has a good paying, full-time job that he's able to do from the road, so that was off the table. Big bummer. This was our first choice campground. However, in talking further he told me that they were in the market for a website redesign and asked if I'd be interested in some freelance work.
And, that's how we created our own workamper opportunity that is allowing us to spend the entire summer in Traverse City at our first choice campground.
We got our shots!
We've been wanting to get the COVID vaccine for a while, but to get two shots means sitting still for a month. In Alabama we weren't even qualified to get the vaccine until a few weeks before we left, and once we were all we could find availability for was the J&J one-shot. We felt that if we were going to get it, we wanted the most protection and that wasn't it.
So, the day we arrived in Traverse City, we got online to book our shot and had our first shot scheduled for two days later. Brandon had no side effects, but Julie was down for a day. Our second shots a month later hit us a little harder, but still not too bad. It's definitely nice to not have that worry hanging over us any longer.
May in the Mitten
When we arrived on May 2 the weather was a beautiful 70 degrees. Perfect. Can we have this weather all summer? The very next day we found out that no we could not. Temps dropped, giving us highs in the 50s and lows close to or below freezing for the next two weeks. But, that didn't stop us from enjoying the area or the people.
The team at the park was welcoming from Day 1 and it feels good to be part of a community again. That was one thing we really enjoyed as we sat through the early COVID months at Lake Guntersville. We had a great community there.
There's also something to be said about the ability to enjoy an (almost) empty park. That's always been one of our favorite things about being full-timers. We often get to enjoy awesome places when they are empty.
But, we didn't let the cooler temps keep us at the park, either. We got out and explored the area a bit. We drove west through Honor and Benzonia and visited St. Ambrose Winery. Our friends at the park had said this was the place to go if we liked cider, wine, mead, or beer – they make them all. We were not disappointed and we'll definitely be back.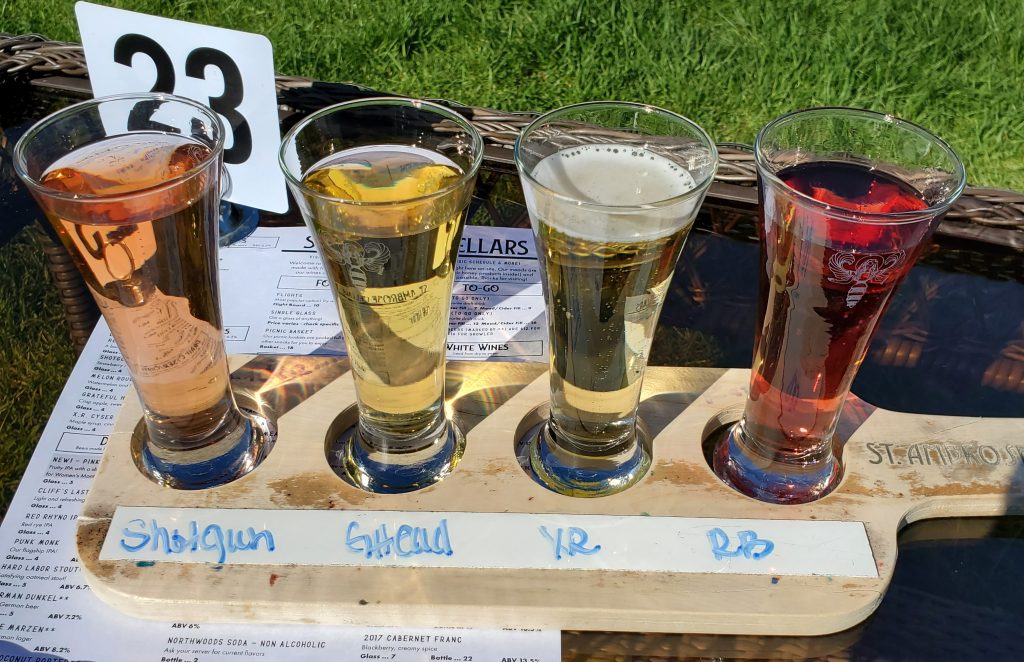 We explored a little bit of downtown Traverse City, checking out Slabtown Burgers. These are possibly the second best burgers we've found in our travels – coming darn close to Black Hills Burger & Bun in Custer, SD.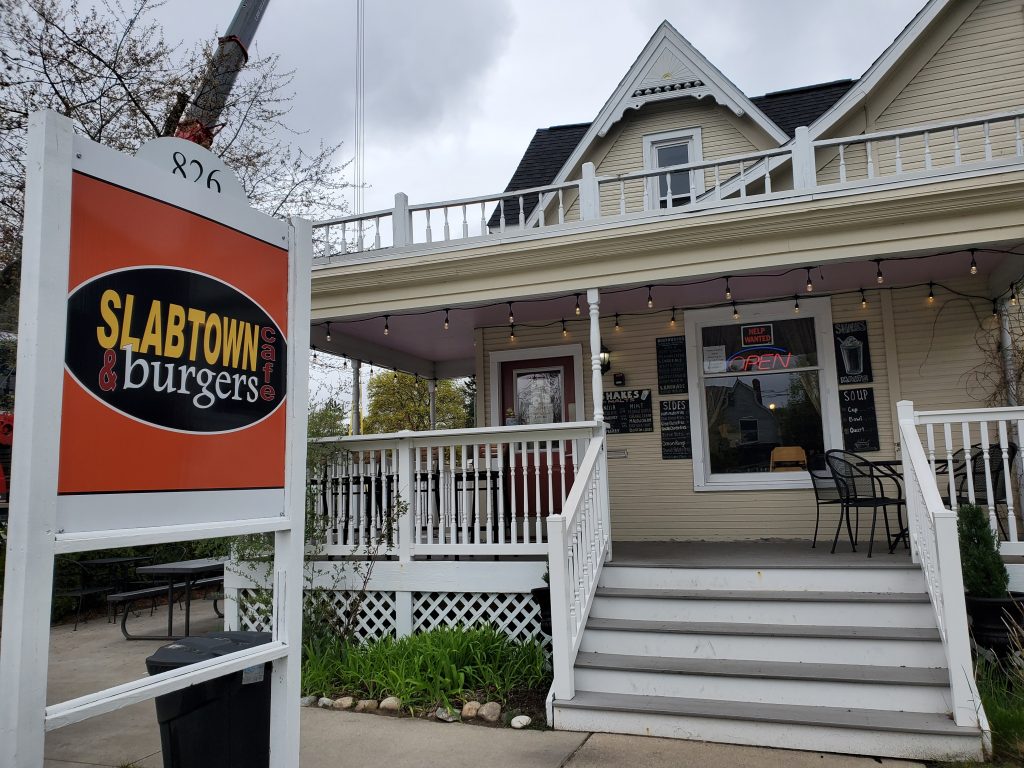 Downtown Traverse City is a destination itself. It amazes me to see both how much things have changed and how little things have changed since my childhood. I can recall that the Arcade (a shopping plaza) once stood where there's now a parking garage. Yet, Horizon Books, Plamondon Shoes, and many other long-standing downtown businesses are still right where I left them. It's so awesome to see a downtown in a tourist area that hasn't been taken over by kitschy tourist trap stores, but has instead kept it's charm.
Because we are sitting still, Brandon has decided to embark on a new hobby, one that I am 100% in favor of. He's taken up grilling (and smoking, but more on that next month). He picked up a cheap little charcoal grill that we won't feel bad leaving behind at the end of the summer.
Of course, that meant we had to track down the good meat, and in Traverse City, you find the good meat at Maxbauer's Meat Market. I've been enjoying him taking on more of the cooking, and he has done a great job of it.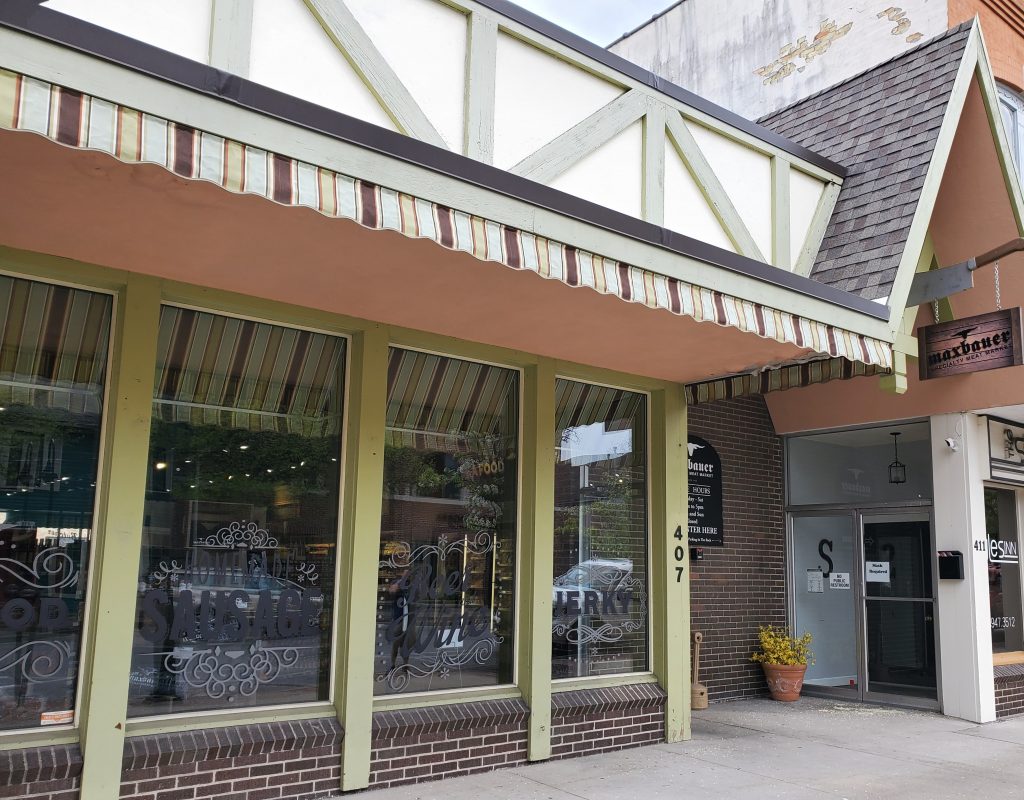 We bought a pair of Segway Ninebot scooters to get around the campground, and to easily throw in the back of the car for a day out. You never know when they might come in handy.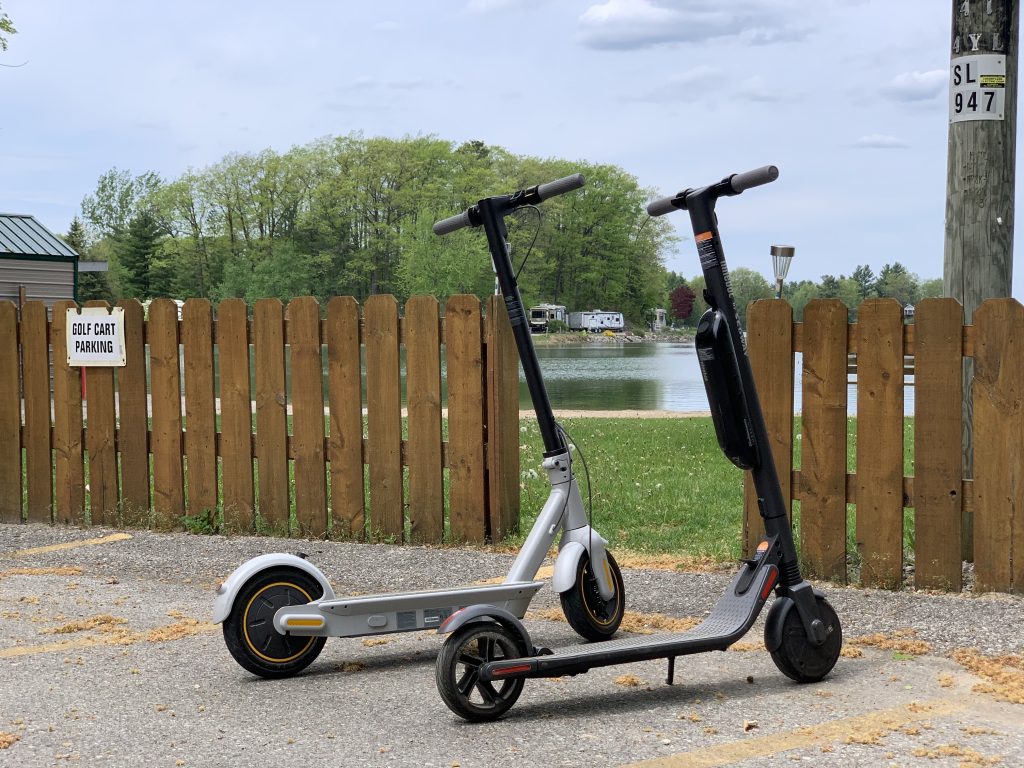 We spent a day exploring Leelanau Peninsula. Our plan had been to visit some of the wineries, but we got so distracted checking out the cute little towns that before we realized it the wineries were all closed. We made our way to the west side of the peninsula for our first gorgeous Lake Michigan sunset.
We'll definitely be making more focused visits back out to the peninsula to explore further. We definitely need to dedicate some time to visiting Historic Fishtown. When we arrived all the shops were already closed for the day.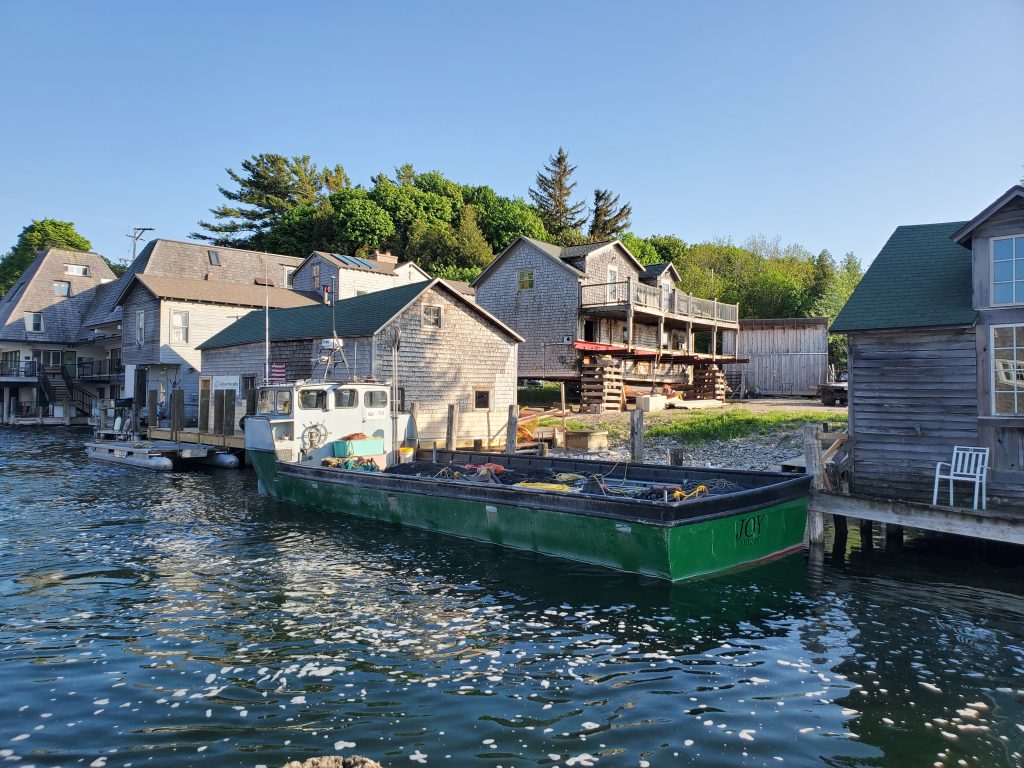 Tip: if you want to explore the peninsula and all it has to offer, get an early start, as all the shops close by about 4pm, and the wineries closed around 6pm.
We also took an afternoon to tour Grand Traverse Commons. This is one of the largest historic revitalization projects in the country. I can remember when it was still the Traverse City State Hospital, and I remember when it closed. But, I had no idea about the actual history of the place.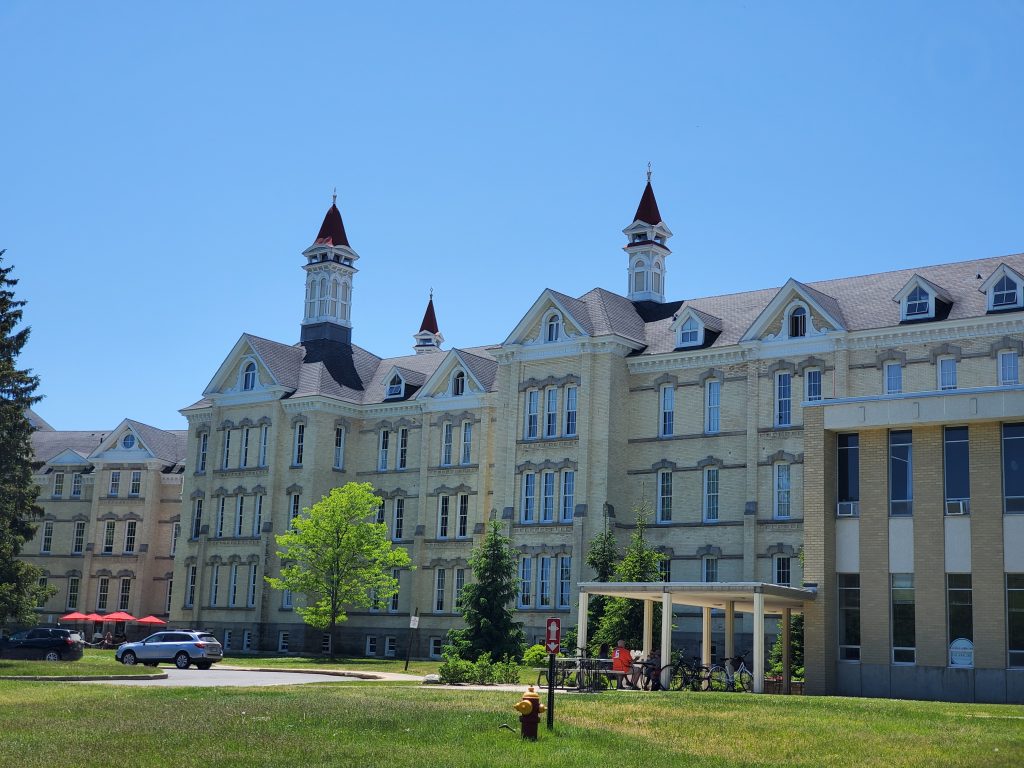 When Grand Traverse Commons opened in 1885 it was a state of the art asylum hospital. Built on the idea that "Beauty is Therapy" the buildings are like nothing you'd imagine in any hospital. The main building features beautiful Victorian-Italianate construction. Residents were treated like people, not prisoners and engaged in every facet of life at the hospital. The goal was to rehabilitate and re-introduce people back to the world, not to lock them up forever.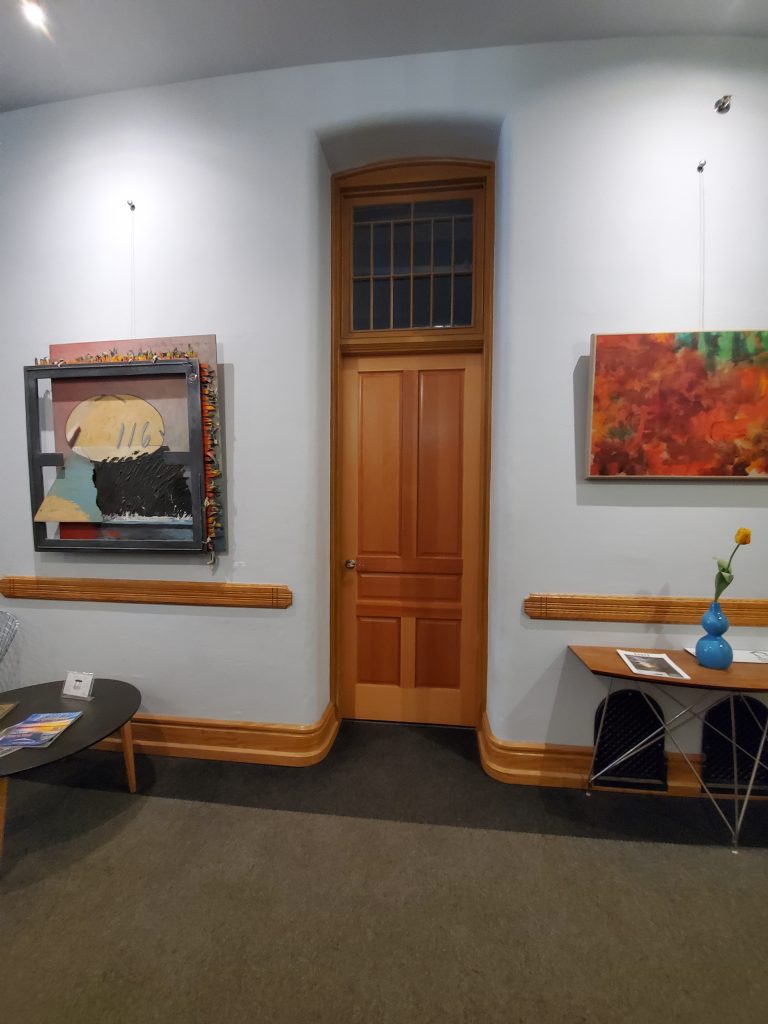 Sadly, in the 50's and 60s things did change as budgets were cut. Where the hospital was once self-sustaining in every way (from on-site farms that not only fed the residents but sold to the local markets, to an on-site fire department and butchery), eventually local groups who didn't appreciate the competition in the market found reasons to limit what the hospital could provide and with it the income of the hospital.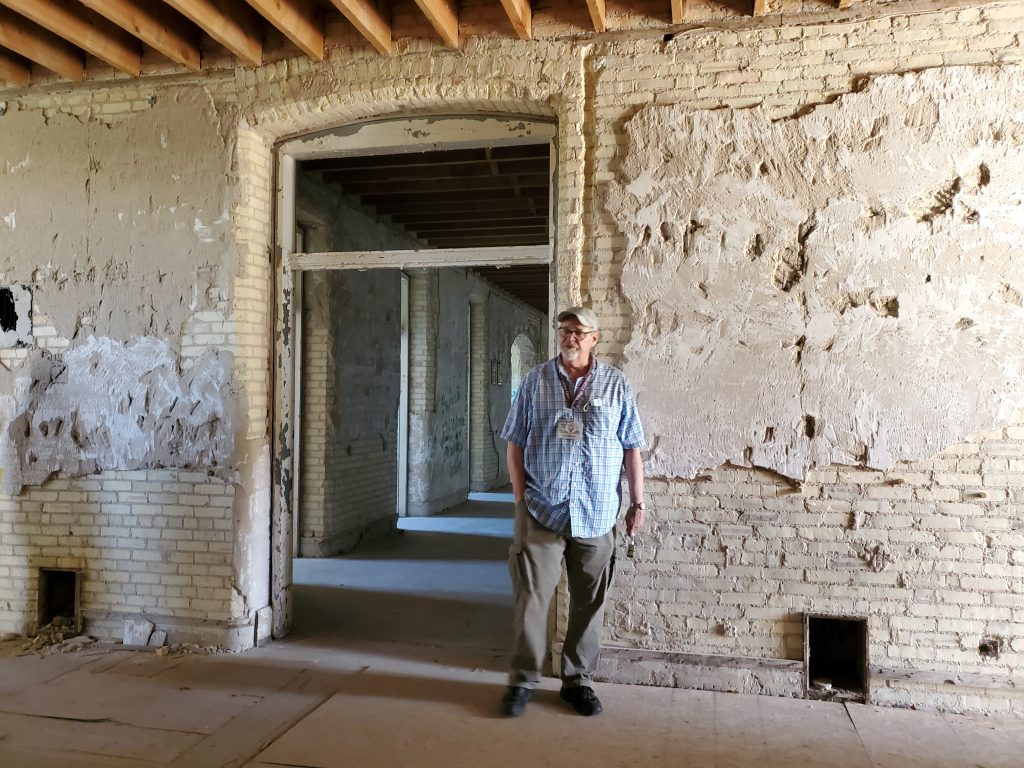 By the time the hospital closed along with with all state facilities in the late 80's, the campus was deteriorating, residents were few and employees fewer. The buildings sat empty for over a decade while various groups debated what would become of the property. Eventually, it was purchased by an investment group with the goal of bring it back to its original splendor. They have renovated most of the buildings turning them into a mixed use property featuring everything from restaurants and wineries, to high end condos, low-income apartments, and even long-term care facilities. You could literally move in here and stay until you die.
Throughout the area we've noticed early closing times and "Help Wanted" signs everywhere. Even here at the campground we are short-handed, and I've actually stepped in to help in the office in addition to the agreement that we came in on. It's hard not to want to help our friends when we see them struggling.
In contrast to the early closing times, the sun sets late, and it's usually about 10pm before it's fully dark outside. This creates a bit of a dilemma when you love to watch the sunset but also really want to be in bed at a reasonable hour.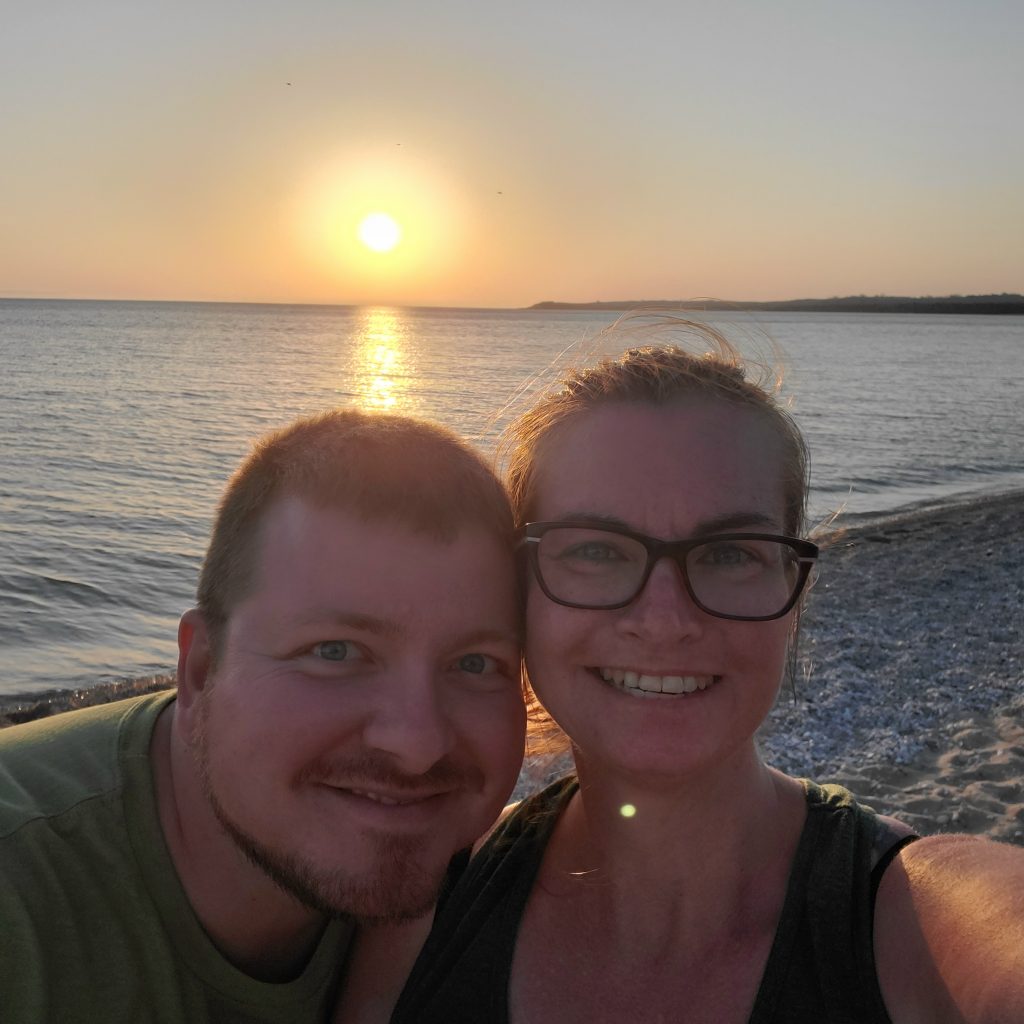 We are so looking forward to spending the rest of the summer here in Northwest Michigan. So many more places to see, so many sunsets to enjoy. We are already in discussion as to whether we may return here next summer. It's such a hard decision when there are still so many places we haven't seen.