Our experience over two visits to Quail Creek Golf and RV Resort in Hartselle, AL. Is it an RV Resort? Or, just another RV Park?
It seems we are going in circles. Just when I was ready to finally write up my review of the time we spent at Quail Creek Golf and RV Resort last fall, we found ourselves there again (after we got flooded out of Point Mallard). Rather than writing up a review of our stay last fall, I thought that I should wait and write a review of our full experience with Quail Creek Golf and RV Resort.
Our first stay at Quail Creek
Back in September, we needed to find a good local home for Bessie (our 5th wheel). Our first choice, Point Mallard Campground in Decatur was booked solid, Jay Landings was too tight for comfort (and a bit too expensive for a long-term stay).
The next closest place that looked like it had potential was Quail Creek Golf and RV Resort in Hartselle. From what we could find it was a fairly small RV Park and also still pretty new. But, they boasted "bath suites" and it generally looked like to be in a good area, close enough to grocery stores and not too far of a drive when Brandon had to go into the office.
This is a new RV Park and it's obvious (from the changes that we saw over just a few months) that they are making an effort to create a great RV Park. I think it will be a really great place in a few years. Thankfully, for now, their price does seem to reflect the quality they offer.
Quail Creek Golf and RV Resort?
Don't let the signs on the highway fool you. This is an RV Park at a Golf Resort. I'm not sure what makes something a golf resort instead of a golf course, except maybe it's because they also have a hotel on site.
Golf Resort? Yes. RV Resort? No…no no no. But, the golf course is beautiful and makes a lovely backdrop to the field that is the RV park.
Checking-in at Quail Creek RV Park
Check-in is awkward. You drive past the RV park, into the golf course, back to the main office to check-in, then you have to do a u-turn in the parking lot with your rig to go back to the RV park where you are met by the camp host (so they can say hi?).
Quail Creek RV Park
The RV Park is literally, just an open field with zero shade. The park currently consists of two rows of RV lots with full hookups. The parking areas themselves are gravel, but each site does have a concrete patio pad. The concrete pads were an upgrade that was added between our first and second stay.
The sites are fairly small and are not angled, which makes them feel even smaller. Depending on your slides, you have about 12 feet between your rig and your neighbor. It feels tight. A few sites do have a good bit more room for various reasons.
During our first stay at Quail Creek we were in an end site next to the dumpster (I believe it was site 20 with their new numbering system). There was a lot of traffic because we were next to the dumpster (which is a bit difficult to get to). We also noticed that we'd often get a septic smell in that site. We weren't sure if it was because they were in the process of doing perk testing for new septic systems (to add more sites) or just the proximity to the dumpster.
During our second stay, we were on the other row in site #4. This put us closer to the laundry and bathhouse but made the awkwardness of getting to the dumpster apparent.
Taking out the trash
While the proximity to the dumpster made it great for taking out the trash, it was during our second stay that we realized how awkward it is for everyone else. There is only one road that runs to that dumpster, so if you are one who would normally walk your trash to the dumpster you have to walk through someone's yard to get to it.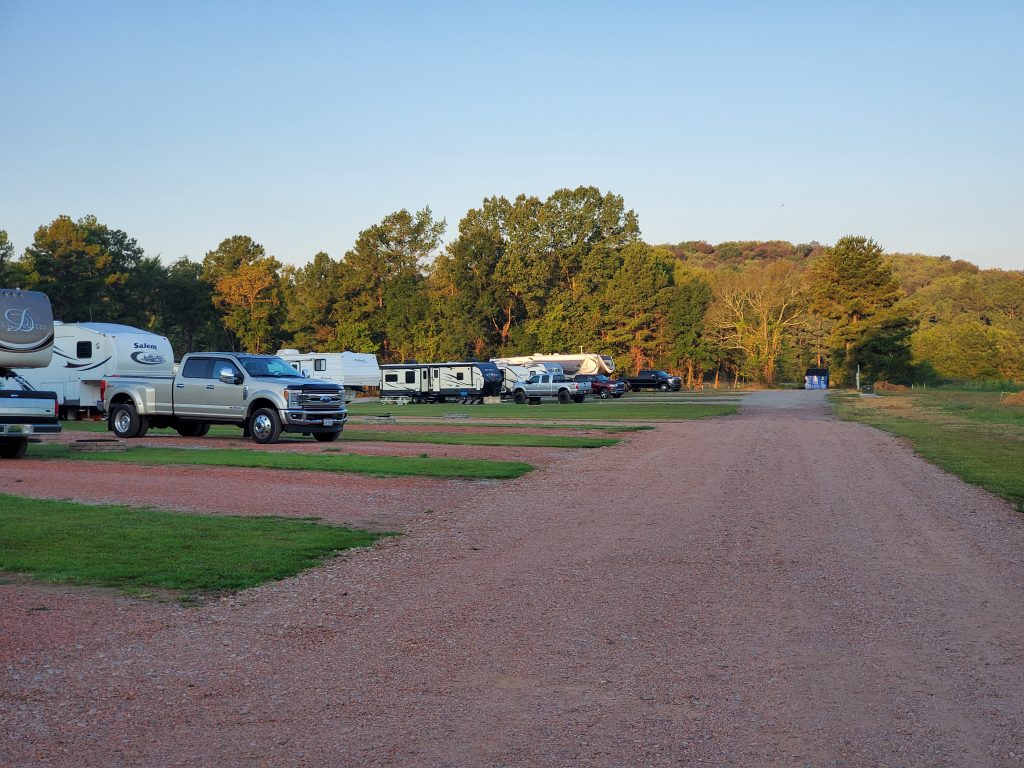 Quail Creek RV Park is built in an old hay field. As such, there is very little shade. The first row of sites, closest to the golf course, does have a bit of shade from a row of trees at the edge of the course. The second row of sites has no shade whatsoever.

This was an issue for us during our first stay, as it was over 90 degrees the entire time. The direct sunlight meant that we had no choice but to leave all of our blinds closed the entire time. The harsh sun also caused damage to our slide seal covers, causing those in the most direct sunlight to actually detach.
Another upgrade that occurred between our stays was the planting of trees along the far side of the second row. Unfortunately, they are not on the side that will allow them to eventually block out that harsh sun, but one day (in a few years) they will provide a bit of shade for those sites.
How was the noise level?
When you live in an RV park there will be noise. Diesel trucks are the number one culprit. But, we've found that at some parks you get more noise from your neighbors than at others. Quail Creek is one of those parks.
I can't say if it was the lack of trees to buffer sound, or the proximity of the neighbors, but both times we stayed there we noticed that it seemed like we could hear every move our neighbor made. In the case of our second stay, we could hear our neighbors kids and TV over our own TV.
What about amenities?
If you read our review of Seminole Campground, you know we were spoiled there. That was the first park we stayed at and it was the first time we'd even heard of bath suites. If you've not checked out that review to see those bath suites, you really should go do that now.

Needless to say, when we saw that Quail Creek advertised "bath suites" it raised them up in our esteem a bit. Even though, we didn't expect to ever need to use them, it was still nice to know that it was an option.

The bath suites at Quail Creek RV Park are not quite as nice as those at Seminole Campground. But, they are bath suites in that they do offer two individual full bathrooms (with standing shower, toilet, and sink) that can be locked for privacy.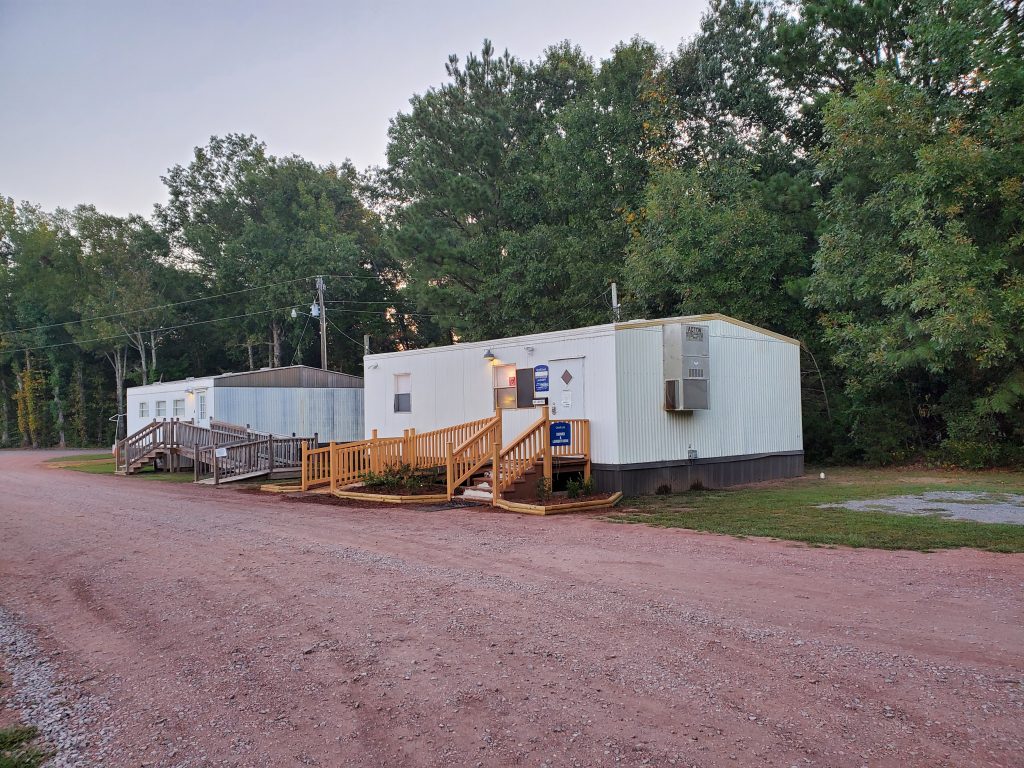 The bath suites are in the same building with the laundry. There are two standard washers and two dryers. These are not coin operated, instead you pay on the honor system.

Everything about the bath/laundry house was clean. The camp host did an amazing job keeping things as clean as she could. Despite the fact that during our second stay it was raining constantly and there was mud everywhere. It seemed every time I went near the building the camp host was cleaning.
They do have a pool available during the summer months, and they also offer golf carts for rent on a weekly basis that you can use to get back and forth to the pool, or … you know.. for golf.
But, how is the wifi?
During our first stay at Quail Creek, we were still sorting our our WiFi, so having a park with WiFi was a plus for us.

The WiFi is the best thing about this park. Surprising, for how remote it is, the WiFi is strong. On our way to check out the park before we moved in, we noticed a lack of anything resembling cable or fiber optic lines. We were actually concerned how they could possible be offering WiFi. But, when we arrived found that their WiFi signal was quite strong.
We asked about that at the front office and we were told that they microwave their internet in. If you are like Julie, you just pictured a microwave cooking your food and are now wondering how that even works. But, Brandon is a giant geek and he knew exactly what they were talking about and was impressed.
All in all, it's not a bad place to stay, especially for the price (at the time when we stayed it was under $500/mo). It's not our favorite place to stay in North Alabama, but we'd stay there again if we needed to.
Free Wifi – no
Pool – no
Hot tub – no
Laundry – yes (FREE)
Showers/Bathrooms – no
Shaded Lots – no
Pull-though Lots – yes
Cell Service – Verizon and AT&T
Park Ratings
Overall: ⭐⭐⭐
Accessibility: ⭐⭐⭐⭐⭐
Amenities: ⭐⭐⭐
Cleanliness: ⭐⭐⭐⭐
Quality: ⭐⭐⭐⭐
Service: ⭐⭐⭐
Noise: ⭐⭐⭐⭐⭐