Seminole Campground in Ft. Myers Florida is an RV campground with some RV Resort level amenities.
The first stop on our inaugural RV road trip was Seminole Campground in Ft. Myers Florida. We chose this campground almost purely out of convenience to the dealer where we bought the rig.
I googled and read reviews of several RV parks and campgrounds in the Ft. Myers area and the reviews for Seminole Campground were really good. What really sold me was a review from a single woman who showed up at this campground after buying her first rig and the experience she shared of really helpful people.
We expected that this would be just a typical campground. The pictures looked nice, but pictures can't always be trusted. We were wrong.
After picking up our rig at Milford Motors we drove about 10 minutes to this campground. It was easily accessible from the highway, yet tucked back just enough that you felt completely removed. The turn onto the road was a bit daunting our first time ever driving anything this size. The road leading to the campground is just a small little two lane but it's wide enough to get down, and we took it slow.
We pulled into the campground and, after figuring out where the office was, Julie went in and got us checked in. As we headed in the direction she pointed, we somehow completely missed the turn. This left us thinking there was no way we (in our ineptness) could make the sharp turn we thought we had to make.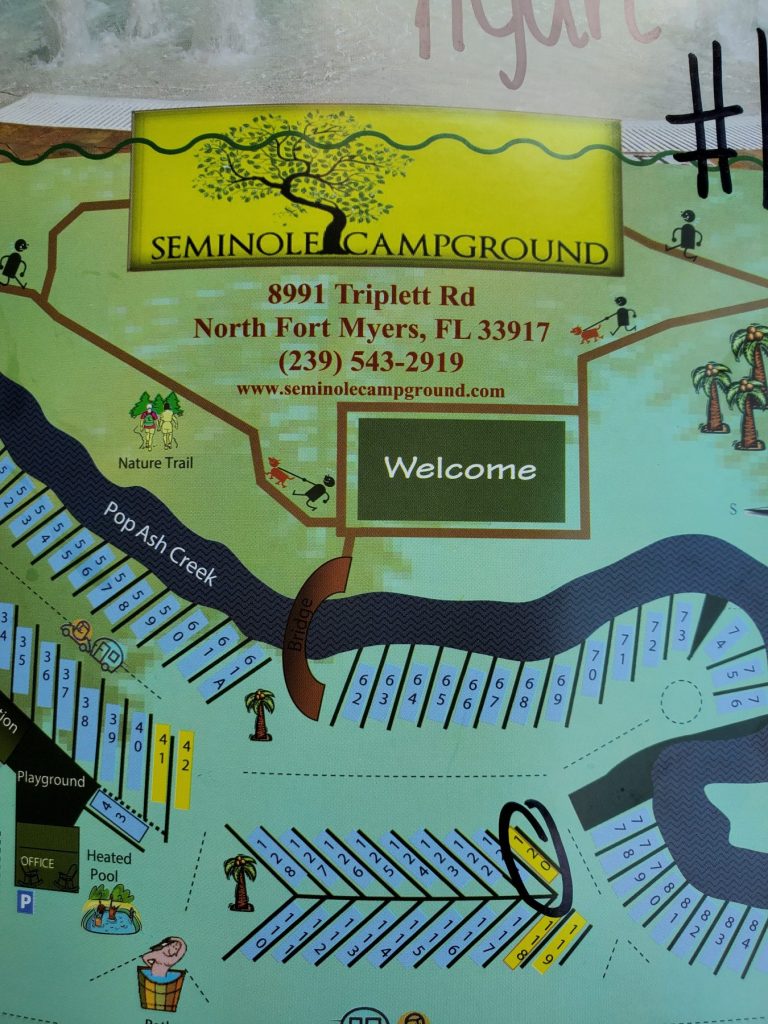 Thankfully, as we sat trying to figure out how to get turned around, another employee came by and let us through a gate at the end of the road that gave Brandon a place to turn around. Once he was turned around, he was able to come in from the other side and park quite easily.
We'd planned to get setup and then get a shower and head to Walmart to get necessities (food, etc) that we needed to get us through the next couple of days.
However, once Brandon was parked we ran into a snag when we realized our water hose was about 5ft too short to reach. Had we not been so green we might have just moved the rig so that it would reach. As it was we were just happy we landed on the pad and also pretty tired and hot and not thinking. So, we gave up and went to Walmart.
We didn't really stop to check out the park until the next morning. I woke up bright and early and decided to take a walk around and check the place out. This is when I discovered that we probably could have avoided (or at least delayed that trip).
We'd been able to see a few things.
There was a pool next to the office that looked really nice
The lots were nice and large
There were bathrooms and a laundry room
My walk the next day told us a lot more about the place.
Those bathrooms? Not your average park bathhouse. Instead there are 5 individual bath suites. Each one is large with a toilet, sink, and a very large shower (with multiple shower heads). These are bathrooms I'd actually be willing to use. That would have been so nice to know the day before.
The pool was very nice, large, and clean. As I walked around the next morning I watched as it was cleaned. I also watched groundskeepers clean the leaves and whatnot away from the road and walkway.
The laundry room was also nice and large and clean – very clean. When we were shopping for our rig one of the biggest reasons Brandon really wanted a washer in our rig was the fear of public laundry rooms. I would have no issue using this laundry room.
I also found a game room and a fitness room. Neither were anything really special, but they were decent and clean (and air conditioned – which was greatly appreciated in the heat of S. Florida).
The entire park was just very nice and clean and quiet. We considered seeing if we could stay longer, but Brandon was also ready to get on the road and begin our journey. He was anxious about pulling our rig down the highway and wanted to get those miles under his belt.
Free Wifi – no
Pool – no
Hot tub – no
Laundry – yes (FREE)
Showers/Bathrooms – no
Shaded Lots – no
Pull-though Lots – yes
Cell Service – Verizon and AT&T
Park Ratings
Overall Rating – 5 Stars
Location – 4 Stars
Atmosphere – 5 Stars
Amenities – 5 Stars
Internet – 5 Stars
We would definitely stay at Seminole Campground again. And, we highly recommend checking it out if you are staying in the Ft. Myers area.