A few people have thought we were crazy to drive 800 miles to buy our first RV. Why not buy something closer? Something you could easily walk through before having it inspected.
Why would you want to make an 800 mile trek home as your first RV trip?
We feel we had two really good reasons. Availability and Price!
After a couple of months of looking at Class A's , we realized that our minimum requirements were not likely to be found in our price range. So, we switched gears back to looking at 5th wheels.
Space to work has been a priority to us in our search for an RV. Because both of us work from the house, we needed room to make that work.
When we first started looking at RVs about a year and a half ago we really thought we wanted a toy hauler or a bunkhouse model, to give us room for a separate office space. However, a lot has changed in that time.
In June, Julie sold her house and moved in with Brandon. We merged our living room with our shared office. We've gotten used to living and working in a single small space. So, we no longer felt the need for that separate office space.
With those thoughts in mind we started our search from scratch. Just like those early days we started hitting the dealerships in our areas and just walking through various models to see what we liked and what we didn't. We found a few that we felt would work. But, the more we looked, the more we ruled out.
We knew we'd be taking out the dining room table to put in a desk. We wouldn't use that table anyway. And, we figured we'd probably also take out one of the two couches to add a second desk. We really only need a loveseat.
Knowing that we are planning to go full time, and will end up spending time in the RV, whether on rainy days or to avoid excessive heat – and because we both enjoy gaming. We wanted the loveseat to face the TV straight on.
We thought models with the larger living room with two couches and a love seat would be idea. Front living models wouldn't work, because, while they have lots of space in the living area, the couches are on risers. That left us with the large rear living layout, or possibly a mid-living layout.
Then we walked into a front bath model and fell in love.
The bathrooms in most models, even the larger bathrooms, can be a bit clausterphobic feeling. There's no way that more than one person will fit in there at a time, and we are used to getting ready for bed together and sharing the space. Also, we both have IBS. So, an extra half bathroom would definitely come in handy.
We were sold.
After searching online we narrowed our search to just a few front bath models. We've always loved Grand Design, but after walking through a Montana with the front bath floorplan and feeling how comfortable it was despite the heat outside, we expanded our search.
A bit more research and we found the Heartland Bighorn 3875FB. We really liked this layout because the toilet wasn't right next to the shower.
We've been set on buying used since day 1, both from the perspective of cost savings, as well as the feeling/hope that any kinks might have already been worked out and dealt with. Once we began looking for these specific models. We found that generally, the Montana and the Bighorn were priced pretty closely and we could find 2015/2016 models in our price range. However, they were, overall, few and far between.
We did find a couple within 500 miles but once we followed up they had either already sold, or were salvage titles. The best prices were definitely the furthest away, which is what lead us to Ft. Myers Florida.
When I first called Milford Motors in Ft. Myers about the 2015 Heartland Bighorn 3875FB that they were selling, I was disappointed to learn that it pending a sale.
However, the sales guy informed me that he wasn't sure it would go through. Evidently, the current buyer was upside down on his trade-in and it didn't look like he was going to be able to get financing the way he wanted.
Rick, from Milford Motors, promised to call back and let us know either way.
While waiting we continued to look at others, finding one in GA that would have been a quick trip to pick up, but it turned out that it had a flood title. We want to save money but we weren't willing to take a flood or salvage title.
Then, Rick from Milford Motors in Ft. Myers called back. The sale had fallen through and the 2015 was available. We talked it through and began calling around to find an inspector who could take a look at it. Then, once we found one who could, we went ahead and put a deposit down to hold it.
It's a scary thought putting a deposit down on something so far away. The niggle of worry that something will go wrong and we'll lose that money – even though it was refundable if for any reason we decided not to buy (up through the point of final walkthrough). There was a lot of fear and anxiety in the following week.
As if that anxiety wasn't enough, the day after we put down the deposit it started looking like Hurricane Dorian was going to run right across S. Florida. I'd say thankfully it didn't, but that seems to imply that I'm thankful that it hit where it did – and we're certainly not.
The inspection went well, and found no major issues, so we planned to make the trip. Ten days after we put down the deposit we were there to pick up our 5th wheel.
Why did we drive 800 miles to buy our first 5th wheel?
Three reasons really.
1 . We couldn't find the model we wanted nearby

We did find a few that were a little closer (but still over 500 miles away), but they would have cost us a lot more.
2. It saved us $10,000

This unit was priced well under market. Milford Motors is a small family dealership that only sells used RVs and vehicles. Their inventory is primarily made up from the trade-ins taken in by larger dealerships that only sell new.

Early September is also off-season for RVs in South Florida. The snowbirds aren't back yet, so it's a buyer's market there while it might be a seller's market up north.

Tip: It's worth looking around at other areas where the unit you want might be more common, or where it's not normal "RV season".
3. We felt confident with whom we were dealing

This is key. There's no way we would have driven 800 miles, no matter how good the deal seemed, if we didn't feel comfortable with the seller.
We talked with a lot of sellers (both private and dealerships) over the course of a few months. Some seemed very trust-worthy and others just downright sketchy. We even spoke with one dealership in Virginia that flat out told us they wouldn't let us bring in a third-party inspector. What are you trying to hide?
From the first call with Rick at Milford Motors, he was professional and, more than anything, helpful.

Not only was he open to us bringing in our own inspector, he encouraged it. Once the inspection was done, they had no issues taking care of the few minor things that were needed, and worked with us to get new tires put on the rig so that we could feel safer and more confident with driving it 800 miles home.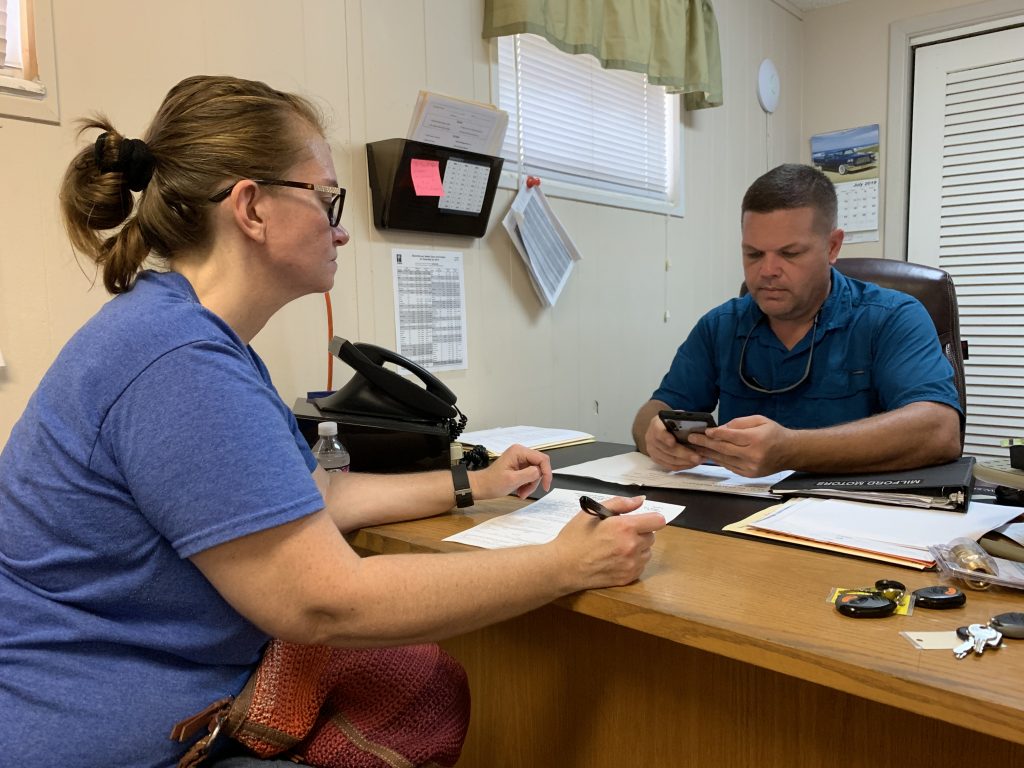 Was it Worth It?
Yes, and we'd absolutely do it again.
While it would have been much easier if we could have just picked up something locally, brought it home and taken the learning curve a bit slowly, we are both the "jump right in the deep end" kind of people.
That said, we were still cautious and tried to plan our return trip in such a way that we wouldn't feel completely overwhelmed.
Rick suggested we pick it up and then stay at a hotel before heading home with it. Heck no! We bought this thing to stay in. So, we ordered all the "essentials" and took them with us.
Because we had so far to drive and we picked it up on a Saturday, we decided to stay in the Ft. Myers area and camp in it for a couple of nights before heading home. We didn't want to risk a road mishap on a Sunday, when it might be more difficult to find services. This gave us a good chance to check it out, learn it a bit, and figure out what we needed, before starting our trek home.
We were definitely anxious when we left Monday morning. We'd only had to tow it 3 miles to our initial camping spot, so the idea of taking it out on the highway was a bit scary. But, we managed and we learned a lot on that first travel day.
We continued to camp in it along the way home, breaking our trip down into manageable four-hour chunks. We even stopped for a few nights at the beach. We were driving through Florida after all, so we may as well make a vacation out of it.
Emerald Beach RV Resort in Navarre Florida
We know some of you drove even further than we did to buy your rig. Add a comment below and tell us, how far did you go?