Emerald Beach RV Park in Navarre Florida was a place we didn't want to leave, and not just because we had an amazing view of the water (even though our spot wasn't waterfront).
When we headed down to Ft. Myers to pick up Bessie, Julie wanted to try to work a little vacation into our return trip. Brandon wasn't so sure he could make it work with work.
After spending a weekend in Ft. Myers, we were finally ready to load up and head north. When we pulled up the best routes, Truck Maps directed us up through Columbus GA. But, we couldn't really find any good campgrounds that weren't out of the way.
If we had to go out of the way anyway, we may as well go out of our way by way of the beach. So, we rerouted and looked at heading home by way of Pensacola and Panama City Beach. We began looking around at RV parks and campgrounds in the area and found a few that had a private beach. Most were out of our price range. But, Emerald Beach RV Park in Navarre Florida looked awesome and the price was just right at $65/night.
We made the plan to head that way and stay for a night, with the possibility of staying longer. By the time we arrived we'd already stretched our stay to two nights. And, by the end of the next day we added another night. We would have been quite happy to stay a week or more, and we really hated to leave.
If Julie hadn't had to get home to catch a flight, we would have stayed longer.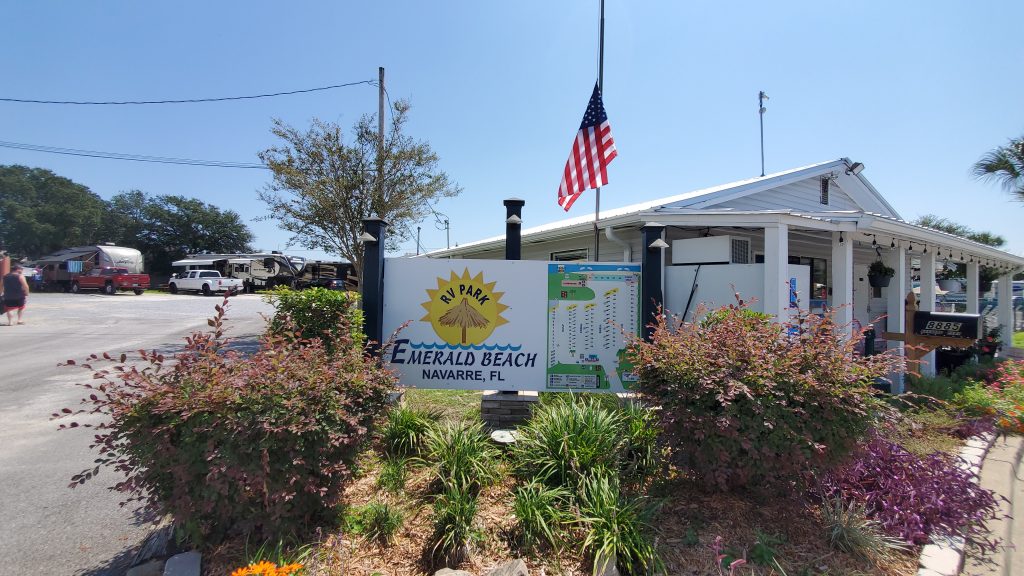 What makes Emerald Beach RV Park Awesome?
The park is moderately sized and easily accessible. No tight windy roads as this RV Park is right off the main road.
When you pull in the office is right there, with clear instructions on where to stop while you register. The staff was friendly, helpful and engaging, making things easy for us newbies.
The beautiful pool is just behind the office. But, who needs a pool when you have a beautiful private beach.
We were directed to lot 47, a pull-through lot located in about the middle of the park, but just about four spots back from the actual waterfront lots. The waterfront lots as well as the lots on the edges of the park were back-in lots. We had asked for a pull-through as we still weren't ready to try backing in.
View from the front door of our 5th wheel

Our parking spot

View from the back window of our 5th wheel
We found the spots to be reasonably sized. The lots are paved with enough room for a picnic table in front. Parking the truck was rather tight, but we've had worse since this stay.

There was plenty of room to let our slides and awning out without feeling like we were running into the neighbor.
Amazing Views at Emerald Beach RV Park
The best thing about Emerald Beach RV Park though is the beach and water and all the beautiful little nooks and crannies to enjoy the sunrise and sunset.

The RV park is located on land side of the Santa Rosa Sound. They have a private beach on the sound that is quiet and relaxing. They provide beach chairs and palapas to make enjoying the beach quite easy.
Because it's the sound, the water isn't deep at all. We were able to walk out quite a ways and barely go above our knees. The water is also much calmer here than on the ocean side. We drove over and visited the ocean one day and realized we preferred our nice spot on the sound.

The also have a couple of little floating islands (really large floating mats) that you can enjoy, as well as kayaks, paddleboards, and other water toys that you can rent.
The park has a very long private pier that you can fish off of, or just walk out to the edge for a great view of the sunrise or sunset (yes, you get both). We spent a fair amount of time at the end of this dock enjoying both ends of the day.
Sunrise

Sunset/Sunrise pier

Sunset
There are also several awesome little areas where you can just sit, relax, and take in the scenery. The Tiki Bar is perfect for enjoying a cocktail while watching the sunset, or enjoying a picnic lunch. And the patio area is large enough to accommodate a big family.
Covered patio

Relax under a palapa

Sunset Tiki Bar

Outdoor gathering spot
The one negative at this park is the wifi. It's strong, but they do have a policy that you can't use it for streaming – which honestly is what most of us use it for. We did use it for work and had no issues. They also provide free cable hookups (but we didn't test that out). We really didn't have an issue with this as we spent most of our time outside enjoying the beautiful park.
We never even checked out the bathhouse/shower or laundry. We kept meaning to at least take a look but we were so busy just enjoying ourselves (and getting some work done) that we just never made it over there.
We will definitely be back, as so far (after 8 parks), Emerald Beach RV Park in Navarre Florida is still our favorite RV park. The great thing about places like this is that you want to go back. The bad part is that it makes it hard to explore new places.
Free Wifi – no
Pool – no
Hot tub – no
Laundry – yes (FREE)
Showers/Bathrooms – no
Shaded Lots – no
Pull-though Lots – yes
Cell Service – Verizon and AT&T
Park Ratings
Overall: ⭐⭐⭐
Accessibility: ⭐⭐⭐⭐⭐
Amenities: ⭐⭐⭐
Cleanliness: ⭐⭐⭐⭐
Quality: ⭐⭐⭐⭐
Service: ⭐⭐⭐
Noise: ⭐⭐⭐⭐⭐