Prior to purchasing our rig we drove around and took a look at many of the RV parks and campgrounds in our area, hoping to find a good place to land our yacht. One of those places was Jay Landings.
Our initial impression was that it seemed a bit crowded and cramped. But, the day we visited was a holiday weekend, so we thought perhaps it just seemed crowded because of that.
We needed to find someplace other than Northgate RV Park, as those nightly fees were starting to add up, and Point Mallard Campground was still booked solid. Jay Landings said they could accommodate us so we decided to give them a try.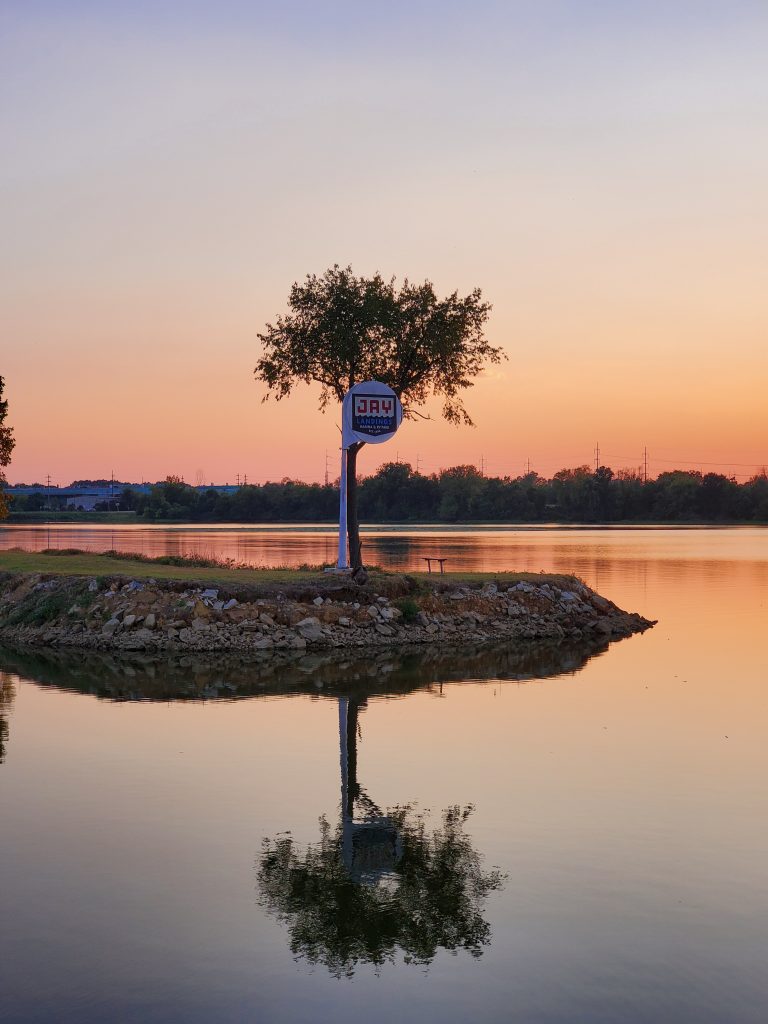 Our original plan was to stay there for a week and check them out. However, upon arrival I was given a price that differed from what they had posted online.
When we called to book, we initially reserved a week and the price we were given seemed to reflect the online rates but with no discount for weekly. We asked about this upon arrival only to find out that there is a discount for weekly (one night free) but their rates had gone up by about 25% from what was listed online. We ended up changing our reservation to just two nights.
After getting checked in we were even happier that we were were only staying for a short time.
Arrival at Jay Landings

The road into the RV park is a single narrow one lane. When we first visited we met another truck oncoming and they got off into the grass to let us pass. No idea what would happen had both of us been pulling rigs.

We were told that they are adding pull-through sites along that road and we have no idea how that's going to work, unless they widen it. The park currently has mostly back-in sites with a hand-full of pull-through sites in the center aisle.

Opposite where the new pull-through sites are being added is the marina. The marina definitely adds a different feel to the RV Park.
Jay Landings was built for smaller rigs. If you are under 30′ you won't have any issues, although if you have multiple slides it might still be a little tight. If you are much over that it's going to be tight. We're obviously a good bit over that and it was very tight and left us feeling claustrophobic.
There was just enough room between us and our neighbor for a picnic table, and just enough room for us to open our awning, without hitting the neighbor's slide.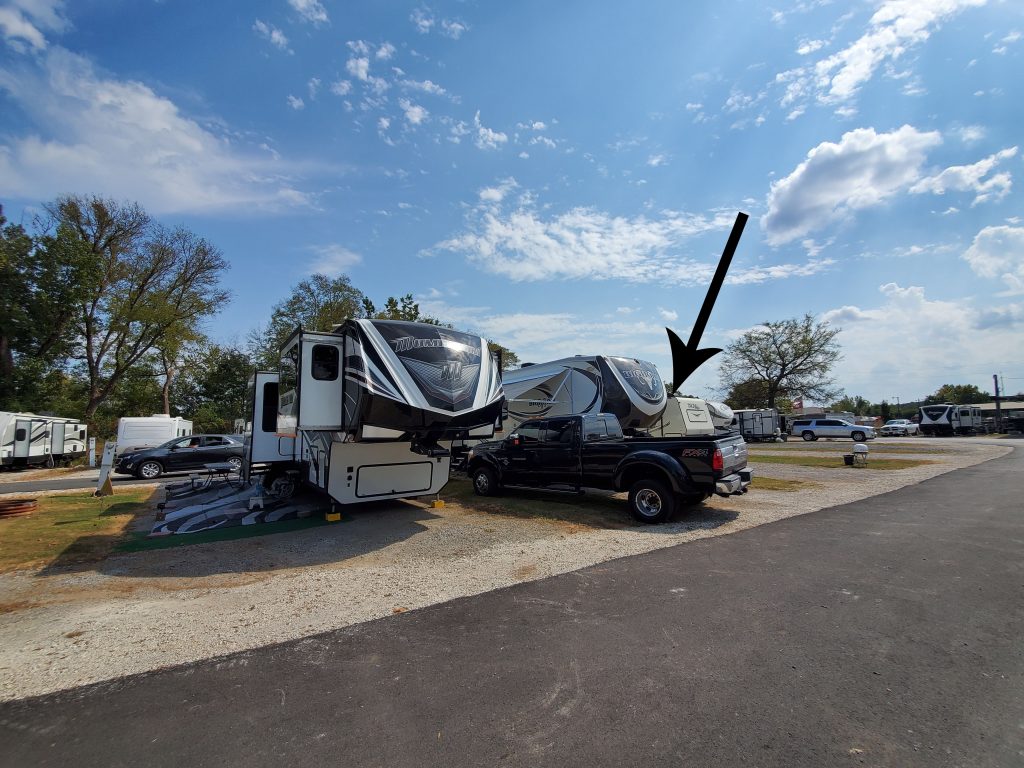 The sites themselves are gravel with a lot of broken glass. There was also a lot of trash and stuff on top of our sewer connection. Generally, the park itself has had a lot of major upgrades, but it didn't feel like they've put much care into day-to-day care maintenance.
Beautiful Park
The location of the park may be a turn-off to some (based on other reviews we've seen). It's in a somewhat industrial area along the Tennessee River. Your view from the park combines river and industrial plants.
Once you are inside the park, it's actually really pretty and has some great features.

The bathhouse has 5 recently-updated, individual bath suites that are clean and nicely tiled with plenty of room. The salt-water pool is a new feature, and is fenced and protected with a key-code.
There are two really nice patio seating areas with firepits and grills, where you can sit and watch the sunset (which is beautiful over the TN river).
There's a dock where you can sit and relax or fish. The area is great for fishing or kayaking. The website says you can borrow a kayak at the office but we didn't see this until after we left so we were not able to verify it. If so, that's an awesome feature. And, if you are staying at the RV Park, you can fish for free (otherwise you have to buy a permit).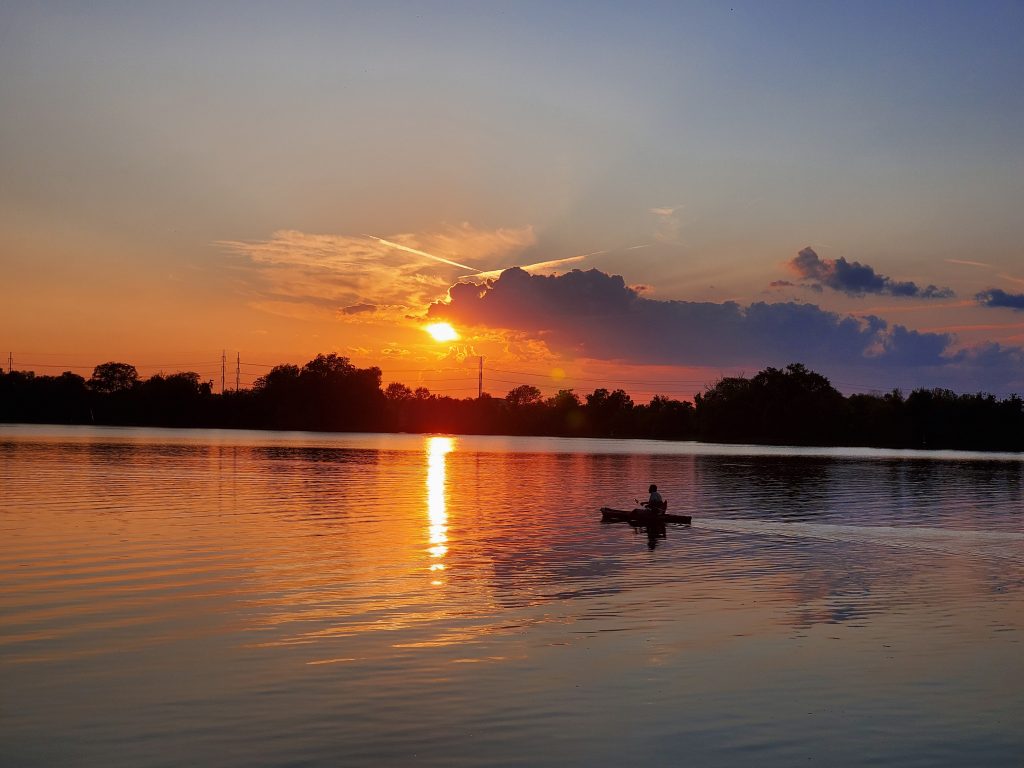 Don't visit expecting to use their wifi. We're pretty sure it's served off a dial-up connection. The connection rates we were seeing were definitely on par with dial up or worse. Thankfully, we did have solid Verizon cell coverage.
Overall, it's not a bad place and we'd recommend if you are coming through the area in a smaller rig. But, if you are in a larger rig, we'd suggest you check out Quail Creek in Hartselle or Point Mallard Campground in Decatur (if they have spots available), or if you just need a place to stop for a night or two, Northgate RV Travel Park is not bad.
Free Wifi – no
Pool – no
Hot tub – no
Laundry – yes (FREE)
Showers/Bathrooms – no
Shaded Lots – no
Pull-though Lots – yes
Cell Service – Verizon and AT&T
Park Ratings
Overall: ⭐⭐⭐
Accessibility: ⭐⭐⭐⭐⭐
Amenities: ⭐⭐⭐
Cleanliness: ⭐⭐⭐⭐
Quality: ⭐⭐⭐⭐
Service: ⭐⭐⭐
Noise: ⭐⭐⭐⭐⭐