Poche's RV Park offers long RV sites surrounded by fishing lakes in an area that feels remote, yet is just minutes from Lafayette, LA.
Located in Breaux Bridge LA, just outside of Lafayette, LA, Poche's RV Park has a very remote feel to it. Yet, you aren't far from several restaurants in some of the nearby small parishes, and just about 20 minutes from Lafayette, providing access to anything you could possibly want.
The park is beautiful, with many of the sites offering views of the fishing lakes from every angle, and sites long enough to fit our Big Ole Bessie. During the week you'll find a calm relaxing atmosphere, while on the weekends it becomes a fun family-filled park, with music, food trucks, and more.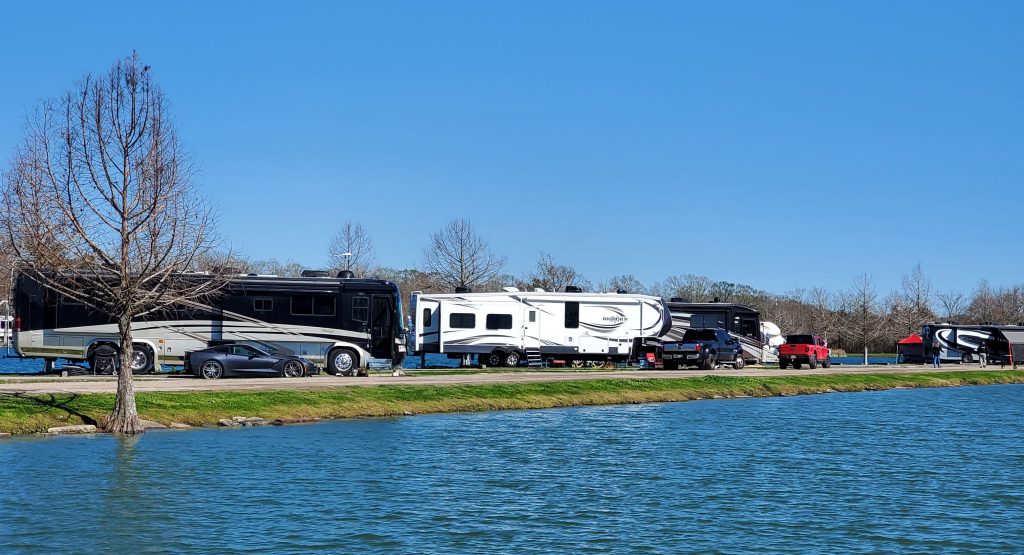 We first learned about Poche's Fish 'n Camp RV Park from our neighbors at Woods & River RV Park in Del Norte, CO. Isn't it funny how small the world really is when we travel? We had mentioned to them that we'd be heading across Louisiana and they suggested we check out Poche's – that if we enjoyed Woods & River (which we did) we'd enjoy that park as well. They were not wrong. Poche's is definitely what we'd qualify as a Hidden Gem.
Booking Our Stay at Poche's
We are big fans of online booking. However, the lack of online booking won't keep us from staying a park that comes highly recommended. Thankfully, that wasn't an issue at Poche's. They are set up for online booking, allowing you to easily see what sites are available for your stay, as well as how long those sites are, so that you can easily book a site that will fit your rig. I did end up calling the office just to make sure we could get packages delivered to the park. The person who answered the phone was friendly and helpful.
Checking in at Poche's RV Park
The check-in process at Poche's was easy. The office was open and we were given the site we requested online.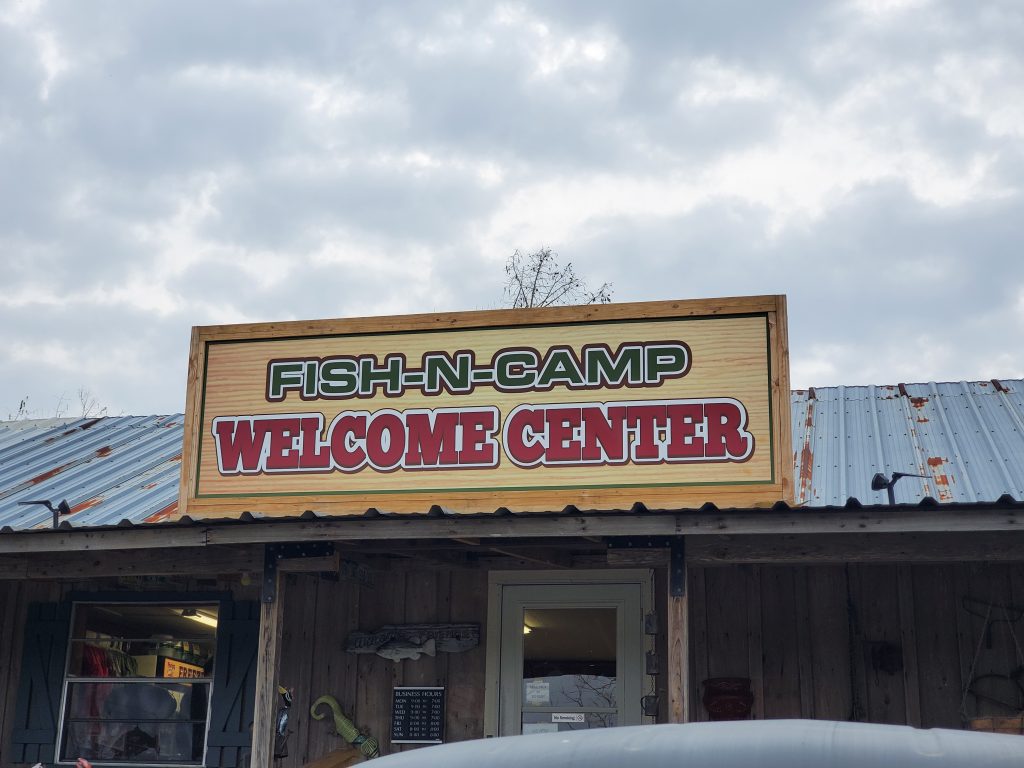 The sites at Poche's RV Park
When I initially booked our site it looked like we'd have several sites around us open for the majority of our stay. However, when we arrived at our site we did find neighbors setting up, and we had neighbors immediately on both sides by the end of our second day (despite many open sites in other areas). No big deal, but most of the sites are a little tight when you have neighbors right next door.
The sites are equipped with concrete pads for the RV, necessary given that the ground gets very soft when wet as you are right next to the lake. The hookups are located such that we had to use every bit of our sewer hose to reach (we weren't alone as we saw others who had to run out and buy extra lengths of hose to reach). We really could have used an extra few feet. As it was we were stretched to the extreme and didn't feel we could open our tanks without someone standing on our sewer elbow to make sure it didn't pop out.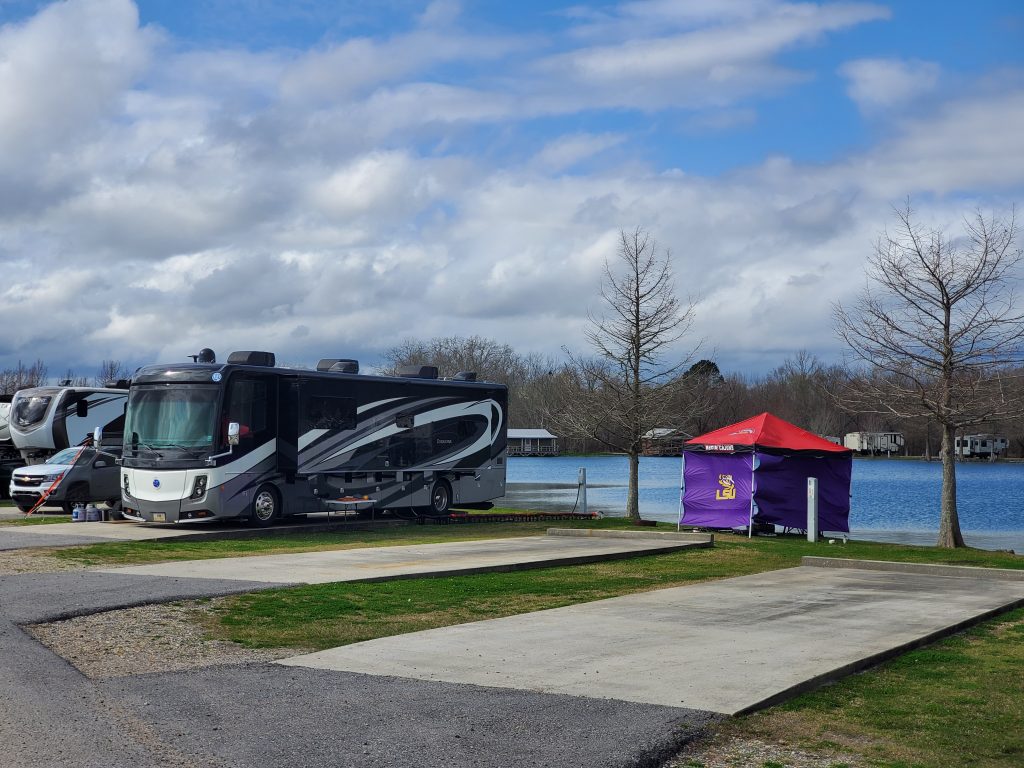 Sites don't really provide any extra amenities, there are no individual picnic tables or fire pits at the sites. There are a few community firepits and picnic tables around the lakes.
The camp store sells everything from fishing supplies (even poles) to typical camping needs, and even fresh meat and Cajun food items from local Poche's Market.
What we loved at Poche's RV Park
Our favorite thing about Poche's was the water views. I'm pretty sure the little fishing lakes were dyed blue, and I can't imagine that's good for the fish, but it was sure pretty to look at, especially when we could see it from every angle of our camper.
The sites are all back-in around one of the lakes, but there are two additional lakes. Each lake offers different fishing limits. Kayaks and paddle boats are available for rent, or you can bring your own. There is an additional fee is you bring your own boat or golf cart. Golf carts were everywhere on the weekend, which was a little surprising given than it's really not that large of a park.
We loved how easy it was to access most anything we needed. The park is about 20 minutes or so from Lafayatte which had everything from an awesome gluten-free bakery to a CostCo. We even found a (much needed) awesome chiropractor there.
While Lafayatte offers anything we needed, we were also able to avoid driving anywhere and could get groceries delivered via Instacart from a couple of different grocery stores.
While Lafayatte offers most anything we could want, we could get most anything we needed within just a few minutes locally from Breaux Bridge. In addition to a number of restaurants (both chain and non) in Breaux Bridge, there is also a great little brewery/ pizza place just a few minutes from the park, where we met up with some other RV-life friends. Bayou Teche Brewery is a Harvest Host location. And, the gluten-free pizza from Cajun Saucer was some of the best we've had. I actually had to double check that it was gluten-free as it's only the second time we've found a deep dish gluten-free pizza (the other was in Las Vegas).
What we didn't love at Poche's RV Park
The road through the park is really narrow, making backing into the sites a little difficult for a rig as big as ours. It may have been a little easier on the backside of the lake, but if you choose a site between the lakes, you're navigating between the sites on one side and a lake on the other side.
While each provides a concrete parking pad, the pads were a little narrow and there was a drop-off of a couple of inches on each side. So, it can be a little tough to navigate. We barely managed to get in without falling off the edge of the pad.
Once you do get into the site, the hook-ups are located so far back that it required every bit of our sewer hose to reach. Once hooked up, we found that our slinky kept falling over and our hose would fall out of the sewer connection, even with the 3-in-1 donut attached. As such, we just kept our gray tanks closed and opened them when needed, with one of us standing on the sewer elbow to make sure it didn't pop out.
Site sizes vary and while they had sites long enough to accommodate most any size rig (including our Big Ole Bessie), the space between sites was a bit narrow. However, there were some sites (especially on the back side of the lake that provided more room.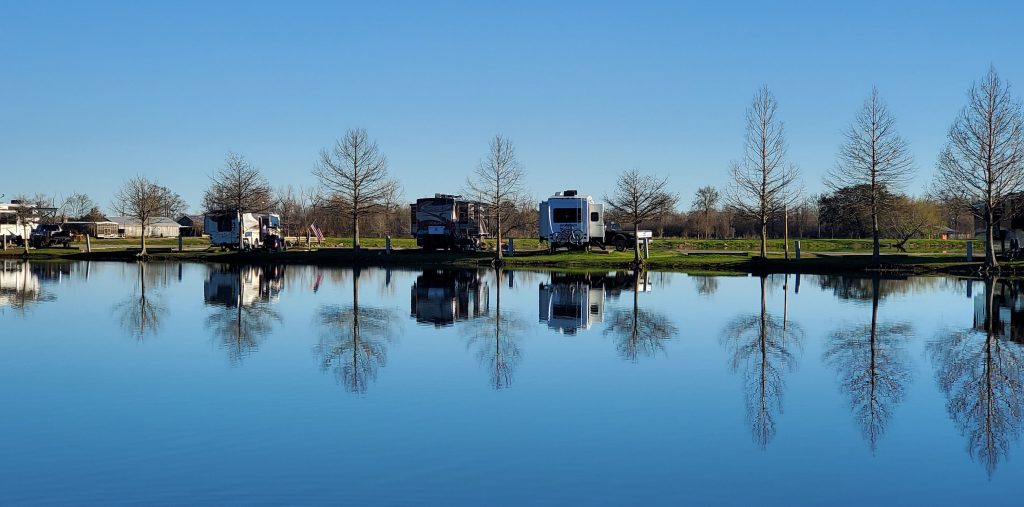 Where to eat near Poche's RV Park
We didn't get out a lot, but we did find a few places we really enjoyed, and there were several other recommendations made by locals that we wish we'd been able to follow up on. Cracklin's and Boudin are the local delicicies but we did not end up sampling either. Boudin is a mixture of sausage and rice in a sausage casing (it looks like smoked sausage but it's more). Boudin Balls take the sausage and rice and add cheese and breading for some interesting meatballs. And, cracklin's are typically pork (although sometimes chicken) skin fried crispy.
Cajun Saucer Pizza is located at Bayou Teche Brewery and offers great pizza. They offer quite a bit of space outside to enjoy the fresh air, as well as seating inside the brewery. We only had the gluten-free pizza but it was really great, so we can't imagine that regular gluteny pizza wouldn't be as well.
Karma Collective Bakery in Lafayette is 100% gluten-free. In addition to baked goods ranging from a gluten-free fudge round to King Cakes (in-season), they also offer gluten-free bread/buns and pre-made meals.
Blanchard's BBQ in Lafayette offers traditional Texas-style BBQ and some unique sides and salads as well. We enjoyed it enough the first time to return again before we left town.
Suggested to us:
Kirk's U-Need-a-Butcher was suggested to us by local friends who said they have the best fresh chicken cracklin's. We would have loved to have tried them but we found out about them too late to get back by before we left.
Poche's Market was not far from the campground and they offer a cajun-style meat and three. Our new chiropractor highly recommended their Backbone (aka pork) stew.
The Little Big Cup is another restaurant near the campground that came highly recommended by locals. They offer brunch on the weekend and provide a fare that some might see as a little more upscale. When we passed by around lunchtime on Saturday they had quite the line.
Would we stay at Poche's again?
We would definitely return to Poche's RV Park. But, having looked around at the sites we'd try to get into one of the sites that provides a little more room. We'd recommend 45-59 or 71.
All in all, we enjoyed our stay at Poche's and hated to leave. The owners are friendly and the place generally has a positive, relaxing vibe that we felt from the moment we dropped anchor.