Eight months on the road fulltime, where has the time gone? Time flies by way too fast. But, this last month has been rather eventful. We stayed at four RV Parks, "enjoyed" the Texas Snowpacolypse and even took an RV Maintenance course. And, somehow we spent more on groceries this month than any month prior (still not sure how that happened). We also had some added expenses because of the snow and ice (just to make sure we were prepared).
Month 8 by the Numbers
Dates: January 27 – Feb 27
3 States
4 campgrounds
515 miles
$3021 spent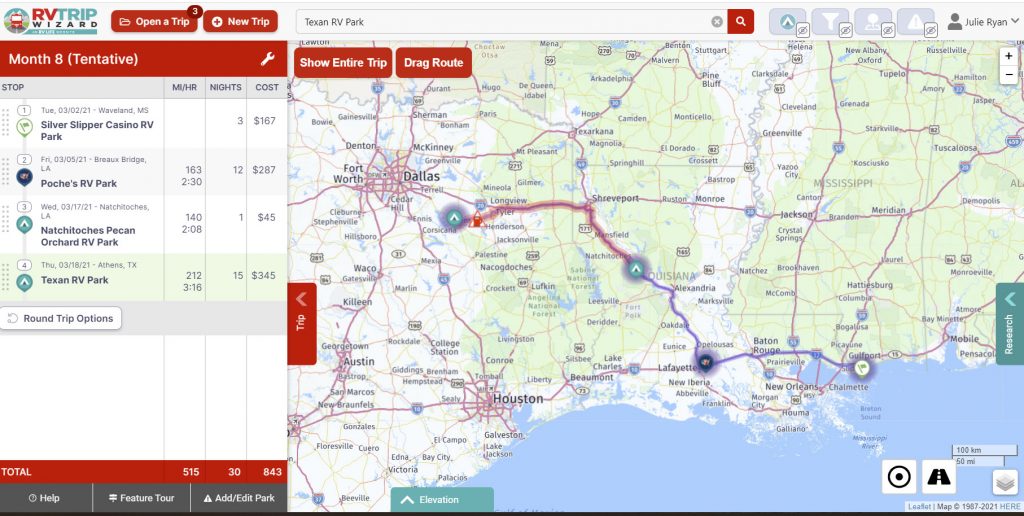 Where we spent our eighth month on the road
We began month eight at Silver Slipper Casino Beachfront RV Park. We shared more about that stop in our month seven post. Overall, it was a great little affordable beachfront RV park that we'd have no issue stopping at again.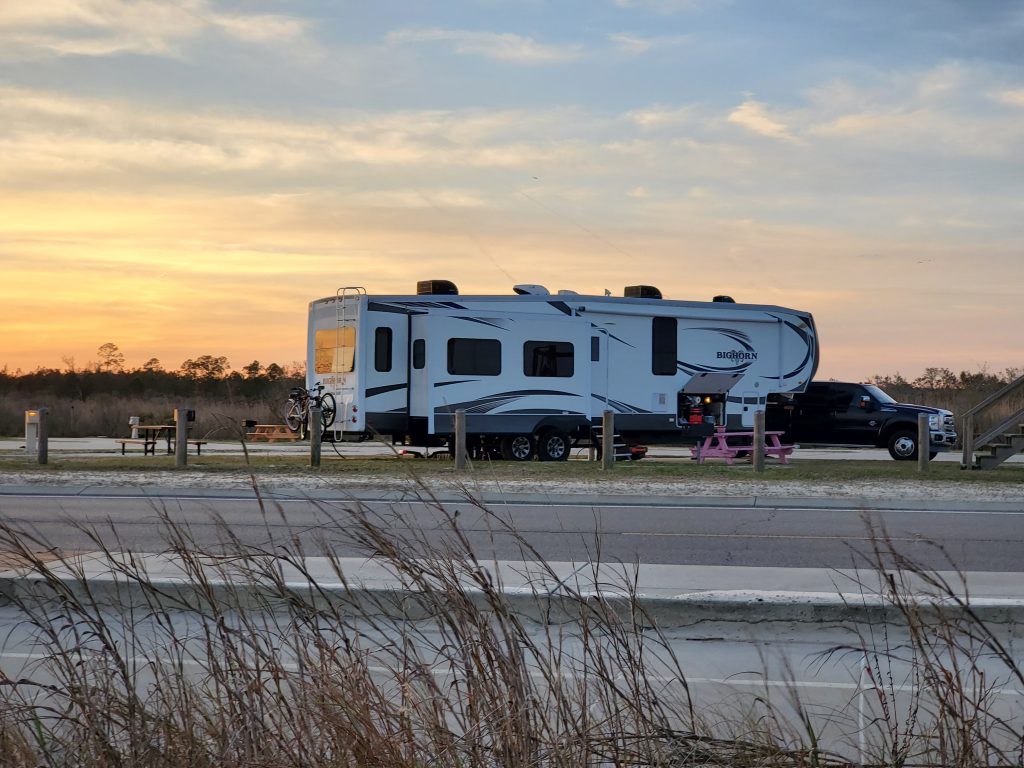 We left Mississippi and headed west into Louisiana. Some people we met during our stay in Colorado had suggested Poche's RV Park. And, when RV friends suggest a park, it's usually a good sign. That proved to be true here. Our original plan was to stay for a week at Poche's RV Park in Breaux Bridge, LA, but after we got settled we decided to extend our stay a little bit for a couple of reasons. The first was simply how peaceful and relaxing the park was. The second was that we both started having some back and neck issues and found a good chiropractor in Lafayette. We wanted to stick around long enough to make sure those issues were taken care of.
Poche's RV Park is a family-owned park with sites surrounding several stocked fishing lakes. On the weekends it reminded us of a state park, as they filled just about every site with families and people out to enjoy the fishing. On Saturday they even brought in a food truck. We would have stayed a little longer than we did, but to do so we would have had to move sites, and the campground was tight enough that if we were going to move sites we felt we might as well move on. When we went from 70 degrees on Wednesday to 40 on Thursday with ice and snow on the way, we decided it was a good thing we hadn't been able to extend any longer.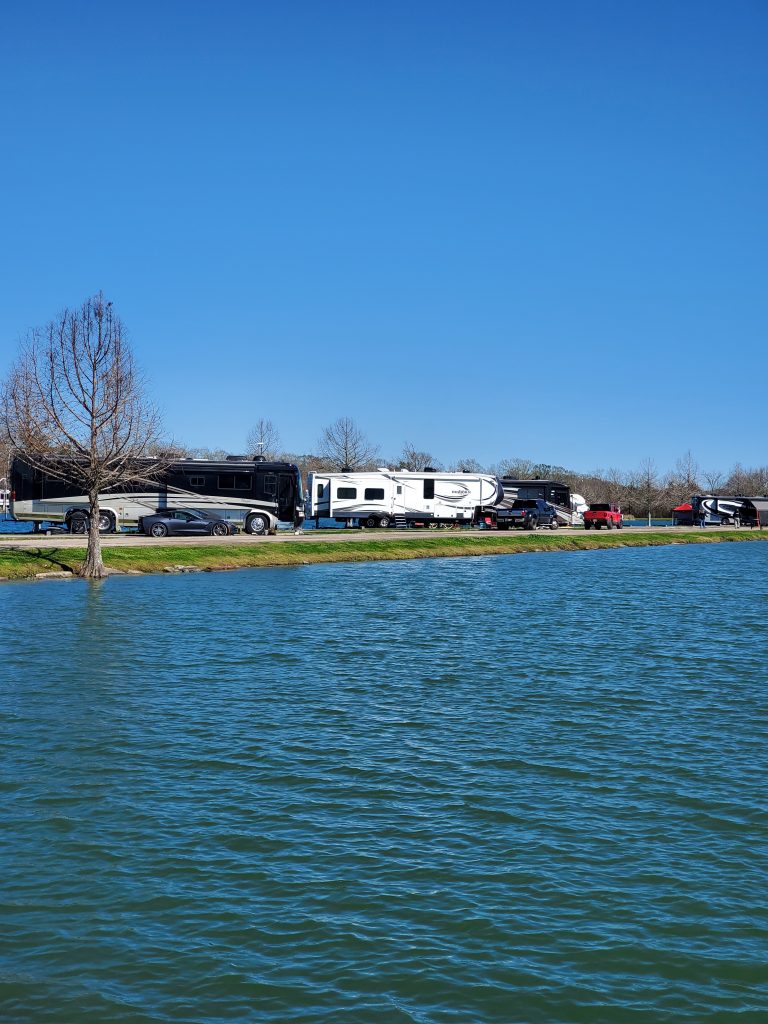 We'd planned to stop for two nights at Natchitoches Pecan Orchard RV Park, but the threat of ice and snow had us doing our best to get to Texas as soon as possible. So, we stopped through for just one night and didn't get a chance to actually explore the area at all. The RV Park is a newer and nice with good pull-through sites. If the weather had been better we would have loved to check out their Putt Putt Course and whatever else they had to offer (they are in the process of adding batting cages and more, so it should be a pretty fun little place to stop this summer).
We left Louisiana for Texas. We'd originally planned to be at the Texan RV Park back in January to take the RV Maintenance course at the NRVTA. However, we pushed it back to February for a couple of reasons. So, of course, we'd arrive just in time for Snowpocalypse. Literally, just in time. We pushed our arrival up to Saturday night in an effort to be there before any snow or ice hit Sunday evening. We arrived to find our water spigot already frozen (we thawed it with a hair dryer), and then quickly headed out to Lowes to see what we could find to help mitigate the freeze that was coming (the answer, not much as the shelves were already bare). You can read all about how we survived the the snow and rolling blackouts in this blog post.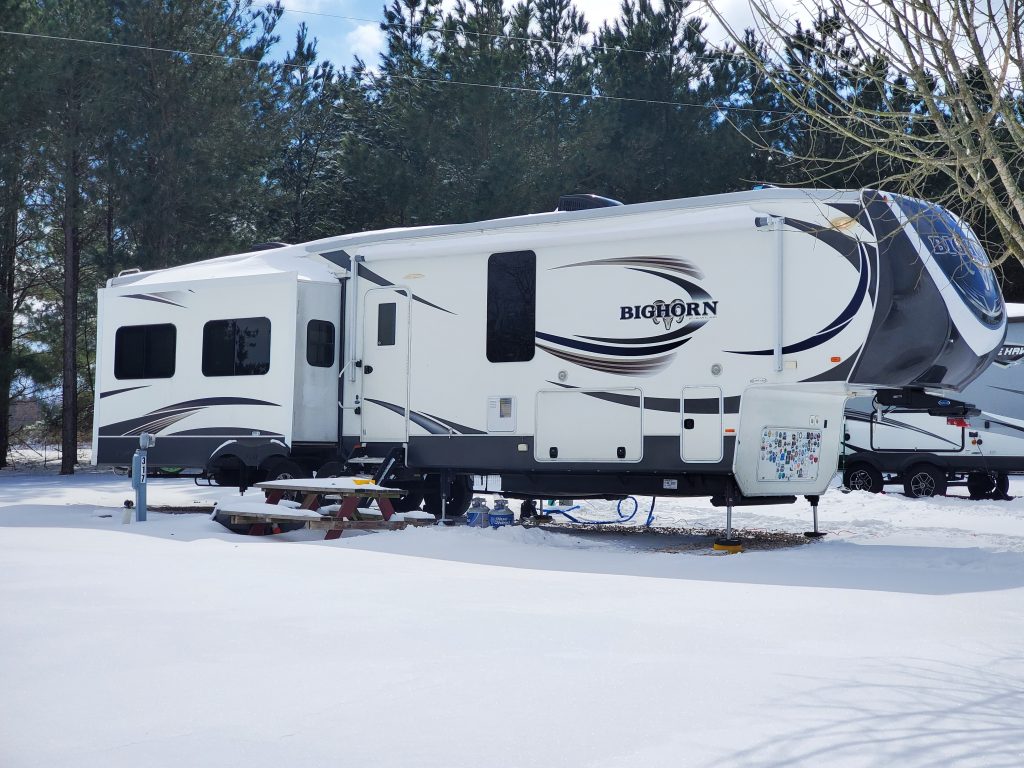 We stayed at the Texan RV Park for two weeks. The first the week of the snow and ice, and the second for a week of RV Maintenance training at the National RV Training Academy, where we learned so much about our rig and how to take care of it, as well as how to troubleshoot issues and solve them. I did not include the cost of the course in our cost breakdown. Although, if you're curious the cost for both of us to take the course was about the same as our total spend for this month. It wasn't cheap but it was worth it.
Cost breakdown of month eight
Our total cost for month eight was a bit high for us, coming in at $3021. Our biggest expense was groceries, at $1271, and we're not quite sure why. Included in that was our annual CostCo renewal, but even that wasn't enough to explain the increase. Although, given how low ($385) our grocery bill was last month, it may just be a matter of balancing out.
Our total site rent for month eight was $844, which is about average for us, and well within our target goal.
Our total for dining out and entertainment stayed pretty low, as we spent only $201. COVID-19 has definitely helped our dining out bill, especially these last few months as we've completely avoided dining in.
Our fuel expense was about average for a travel-based month, coming in at $421.
We had additional expenses of $284 towards maintenance and additional/ replacement supplies to help us through the freezing weather.
What we loved
Our favorite thing about the month was our time at Silver Slipper & Poche's. Both were just so relaxing. If we could choose those would be the types of stays we'd have every time – the type where you look out and see water, where the weather is warm enough to get outside and soak in the fresh air.
We loved the ability to learn so much more about our rig, and the confidence that we have gained in our abilities to take care of things ourselves, rather than our first urge being to call for help.
This was definitely one of the most unique months we've had on the road. I can honestly say that we learned as much in the last month as we have in the last year and a half of living fulltime in our RV. The week in the freezing weather taught us that we can handle more than we thought. We improved our winter preparedness by spades. The week at NRVTA taught us so much about RV maintenance and made us feel so much more comfortable with our rig and our ability to take care of it.
What we'd do differently
We've debated this so much. If we knew then what what we know now would we have changed our plans? Would we have stayed in Louisiana longer? I mean, if we knew then what we know now we would have headed on to Texas in January and been back on the Gulf Coast when that cold weather hit. But, alas, we didn't know before we knew, and that's the way life works.
As it was there was really not much we could do differently. We could have stayed in LA a week longer to ride out the freezing weather, but the rolling blackouts extended into Louisiana (as did the snow and ice). There was really nowhere to run nor anything we could have done differently. And, even if we'd waited till the last minute to arrive at the Texan we would have been arriving at a park still covered in snow and (by then) mud making for a difficult setup day and no time to recoup before our class started. So, no we wouldn't have done anything different.
What's next for us
Month nine will involve a fair amount of travel as we make our way back to Alabama. We'll stop for a week in Mississippi before returning to Tuscaloosa, where we'll visit with friends and enjoy all the advantages of being in the heart of town – AKA food deliveries. Then, we'll head back to Guntersville where we plan to reconnect with some of the friends we made a year ago, when we got "stuck" at Lake Guntersville State Park during the first few weeks of the Pandemic. And, who knows what surprises are in store.
If there's one thing we've learned about Full-time RV Life, it's that rarely do things go exactly as you plan.