We stopped for a bit at Woods & River RV Park in Del Norte, CO. We weren't expecting much, but hoped for a relaxing stay with room to breathe. We got that and more.
Our third stop in Colorado was in Del Norte at Woods & River RV Park.
When we began making plans for our stay in Colorado, we had three main stops in mind. Denver so we could deal with our mattress situation, Colorado Springs to see family, and Silverton (because that was an area we both really wanted to visit). As we tried to schedule a stay in Silverton, we found that the campgrounds were pretty full until after Labor Day. We looked for a campground between Colorado Springs and Silverton and found Woods & River RV Park in Del Norte. It was about halfway between, located on the Rio Grande River and had one of the most reasonable prices we'd seen for Colorado campgrounds.
Given the low price, we really weren't expecting much. The town was just a about 12 miles from South Fork, where there were many more campgrounds (with much higher prices), and about 30 miles from Alamosa (the closest Wal-mart among other things). So, kind of in the middle of nowhere. But, after two weeks at KOAs we were just looking forward a change. Any amount of space would be an improvement and being close to the river would make being outside much more enjoyable – even if we had to walk a ways to get there.
Just before we headed there I looked at our confirmation and saw that I'd booked us in the Meadows section, which appeared to be pretty much an open field type area. Bummer that we weren't down by the river, but maybe it would still be an improvement from the KOA stops. The drive down to Del Norte was beautiful taking us over the La Veta Pass (our first major mountain pass in the rig).
Arriving at Woods & River RV Park
The town of Del Norte is tiny, the main (2-lane) highway through is the main street, home to a handful of restaurants, a grocery store, hotel, the library, and a few other small stores. As we headed back into the RV Park itself our expectations dropped as we drove through what looked like a fairly sketchy neighborhood (lots of mobile homes in disrepair), but arriving into the RV Park our feelings shifted.
We headed towards the office as directed by the signage (always appreciated) where we were met by the camphost. Linda was so nice and offered me lettuce. What? Seriously, I walked out of the office with a head of lettuce.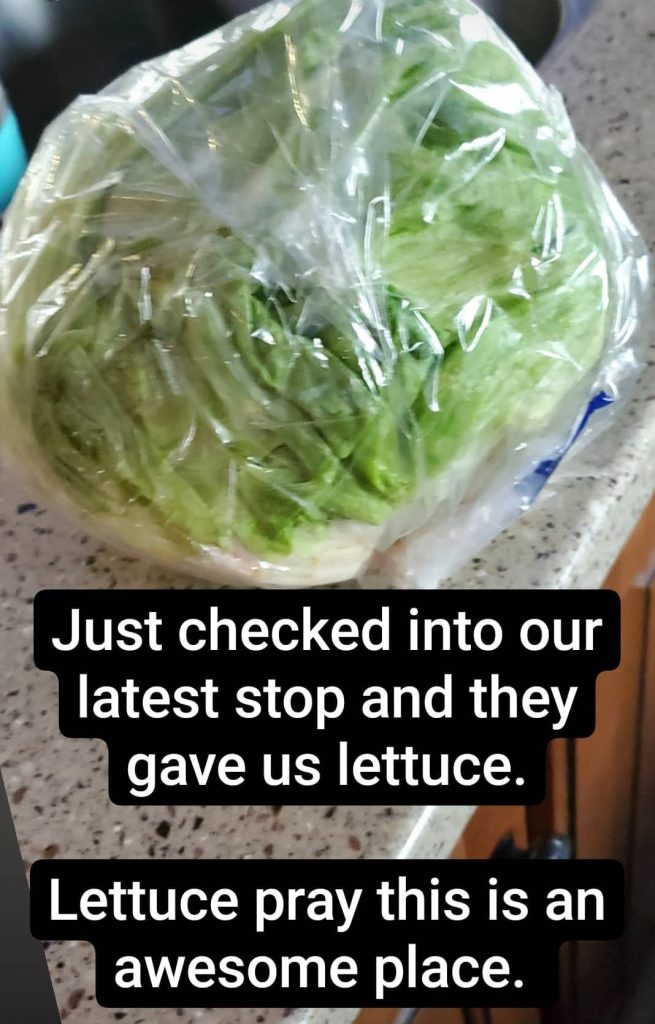 She then guided us over and into our spot in the Meadows (making sure we were properly lined up, and let us know that someone would be over in a minute to move a picnic table over for us. He arrived about 5 minutes later. There was a firepit at our site as well. The sites in the Meadows were gravel with small areas of desert shrub (for lack of a better description). It wasn't much. But, most importantly the site was actually a decent size and and the weather was phenomenal. We hadn't seen weather under 90 degrees since before we left Alabama. All the way up into Iowa and South Dakota it was still HOT! The temperature (low 80s) alone was enough to have us feeling good and as soon as we were finished setting up we pulled out our camp chairs and just relaxed.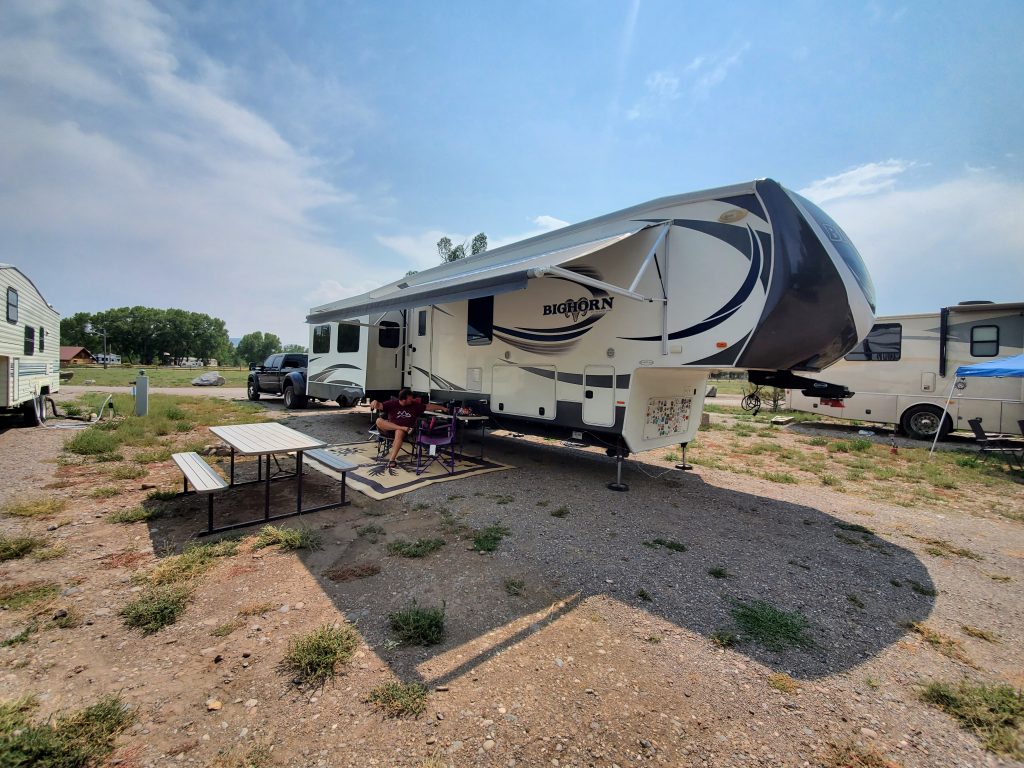 We hadn't even seen the river yet and we were in love with the place. We relaxed outside for the first time in months. As we sat there several people walked by and every single one of them gave us a friendly hello. Linda drove by and checked on us. This was already proving to be one of the most friendly places we've ever been. We found out that our neighbors on both sides were seasonal and had been there (along with quite a few others) all summer. We weren't surprised.
Pros and Cons of Woods & River RV Park
Woods & River RV Park is reminiscent of a state park with sites to fit any need or desire. They break the park down into four main sections.
Standard sites are closest to the office, laundry, and bathhouse. These sites are smaller, typically back-in and in some cases have shared power pedestals. These sites are the cheapest in the campground. But, the upside is that with proximity to the office comes WiFi access.
Meadow sites consist of two types of sites. M14-M26 are open pull-through sites (where we stayed). These mostly have no shade, but are reasonably sized. M1-M13 are pull-IN sites that are a little larger and provide some shade. However, since they are pull-in they are best for Class A/C/ Bus-type RVs. Of course, if you're motivated you can always back in and run your power/water/sewer under your rig. We saw some interesting things occur in this section from people who opted to pull-in with their 5th wheels.
Woods sites fall between the Meadow sites and the River sites. These pull-through are close enough to the river to have a view, but not right on the river and they still have full hook-ups (like the Meadow and Standard sites). These sites are a lot larger than the Meadow sites, and give you the feeling of camping in the woods.
River sites are the closest to the river. These are pull-through sites so there is a road that runs between the site and the actual river. However, if you are in a TT or a 5th wheel and want the river view you will have to pull in backwards and run your hook-ups under the rig. These sites also do not have sewer hook-ups, BUT if you stay at least 5 nights they have a waste service that will come through and dump for you.
With so many different types of sites to choose from, you can't go wrong.
The RV Park is located less than a mile from the main street, so you can easily walk or ride a bike into town for groceries or to eat at one of the restaurants (there are surprisingly quite a few given the size of the town).
The laundry and bathhouse building has been recently remodeled and this is obvious when you walk in. The bathrooms are very nice and modern. In each side there is a shower with an attached toilet area, as well as a single toilet, with an open sink area. There is also another bathroom available nearby, and down by the tent area there are port-a-potties.
The park is incredibly quiet. Even over Labor Day weekend when it was at 100% capacity it was still generally quiet. There were a few folks playing music but it never felt obtrusive. During New Moon it was dark enough to view the Milky Way.
Cons are few and minor at River & Woods. The road to access the park is gravel and rather rough (the snow that fell while we were there left it moreso). There isn't really any grass at any of the sites (except the tent sites). Instead, you have hard desert weeds that are painful to step on. You won't want to go outside without shoes on.
While we were there we watched them build a new play area for the kids including a neat tree house with a little zip line. One thing they could use is a dog park (and they have plenty of room to build one).
Where to eat in Del Norte, Colorado
There are about a half dozen restaurants in Del Norte, offering everything from pizza to Mexican to fine-dining. We did not eat at all the restaurants in town, but we were able to visit several. All are within walking distance to the RV Park, should you choose to do so.
Three Barrel Brewing offers pizza and beer, as well as salads and calzones. The pizzas are quite good, and we'd definitely suggest you get the desert pizza. They offer two different gluten-free crusts. Julie preferred the cheddar-broccoli crust.
Colorado Grille & Tap House offers a little bit of everything from burgers to salads and in-between. They also have quite a few options on tap and can make many of their menu items gluten-free. Unfortunately, we didn't eat here until our last night in town. Brandon loved the burger he ordered and Julie's salad was great as well.
Boogies offers burgers, steaks and more. We tried their burgers and they were tasty. The only disappointment was that they weren't clear that they sub gluten-free bread for your bun if you request gluten-free (I would have just left off the bun altogether or ordered something else).
1874 Food Truck located behind the Windsor Hotel offers burgers, wings, and more. The wings were the best we had in Colorado.
We were impressed that in such a small town every restaurant we went to understood gluten-free and had a variety of options to choose from. We will really miss that convenience.
What to do in Del Norte, CO
There is not a lot to do in Del Norte. There are several great places to go hike or mountain-bike and there's the river. There's a place nearby that rents kayaks and such, but with COVID they weren't doing drop-off/pick-up service so it wasn't something we could try. You can also go fly-fishing in the river, if that's your thing. We saw several people attempting to do that.
South Fork is just 12 miles away. There you can get fly-fishing lessons and find more places to hike, bike, etc.
The Great Sand Dunes National Park is less than an hour away. If you make the drive try to go when the weather is under 75 degrees as that sand gets really HOT, and don't forget your sunscreen and lots of water. Also, be sure to pack a lunch as there's very little out near the dunes.
The small mountain mining town of Creede is just under an hour away. Plan a full day to visit so you can check out the Underground Mining Museum as well as Bachelor Loop. For the latter, you'll want a vehicle that you can take off-road (or you can rent one in Creede). There are several restaurants and the town is just a fun place to walk around.
Pagosa Springs is about an hour away over the Wolfe Creek Pass. The drive is beautiful and you can stop at the top of the pass and get a photo at the 10,000 foot altitude marker. If you drive another hour past Pagosa Spring you can visit Durango, another town worth visiting. When we returned from Durango it was dark by the time we got to Pagosa Springs and that made for an interesting return over the pass. But, the stop at the 10,000 ft mark provided the most amazing view of the Milky Way.
Durango is about two hours away but worth the drive. The Durango-Silverton train wasn't running when we visited (due to COVID) but if you get a chance to take it, we hear it's excellent. Even just walking around downtown Durango (as we spent the afternoon doing) is worth the drive.
Woods & River Amenities
Free Wifi – no
Pool – no
Hot tub – no
Laundry – yes (FREE)
Showers/Bathrooms – no
Shaded Lots – no
Pull-though Lots – yes
Cell Service – Verizon and AT&T
Park Ratings
Overall: ⭐⭐⭐
Accessibility: ⭐⭐⭐⭐⭐
Amenities: ⭐⭐⭐
Cleanliness: ⭐⭐⭐⭐
Quality: ⭐⭐⭐⭐
Service: ⭐⭐⭐
Noise: ⭐⭐⭐⭐⭐
Would we go back?
This is the real test isn't it? Within days of arriving we decided to cancel our stay in Silverton and stay on at Woods & River. That's how much we enjoyed this place. We ended up staying for just over a month and would have loved to have stayed longer. We can totally understand why there were so many seasonal campers there. When we return to that area of Colorado, we will absolutely go back. And, if you find yourself passing through that area, we'd highly recommend that you stop and stay for a bit.