Seems most RVers either love KOA campgrounds or they hate them. We avoided them up till now, but finally had no choice. So, after staying at two KOA campgrounds, how do we feel about them?
We knew Colorado had a shortage of RV parks and that us being so long would be an issue. It's the main reason we had not originally planned to head west this year. We'd had every intent of downsizing into a rig that we could easily boondock in before heading west. But, Covid changed everyone's plans this year, including ours, so we figured we'd make do and see what happened.
As we've traveled we've generally avoided KOA parks. They just didn't seem like our cup of tea. They are usually located right off the highway, and from what we could see from the highway the sites looked a lot tighter than we prefer.
As we made plans to head into Colorado we quickly learned that finding a place even remotely close to the larger cities isn't easy, especially when you're 42 feet long. While we normally prefer to only book one stop at a time, the difficulties in finding sites in Colorado resulted in us booking our entire six weeks stay at once. We had three main stops we wanted to make- Denver, Colorado Springs, and Silverton.
We needed to make a stop near Denver (or more specifically Centennial) so that we could hit IKEA and also so that we could find a place to donate our old mattress. We quickly found that there are very few RV parks near Denver and most of those that are did not have good reviews. Even the ones with poor reviews were expensive.
Eventually, I concluded that the Denver East KOA (actually an hour away in Strassburg, CO) was the closest we were going to get without paying $100/night, so I booked it. WTH, we've gotta try KOA eventually, right? Despite still being an hour from Denver the place was about $65/night. We signed up for the KOA Rewards Card at $33 to save 10%. Since we stayed a week, the card paid for itself before we left. With the card we paid almost $60/night.
We found the same issue in Colorado Springs. While there were more campgrounds in the Springs area than we found in Denver, they were all booked (or didn't have sites large enough for our Big Ass Bessie). The closest we could get was Pueblo, again at a KOA. This one was slightly cheaper and with the 10% savings from the KOA card we paid just over $50/night.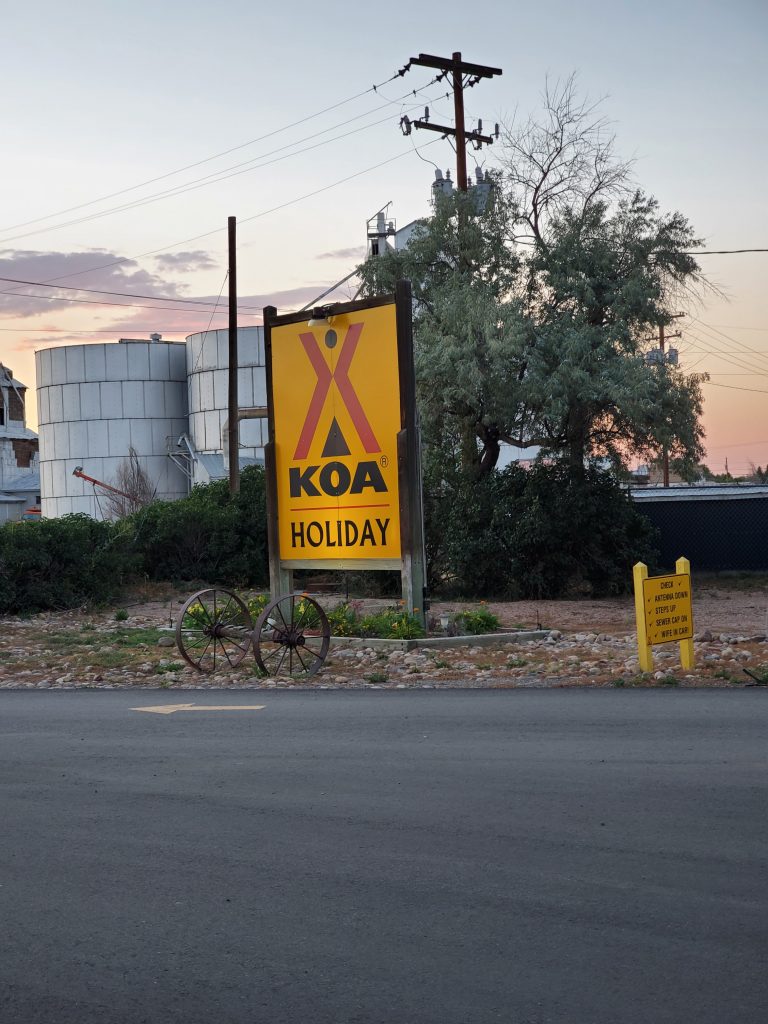 Pros and Cons of staying at KOA
We have quite a few friends who love staying at KOA and it's their first choice as they travel. The reasons they tend to list are the same we would give as the pros of staying at KOA.
KOA's are almost always located near the highway, making for easy access in and out. This is especially good if you are on route and don't want to divert too far from the highway for an overnight stay.
You always know what you'll get with a KOA. KOA as a company seems to have set standards for their parks. There are three main levels of KOA park (Journey, Holiday, and Resort) and as you go up the levels there are more amenities, but you'll always have the basics. So, you know what to expect.
We found that both of these held true at the two KOA's we stayed at (mostly). We also found that while these are the pros of staying at KOA's, for us they are also two of the cons of staying at KOA.
Denver East KOA Holiday
KOA Holidays are billed as a great place to relax and play. They are the mid-tier KOA, advertised as having more to do, with upgraded RV sites and amenities. This was our first KOA stop so the only thing we had to compare it to was a visit to some friends who were staying at a KOA in Rapid City.
Our initial arrival at the KOA Denver East was actually really great. This was our first stop in Colorado (the first state we'd stopped in that seemed to be taking COVID seriously) and it seemed that the park was definitely taking it seriously. A masked park host came to the truck and provided us a map and explained that the pool was closed due to COVID and that masks were required in public areas. "Just like everywhere else," he said. No, definitely not like everywhere else. He lead us to our site in his golf cart (a first for us) and made sure we were lined up properly before leaving us.
What we found was that our site was tiny. We knew it would be short, as we'd been told when we booked it was just 65′ and we'd have to unhook. Not a problem as we had fully intended to unhook and we've stayed at plenty of places with shorter sites that required us to park a bit sideways. Sadly, our site was not just short but extremely narrow. There was barely enough room to squeeze past the picnic table as we walked from our front door to the truck. Generally, the site was claustrophobic and I don't think other sites were better (unless we'd paid for an upgraded patio site).
As far as amenities went. The camp store offered pizza, breakfast, and ice cream. The campground owners also owned a BBQ restaurant next door that was open on the weekends. A few days into our stay we drove around for about 10 minutes just trying to find the dumpster. There was an area right behind the office that looked like a dumpster area with a sign that the dumpster was located next to the dog park. We did eventually find the dog park (and the dumpster) as well as a (very overgrown, uncared for) community garden.
The community garden was a neat feature, it was just sad that no one seemed to be taking care of it. We did grab a couple of ears of corn and did a little weeding while we were back there. It was just a bit sad and seemed to underscore our general feelings of this park. A nice idea, but sadly not executed well.
We did try the BBQ restaurant one night and it was OK, not great, not terrible, but not something we'd eat again. The same was true for the pizza from the camp store. Brandon tried it one night (since they obviously don't have gluten-free options).
The park is about an hour from Denver, thankfully you don't have to go that far to get groceries as there was a well-stocked King Soopers just one exit away. That's really all there is out there.
We'd originally booked 8 nights at this KOA followed by 7 nights in Colorado Springs but once we got our mattress situation sorted out we decided to change our plans and left a day early so we could spend an extra day closer to Colorado Springs.
The day we left we found that the campground charged us for yet another pizza that we never ordered. We ordered (and paid for) one on Monday. They charged us again on Friday. When I called I had to explain multiple times that we did not order that pizza and when they finally refunded for the pizza they wouldn't refund for the tip that whoever ordered the pizza had tacked on.
Despite the price this campground had quite a few long-term residents. We found these folks did not care about their neighbors, leaving dogs in their campers to bark all day, and were just generally rude. Despite having a good size dog park we watched one lady walk her dog through the park and let him poop wherever without picking it up. She even told us that she was trying to train him to do his business closer to home so she didn't have to walk all the way to the dog park.
We were thankful when we left that the row in front of us had already cleared out as the road/rows were tight enough we do not know if we could have made the turn out of our site with campers in the row in front of us. Honestly, we were just thankful to leave.
According to the website they offer outdoor movies, hayrides, and an arcade. I can only assume all of these were closed due to COVID, but we saw no signs or reference to any of these. This campground might be a good place to stop for a night, but I really can't see it being anyone's idea of a great place to "stay and play."
Pueblo KOA Journey
Surprisingly despite being the lower end KOA, the Pueblo KOA was actually a bit nicer and roomier than the Denver East KOA. Our site still wasn't huge, but compared to how tight everything was at the Denver stop, it felt like we had a ton of room.
Generally, they did not seem to be taking COVID as seriously as the Denver KOA. The hosts were still in masks but their pool and hot tub were open. They did have the laundry room limited to two people at a time, but we did not see any such limitations on the poo/hot tub despite that the pool definitely was not big enough for more than a single family at a time.
While the campground was still located just off the highway, it had much nicer views (when the smoke haze allowed it) of the mountains.
The best part about this stop was that we were close enough to Colorado Springs for some of my family to come hang out with us. My (Julie) nephew and his wife actually came and tent camped at the campground. They weren't impressed by the campground, but we were impressed that they came and hung out with us as much as they did while we were there.
Tent sites are gravel (just like the rest of the park) and mixed in with the cabins. This left them feeling like they had the people staying in the cabin next door walking through their tent site constantly.
Our site was much larger than the site we'd had at the Denver KOA, giving us plenty of room to park our truck and even enough room that we felt comfortable pulling out our grill and chairs to hang out outside with them. We actually had a pretty fun stay at this campground.
The Pueblo KOA is neither in Pueblo or in Colorado Springs. It's located about 15 minutes north of Pueblo and about 40 minutes south of Colorado Springs. There is a KOA closer to Colorado Springs (but the price was much higher).
We were thankful that we stopped at this campground while heading south, as it would have been much more difficult to get into/out of had we been heading north. Even heading south it was a little questionable. When you exit the highway, you have to U-turn onto the road that takes you to the campground. Thankfully, our F450 can do some amazing turns with our rig attached.
If you are coming from the south (or if you exit going north), you have to pass through a small one-way tunnel under the highway. There are no lights or anything to let anyone know what's coming and you just have to blow your horn as you go through the tunnel to let others know you are coming. I didn't really enjoy going through the tunnel (or even crossing in front of it) in just the truck. The inability to see or know what's coming was stressful and we really weren't sure if our rig would fit through the tunnel (we're just glad we didn't have to find out).
Despite being a step down in the KOA structure we found that the Pueblo KOA had basically the same amenities, offering the same pizza, ice cream, and coffee. The only thing we noticed that was missing was breakfast (not that we missed it), and I'm not sure that it had a dog park, but it did have plenty of room to roam and enjoy. Generally, it felt like a nicer campground for the money than the Denver East campground.
Amenities at KOA
Free Wifi – no
Pool – no
Hot tub – no
Laundry – yes (FREE)
Showers/Bathrooms – no
Shaded Lots – no
Pull-though Lots – yes
Cell Service – Verizon and AT&T
Park Ratings
Ratings for KOA
Overall: ⭐⭐⭐
Accessibility: ⭐⭐⭐⭐⭐
Amenities: ⭐⭐⭐
Cleanliness: ⭐⭐⭐⭐
Quality: ⭐⭐⭐⭐
Service: ⭐⭐⭐
Noise: ⭐⭐⭐⭐⭐
Would we stay at KOA again?
We have stayed at a couple of campgrounds that used to be KOA's, Clarksville RV Park (in TN) and Clayton RV Park (in NM) and with the lower prices we preferred both of those. I'd say that generally, the Clarksville RV Park, despite having the usual KOA layout was a huge step above in both quality and service to both of the KOA's we stayed at. The Clayton RV Park was a bit run-down but for the price difference, it's obvious that what you are paying for at a KOA is the name.
Overall, we wouldn't say our opinion of KOA has changed at all after staying there. Staying at a KOA would still not be our first choice, and will probably continue to be our last choice.