Sometimes the cheapest way to travel is to sit still for a while, and that's just what we did for our third month on the road. It wasn't so much planned, as we just decided we liked the spot we landed in so much we extended our stay.
Sometimes the cheapest way to travel is to sit still for a while.
Third month by the Numbers
Dates: August 22- September 22
1 states
1 campgrounds
163 miles
$2092 spent
If you've not already, be sure to read about our first and second months on the road. Our first two months we covered a LOT of ground and our expenses were a good bit higher to match. After moving so far so fast those first two months we were ready for a break, and decided to sit still and catch our breaths for a bit.
How we spent our third month on the road
When we left Nebraska in month two we booked four stops in Colorado. We hit the first two (Denver and Pueblo) during month two. Our intent was to head to Silverton, CO but we couldn't find a space there until after Labor Day, so we booked two weeks in Del Norte at a smaller campground right on the banks of the Rio Grande.
When we arrived in Del Norte, we knew we didn't want to leave anytime soon. Before our first week was finished we'd extended our stay to a month and cancelled the Silverton stop. We were tired and this was a perfect place to rest. Also, for the first time since we left Alabama we had finally found temperatures lower than 90 degrees.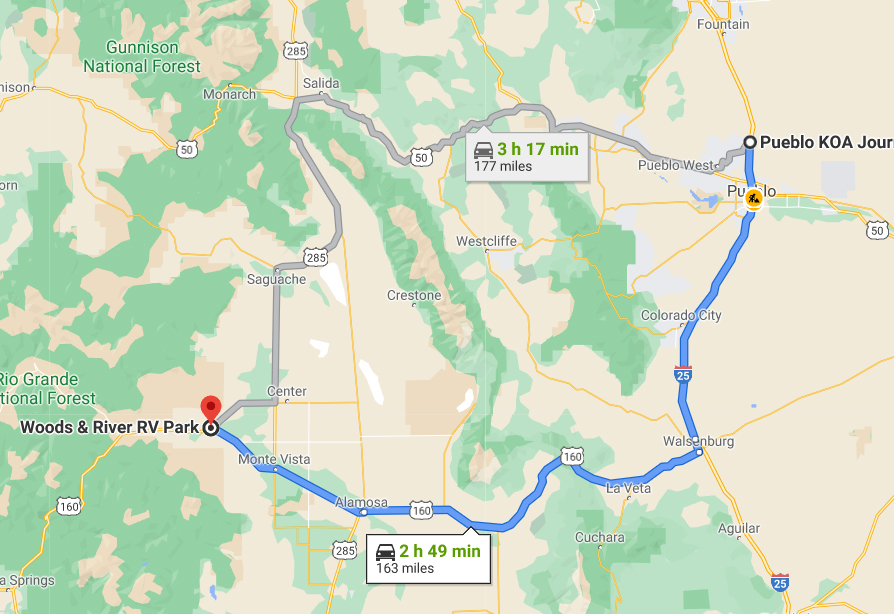 Even though our rig stayed still for the entire month, we didn't. We used Del Norte as a base to visit several surrounding areas.
Our first day out we headed west to South Fork, just 15 minutes away, debating if we would head on to Pagosa Springs or turn North and visit Creede (as our new neighbors had suggested). It looked like rain off to the West so we headed to Creede and found a cute little mountain mining town with a ton of history. We wished we'd had more time there as there was so much to do that we didn't plan for – like the Underground Mining Museum and Bachelors Loop (definitely need a Jeep or a 4-wheeler). While we missed out on seeing those things, we did enjoy drinks at Square Peg Brewerks while having lunch from a local burger place.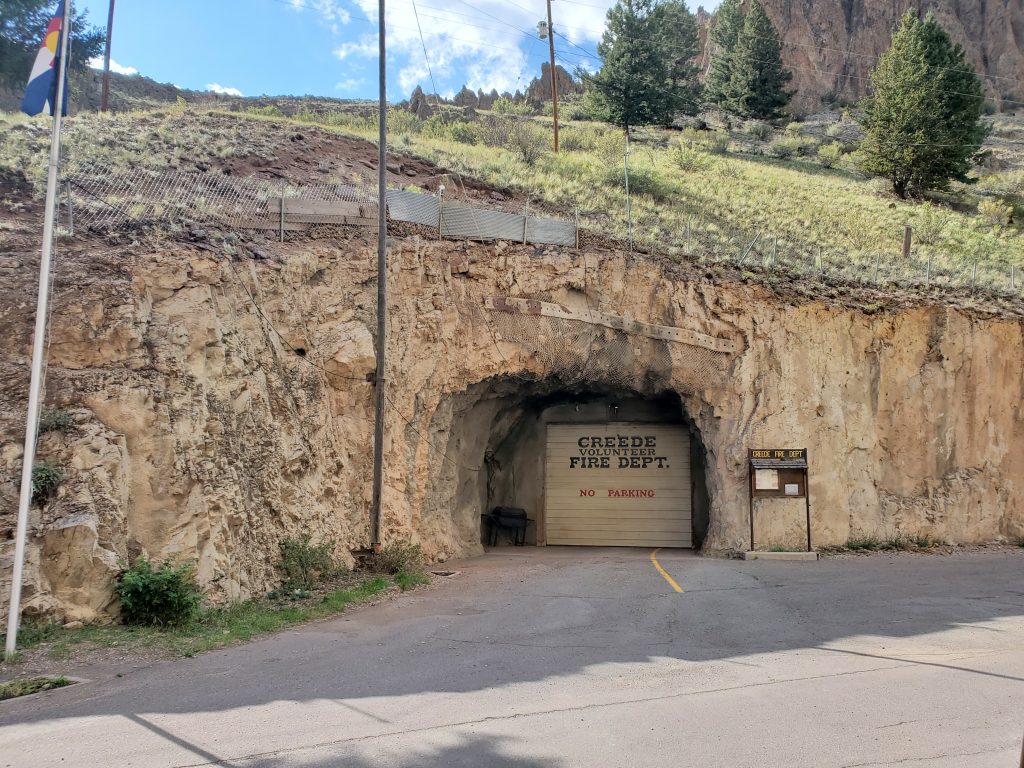 Labor Day weekend Julie's nephew and niece-in-law drove down and hung out with us again, and we had a blast doing camping things like playing board games and just hanging out by the fire. Things we don't do nearly enough. We also drove over to the Great Sand Dunes National Park, although we didn't really get to enjoy them as it was too hot and crowded to climb them.
We went from 90 degrees over Labor Day weekend to snow by Tuesday. We keep an eye on the weather and knew that a cold front (with snow) was coming. We considered leaving ahead of it but we knew it was only going to be short-lived and we also knew that the cold front would stretch far enough that we couldn't avoid it. If we had to deal with cold, we may as well enjoy a little snow. The weather called for 3-6″ in Del Norte. It started snowing around 3pm on Tuesday and by the time the sun went down we had five inches. At about 8pm our power went out and stayed off till about 2am. Thankfully, we had enough propane to get us through the night. When we woke up the next morning we had about a foot of snow.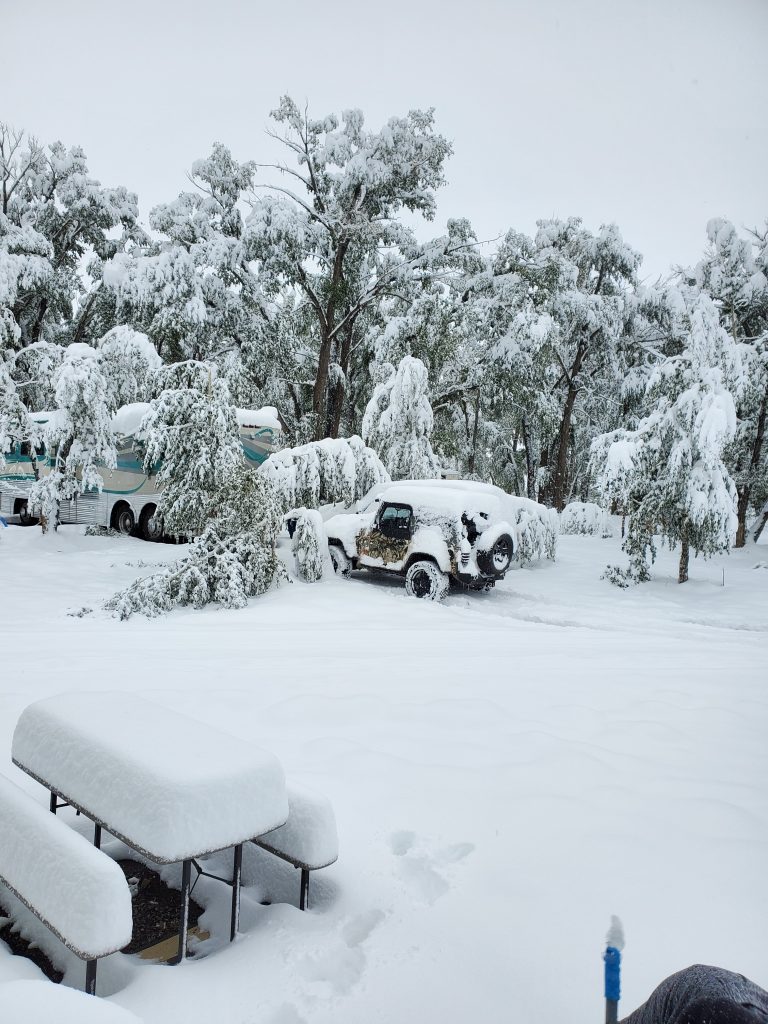 The snow stuck around for a couple of days before it melted completely and by the weekend we were back to shorts weather, so we took the drive over to Durango via Pagosa Springs. The drive over the Wolf Creek Pass was beautiful, especially with the snow still hanging onto the mountain tops.
Durango is a neat town and we'd love to go back and stay for a while. They've got quite a few really great restaurants and the area is just beautiful. On the way back across Wolf Creek Pass we stopped at the 10,000ft elevation marker and had a great view of the Milky Way.
Where we stayed
We spent our entire third month at Woods & River RV Park in Del Norte, CO. The park made our list of favorite parks both because of the park itself and because of the town. The town of Del Norte is a tiny little town with just enough. There's a small grocery store where you can get necessities (although, they had little in the way of gluten-free options) and there are about a half dozen restaurants in town and all of them had gluten-free options. The RV park is within walking (or bike-riding) distance to town and we took advantage of that.
South Fork is just about 15 minutes from Del Norte and there you can find Rainbow Grocery which is (for the Parks & Rec fans) best described as Food & Stuff. The grocery store is pretty basic and had fewer options than the store in Del Norte, but in addition to groceries they carry camping gear, hardware (both vehicle and home), and had a huge section dedicated to RV parts. We were able to get a replacement fan motor there (something that had been on back-order on Amazon for weeks). About 15 minutes in the opposite direction is Monte Vista where you can find two larger grocery stores with everything you might need. The closest Walmart (or Walgreens for that matter) was in Alamosa, about 45 minutes away.
Woods & River RV Park has everything we need and sites to fit anyone. The sites closest to the office are smaller and cheaper, but also have WIFI. We stayed in the Meadow section, which is half pull-through and half pull-in. The pull-in sites have some shade and face the water, perfect if you're in a Class A. In front of the pull-in section is the Woods section, which is (well, what would you expect) wooded. It's a little more expensive but you are close enough to see the water from your site. In front of those sites are the River sites (these don't have sewer hookup but they do offer dump service twice a week if you're there for at least 6 days). The Woods and River sites are all HUGE (like you could fit another site between the sites HUGE). As far as amenities go, they have laundry and a modern bathhouse, but that's about it (other than the river itself). But, that's perfect for us. We'd rather have a scenic campground than a pool any day of the week.
Cost break-down for our second month on the road
This was our cheapest month so far. Not surprisingly because we stayed put and were able to get a monthly rate, our site rent went down dramatically, to $560 for the month. But, what was surprising is that all of our costs went down.
Our grocery bill was the lowest we've had since we hit the road at just $636 and that even included buying extra food so we could feed our guests over Labor Day weekend.
Although we weren't dragging the camper all over the place, we still did a good bit of driving as all of our day trips were at least 50 miles, but they were also over mountains. Even with that, our gas bill came in at just $484 (again the lowest so far).
Our dining total was not the lowest we've had, but fell in the middle. We dined out as much (if not more) than we have any other month and our total came out to $412.
Total expenses for month three came to: $2092, hitting within our ideal budget.
Unfortunately, we know that it's not realistic for us to do monthly stays everywhere we go, but between cost and just the need to slow down and enjoy the places we go, it's something we'd like to do more often.
What we loved
We loved everything about Woods & River RV Park and Del Norte. We loved spending time with Julie's family and just the amazing scenery of Colorado. We even loved the snow.
We loved Creede and we'd like to go back and visit again and actually stay longer. We'd also like to plan a visit to Durango, as well as the many areas of Colorado we never managed to get to.
What we didn't love
We didn't love the altitude, or rather it didn't love us. Unfortunately, it wrecked havoc on both of us, aggravating Julie's fibromyalgia symptoms. Also, after the snow melted and Colorado decided it was spring again, something started blooming that absolutely killed our sinuses. We were actually considering staying in Colorado longer than we did but it reached a point where we felt we had to leave so we could feel well enough to enjoy where we were.
What we did differently
We stayed put. That was really the only thing we did differently on this leg. We stayed in one place and used it as a base of operations to enjoy as much of the area as we could. There are affordable places in Colorado that are worth staying, and we feel we found a hidden gem.
What we've learned
Look for the little towns. We've realized that while it's nice to have a Wal-mart nearby, we actually prefer the small towns next to the towns with the Wal-mart. This has really changed the way we look at booking campgrounds.
Towards the end of month two we started using RV Trip Wizard to plan our stops and our route. It's an awesome tool that lets us set a radius and find campgrounds within that radius, showing all the available campgrounds on the map. The radius can be set by distance or by drive-time, and you can even choose whether drive-time is based on speed limit or a set speed (if you're like us and stick to 65 or less, regardless of the speed limit). This has been a game-changer for us. Not only has it made finding campgrounds easier but we can get a quick view of things like price, amenities, and reviews.
We really like that you can drop a pin in a town you want to be near and then it will show you all the campgrounds within your radius. So, now instead of just looking at campgrounds near say Amarillo, TX, we were able to look out a little further and see that there is a smaller town named Canyon just south of Amarillo. When we click on the campground in Canyon we can see just how far it is from Amarillo. The phone app also provides turn-by-turn directions customized to your rig (something we've yet to use, but need to).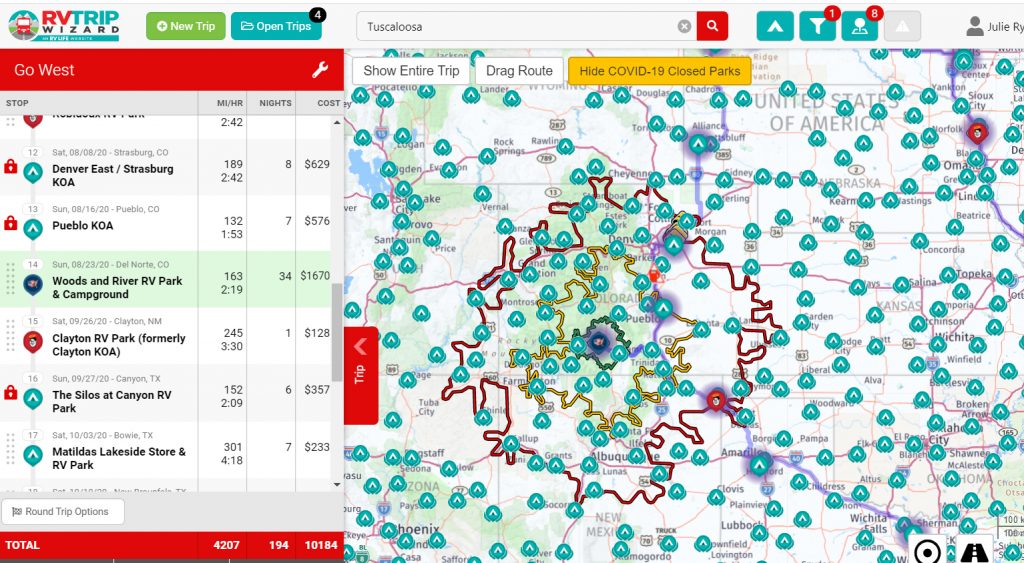 We also learned just how important it is to keep an eye on the weather. It's something we do anyway, but seeing that cold-front move in and catch so many people off-guard really brought that lesson home. We saw several people pull into our campground as the snow was hitting. They'd been on their way to Pagosa or Durango but, thankfully, realized they didn't need to try to do Wolf Creek Pass in the snow, so they stopped. I can't imagine getting caught in a snowstorm on the highway with our rig. It's stressful enough just deciding at the last minute where to stop on a travel day!
How month four will be different
We'll be on the road a lot again in month four. We might get one two-week stop. We'd really prefer to always stop for two weeks at a time, but it's a balance between getting where you need to go, and finding place you want to stay still for that long. We'll be driving through Texas, at least part of the month.
Our first stop is in Canyon, TX, from there we'll head down towards Wichita Falls, and from there we don't know what we'll do. There's so many options. Of course, we are keeping an eye on the weather, and hurricane/tornado season.