Second month by the Numbers
Dates: July 21-August 21)
3 states
5 campgrounds
550 miles
$3836 spent
If you've not already, be sure to read about our first month on the road. To give a little recap, in month one we covered five states, and spent about half as much as we did this past month. Keep reading to see why our costs went up despite slowing down.
How we spent our second month on the road
After a very fast-paced first month on the road we were ready to slow down. In total, we only moved 1/3 of the distance that we covered in our first month.
We spent about a week and a half of this second month in the Black Hills (we were there for a total of three weeks). We stayed at two campgrounds in the Black Hills, both offering half off their normal rates with Passport America (a membership that we bought just to save a bit on those stays).
We followed that with a week in Gering, Nebraska at the base of Scott's Bluff National Monument before heading south to Colorado where we spent a week just outside of Denver and another week just north of Pueblo.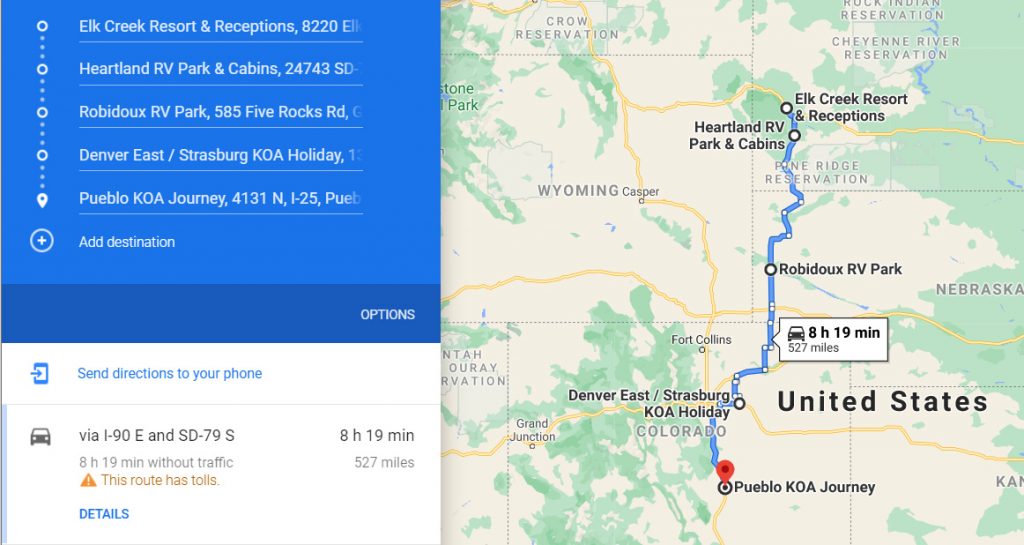 Despite the slower pace, we packed a lot into that month, especially during our time in the Black Hills. We have an entire post dedicated to all that we did in the Black Hills.
Our time in Colorado was a little quieter. Both of our stops in Colorado were at KOA's that were a bit away from things. These two stays were our first time staying at KOA. We've generally found them to be one of the most expensive options, but when it came to Denver and Colorado Springs there just weren't many options and KOA was actually the cheapest we could find (that we could fit Bessie in and that looked safe).
The first KOA was about 30 minutes east of Denver. Our entire purpose for this stop was to visit Ikea and find a new mattress. Mission accomplished. We stopped at the Pueblo KOA because it was the closest we could get to Colorado Springs without paying an arm and a leg (instead we just paid an arm).
Our time in Pueblo was filled with family as Julie's nephew and niece-in-law came out and camped with us a few nights. We also made a trek or two into Colorado Springs to see a few of the sites. However, between distances, weather, and crowds we didn't really get to do as much in Colorado Springs as we'd have liked. Although, we did drive Southwest a bit and check out Bishop's Castle.
Where we stayed
We started our second month by finishing out our stay at Elk Creek Resort in Piedmont SD. It is a nice quiet campground tucked far away from the noise of the highway. Unfortunately, it's also tucked away from good wifi signal.
We wanted to stay in the Black Hills a bit longer but also wanted good signal, and to be a little closer to Custer State Park and a few other sites we wanted to see. So we moved to Heartland RV Park in Hermosa, SD. This one is right on the highway but the noise wasn't bad. It's also a Passport America park that has no limit on how long you can stay (other than that they don't honor the discounts during Sturgis). They also have a roaming margarita cart on the weekends.
We stopped for a week in Gering Nebraska at Robideaux RV Park, a little city campground at the base of Scott's Bluff. We find we tend to like these smaller city campgrounds that are often like mini state campgrounds. Not only did we have awesome views of Scott's Bluff but we had a yard big enough to fit three more RVs in (and it actually had grass).
In Colorado we had our first (and second) KOA experiences at the KOA Denver East/Strasburg and the Pueblo KOA Journey. Both were pretty similar in amenities. Although, the Denver East KOA had a BBQ restaurant on site and also offered breakfast options. The Pueblo KOA had larger sites. In Denver we didn't even feel like we had room to setup our grill.
Cost break-down for our second month on the road
We spent about 50% more this month than last month. Some of that was because of high site prices in Colorado, and some of that was just because we spent more having fun. Renting a Slingshot isn't cheap (but it was worth it).
Due to the higher site cost in Colorado, our average cost per night went up about 50%. We averaged $48.73/night, with the highest price paid at the Denver KOA (about $59/night). We never expected that KOA would be our cheapest option anywhere, but it was. The low prices in Robideaux helped offset those high prices, but not nearly enough. Passport America helped us save quite a bit during our stay in the Black Hills.
Our grocery and fuel costs were about the same as month one. Fuel was just slightly cheaper at $524, and groceries we spent just a little more at $868. We did notice that in general groceries are more expensive out west than what we are used to paying. We spent a bit more on dining out and entertainment ($536 vs $380). This included several winery trips and some really great restaurants (some of which we visited more than once).
We also had one big special expense this trip. We rented a Slingshot motorcycle for a day so that we could fully enjoy the scenery by driving through the Needles Highway and Iron Mountain road without worrying about fitting through all the tunnels. While we know there are folks out there who will take a dually through those tunnels, it's a tight fit and we just weren't up for the task.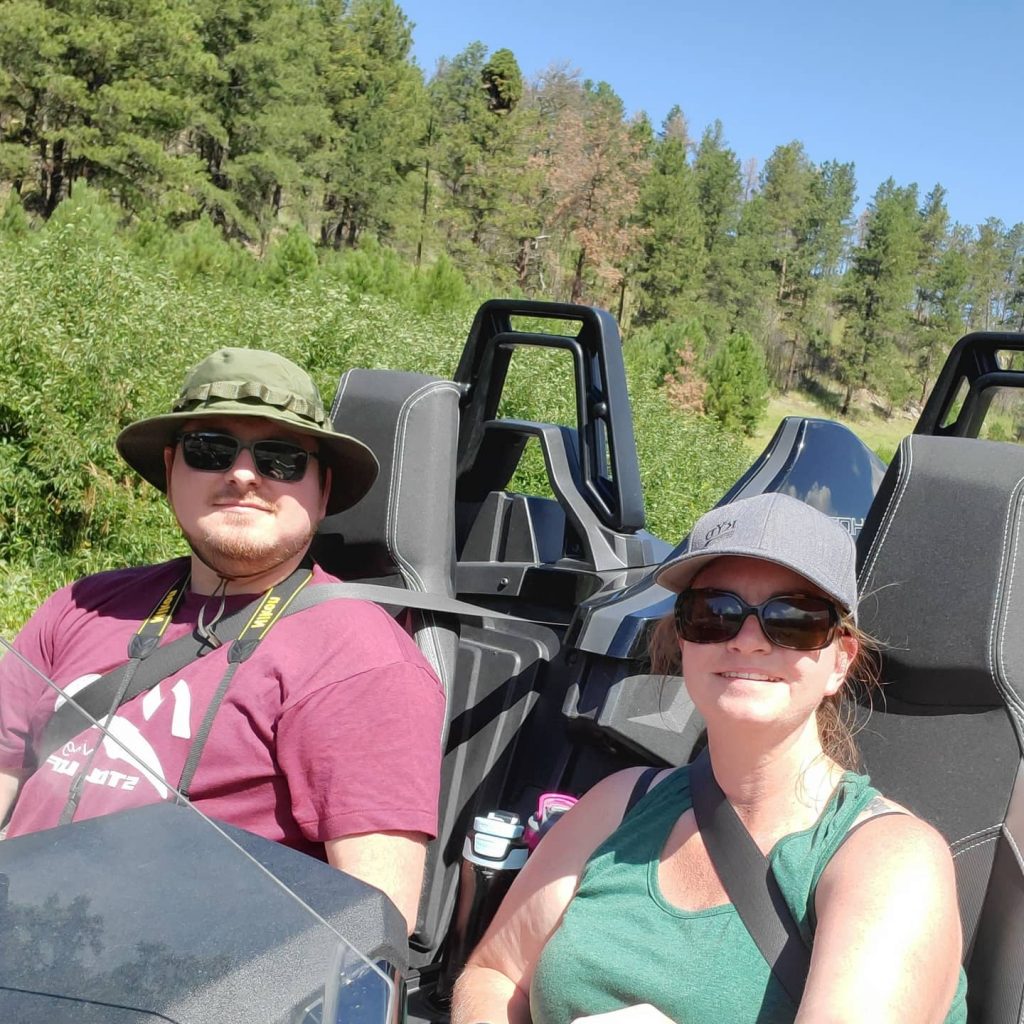 Total expenses for month two came to: $3846
Had we not rented the slingshot, our total for the month would have still been about 20% higher than last month, just due to the higher site rents in the busy areas.
What we loved
We loved everything about the Black Hills. The day we rented the Slingshot was probably our favorite day so far. We could easily spend months out there just driving around those roads before we'd get bored.
There are so many sites to see there and we feel like we just barely got started before it was time to move on.
We really loved Heartland RV Park and their roaming margarita cart. We'd definitely stay there again. We also loved the Robidueux RV park and the amazing yard we had there.
We enjoyed visiting with Julie's family and checking out Bishop's Castle in Rye Colorado as well.
What we didn't love
We didn't love staying at KOA parks. We've often seen them and we have a few friends who swear by them – one because they are always near the highway and easy to access, another because they are consistent so you always know what you'll get. We didn't love how far away from everything we were. And, we just generally didn't feel they were worth the money (although in the case of the parks we stayed at they were the best that was available).
We're glad we gave them a try and now we do know what to expect from them. I wouldn't say we'd never stay at one again (after all, I think after those two weeks we have almost enough points for a free night), but it won't be our first choice.
What we did differently
After that hectic first month we vowed that we'd do things differently and we have. We've not stayed anywhere less than a week. We'd prefer to stay at least two weeks in a spot, but that just hasn't been feasible for the most part (although, month three will be spent between no more than three sites).
We've also drastically shortened our travel days. Most of our travel days have been under 200 miles. Shorter travel days means that we aren't completely wiped out when we arrive and can actually just relax into our new spot rather than spend two days recovering.
What we've learned
Look for the little towns. We've found our favorite stops are ones that are in small little towns. They don't have much, but they're quiet and tend to be pretty affordable. We try to balance these against the larger areas with more to do.
That said, not all small towns are created equal. Our idea of a small town is a little one red-light town with a single main street. Gering/Scott's Bluff didn't quite fit the bill for us. It was a bit too big and industrialized and just didn't give us the relaxing vibe we want.
It tends to cost more to be closer to the action. We feel like we missed out a bit on our first two weeks in Colorado because we weren't close enough to the action. But, we also weren't in those small towns we enjoy. Had we not had two very specific things to do in those areas (Ikea and family) we would probably skip them completely and head straight for the mountains. It's still more expensive than we like, but at least we can relax.
If you want to stay in really popular areas book way in advance. This doesn't really work for us, as we prefer flexibility. We did end up booking our entire Colorado stay in advance once we saw how difficult it was going to be to find sites.
Be aware of cancellation policies when you do book in advance. Some campgrounds have a 100% deposit that is non-refundable, others have one-day deposits and/or a 7-day cancellation window. The 100% deposit places can really bite you if you decide to change your plans.
You can balance out the more expensive stays with cheaper stays elsewhere. We alternate places that cost around $45+/night with places that cost closer to $25 and it balances out. Throw in an occasional monthly site and it brings the average down further.
We still haven't gotten a generator and at this point it will be another month before we need it. It was proving to be rather difficult to find sites in Colorado on short notice so we ended up just booking out the rest of our stay before we left Nebraska.
How next month will be different
Before we left Nebraska I'd booked out six weeks in Colorado. We've already completed two of those (one in Denver and one in Colorado Springs). I had booked two more stops (for two weeks each) in Del Norte (right on the Rio Grande) and in Silverton. However, a few days into our Del Norte stop we were enjoying our new spot enough that we decided to extend our stay for a month. Luckily, Silverton had only charged a 1-day deposit and had a 7-day cancellation window.
Del Norte was already our cheapest stop in Colorado (with two weeks costing us less than we paid for a week at the Denver KOA), but extending meant we were able to convert that to a monthly stay saving even more. Month three should prove to be our cheapest month on the road, and should make up for the higher expenses in month two. We'll see how that turns out.