Have you ever wondered what makes a resort a resort? Yeah, me too. The more "resorts" we stay at the more I wonder where that name comes from. In the case of Elk Creek Resort, I believe it might have been a nice little resort back in the 70s or 80s, now it's just a campground.
We stayed at Elk Creek Resort in Piedmont, SD (about 20 minutes north of Rapid City) for two weeks in July, 2020. We happened upon this stop after finding prices in the Black Hills to be a bit higher than we really wanted to pay. Our friends over at GlutenFreeRV suggested we take a look at Passport America to see if we could find any better deals. And, we did.
The low end of average rates in the Black Hills is about $50/night. We did find a few places closer to $40, but most looked to be pretty tight spots, with limited utilities. While a few of the Passport America campgrounds looked really good, I found that most limit you to just a night or two at their discounted rate, but there were two that allowed unlimited nights with the discount. Elk Creek Resort was one of those – and the one with the lowest final cost.
Elk Creek Resort boasted nice rv sites, cabins, free wifi, a pool, laundry facilities, bathhouse, and a lodge / restaurant. Thanks to Passport America we were able to stay at Elk Creek Resort for 50% off their regular rate, making for a reasonable cost given the campground and amenities.
As we've learned, what a campground boasts and what they actually provide are not always the same. The sites were reasonable, not exactly spacious but not the tightest we've ever had, and level enough. The lodge was only open during the two weeks of Sturgis. We're not sure if that's the norm or was just due to Covid (but from looking at it, we wouldn't be surprised if it was the norm). The pool looked like it hadn't been cleaned all season, and the machines in the laundry room had likely been there since the 80's. The bathrooms were clean but dated – at least the showers had actual stall doors rather than a curtain.
All in all, it really wasn't a bad campground at all – it just wasn't a resort!
Pros and Cons of Elk Creek Resort
The Pros: Decent level sites is really the minimum we ask for, and Elk Creek Resort had those for us. They weren't perfectly level, but they were good enough.
The staff was very nice when we checked in, giving us our choice of the available larger sites, with the realization that we are in a pretty large rig. The first site we tried was a bit too un-level for us, but the second was great and had a nice tree for shade. Both were plenty long enough for our rig and our truck.
We were able to get packages and mail delivered to the campground, something we've learned to really appreciate. At least once the office staff actually delivered a package right to our door (again, A+ for the staff).
It was so quiet! As we drove around the Black Hills we noticed that most campground were located right on the highway. Elk Creek is tucked about a mile off the highway and there is no road noise.
The views were amazing from the campground. All sides of the main campground are surrounded by beauty. From Piedmont Butte behind the campground to the Black Hills across the road in front of the campground.
The campground offers free WIFI, which we couldn't have survived without because there is not cell service for either AT&T or Verizon. The WIFI was weak, but it was just good enough during the day to allow us to get our work done.
The location is perfect for accessing Rapid City and the north side of the Black Hills including Sturgis and Deadwood. It's located almost exactly between Rapid City and Sturgis (about 20 minutes each way). While there's really nothing in the area, there is a small mom-and-pop shop where you can pick up a few items, and Instacart delivers from Safeway and Sams Club.
The price was the biggest pro. With campgrounds in the Black Hills averaging $55-60/night and the cheap seats running around $40/night. We were able to stay at Elk Creek Resort for under $30/night with our Passport America membership. While most PA parks in the area limit you to just one or two nights, there was no limit to how long we could stay at Elk Creek. We stayed just at two weeks.
The cons: The campground is located in a valley, which affords some amazing views of the Black Hills and Piedmont Butte (which butts up behind the campground), unfortunately, that valley is a dead zone for cell signals. We could not get reception on either AT&T or Verizon. In rare moments we were able to get 1 bar on Verizon, but it was rare.
If not for the campground WiFi we'd have been completely hosed and because we didn't check our connection before we paid we'd have been out a couple hundred dollars as well. Fortunately, the campground WiFi was just good enough to do get our work done. The only way we could make phone calls was when connected to the campground WiFi, but that wasn't reliable enough for work calls. Brandon had to jump in the car several times and drive a mile up the road to do conference calls for work.
The campground itself is old and could use some maintenance. The pool was generally dirty enough that we didn't want to use it. The laundry was similarly poorly maintained with about half the machines out of order and those that were working in sad enough shape that I didn't feel comfortable running my clothes through them. We do have a washer on board, but I'll usually use campground dryers if they are clean and well-kept.
The bathrooms were, well, better than some state parks we've stayed at. The showers at least had doors for privacy. And, the toilets at least appeared to have been cleaned recently.
The campground is split into two main areas. The main campground near the office, laundry, and bathrooms has a gravel road through it and the sites vary from completely grass to gravel, and from tiny to large. Thankfully, there were several large enough for our rig with full hookups.
The second section of the campground is located on the other side of Piedmont butte in a grassy field. It appeared that most of those sites also had full hookups and the area seemed generally level. To get to it you either have to go over a large steep gravel hill or go around the block (I'd suggest the latter). That area is not visible from the main campground and if you want to use any of the facilities, you'll need to drive back to the main campground. We did not think to test for wifi or cell signal back there when we stumbled across that section of the campground.
Adjoining the campground (on the Piedmont Butte) is a Petrified Forest. Staying at the campground allows you to tour the forest. With COVID in play, the museum and rock shop were closed, but you could still get a guide sheet and walk through the forest. After reading a few reviews, we simply walked up the hill (about 1/4 mile straight up) and hiked around on our own. It was a neat area and a nice afternoon hike.
Where to eat in Piedmont SD
There's really nothing in Piedmont. It's one street with a couple of bars and a post office. However, if you drive about 5 miles up the highway you'll find Summerset, the location of the best BBQ we've ever eaten.
A stop at J. R. Rhodehouse BBQ is a must even if you don't stay in the area. It's worth the drive. We'd even say it's the best BBQ we've ever had. The sides were amazing as well. The vinegar-based) slaw was so light, and the beans had a nice smoked flavor.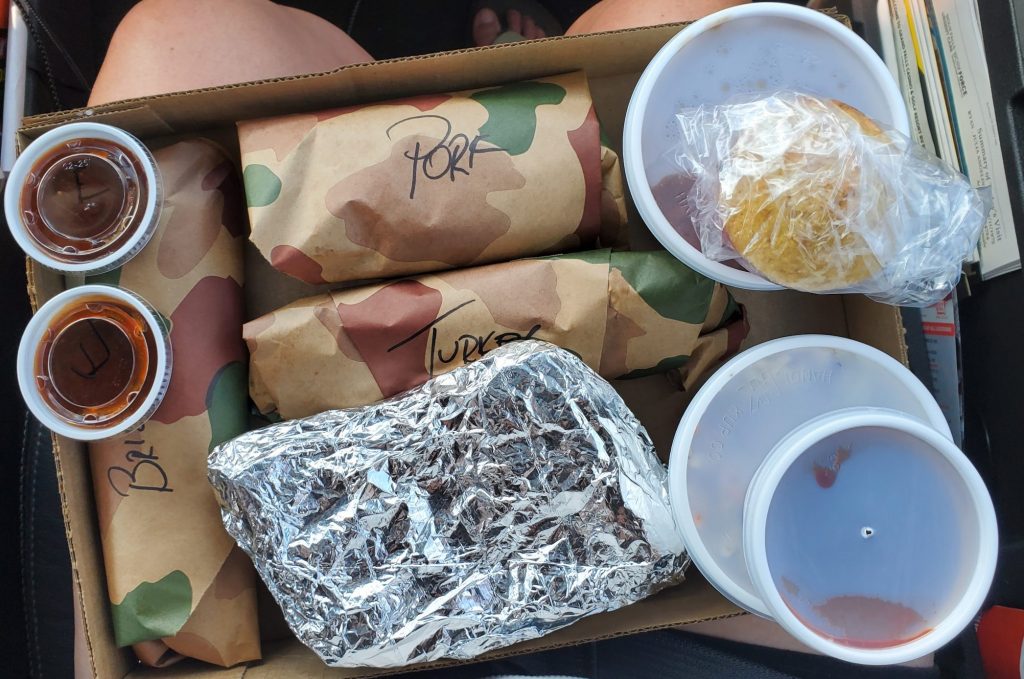 What to do in Piedmont SD
The Petrified Forest at the campground is really all there is in Piedmont SD. But, you're only about 20 minutes from Rapid City (be sure to drive down and check out the downtown Art Walk and President's Statues), and it's about the same distance from Sturgis. This would be a great place to stay if you are in for the rally. A little further up the road you can stop at Deadwood. And, you're only about 90 minutes from Devil's Tower National Monument. Overall, Piedmont is the perfect stop to explore the north side of the Black Hills National Forest and all it has to offer.
Amenities
Free Wifi – no
Pool – no
Hot tub – no
Laundry – yes (FREE)
Showers/Bathrooms – no
Shaded Lots – no
Pull-though Lots – yes
Cell Service – Verizon and AT&T
Park Ratings
Park Ratings
Overall: ⭐⭐⭐
Accessibility: ⭐⭐⭐⭐⭐
Amenities: ⭐⭐⭐
Cleanliness: ⭐⭐⭐⭐
Quality: ⭐⭐⭐⭐
Service: ⭐⭐⭐
Noise: ⭐⭐⭐⭐⭐