When I first began doing research into campgrounds and RV Parks in the Black Hills, I ran across Heartland RV Park. It looked really awesome, but it was a bit expensive for us, with posted rates at around $80/night. But, the reviews were glowing and it had amenities that looked amazing. In our efforts to find a lower cost alternative, we pushed Heartland RV Park out of our minds and booked the cheaper option.
When we arrived in the Black Hills we weren't sure how long we would want to stay. Two weeks was the minimum, but about halfway through our time at Elk Creek Resort we knew that we wanted to stay in the Black Hills longer than that. Had the internet at Elk Creek been better we probably would have just stayed there.
I called several other parks closer to Custer State Park or Hill City (as I there were several things we wanted to do in each area) and they were unable to fit us. My goal was to get us closer to a busy area in hopes that we'd have better signal. As I looked around I was once again drawn to Heartland RV Park. Based on reviews it seemed that in addition to other awesome amenities, they had great cell reception and good WiFi.
Heartland RV Park's listed price was still a good bit higher than we were willing to pay, but they accept Passport America (offering 50% for unlimited nights). I called their office and asked about rates and a helpful worker was able to book us a site for a week. One week there would take us right up to the Sturgis rally week (when no discount would be accepted).
We enjoyed our stay there so much that we did try to extend, but the lack of discounts offered during the Sturgis weeks made it unreasonable for us to do so.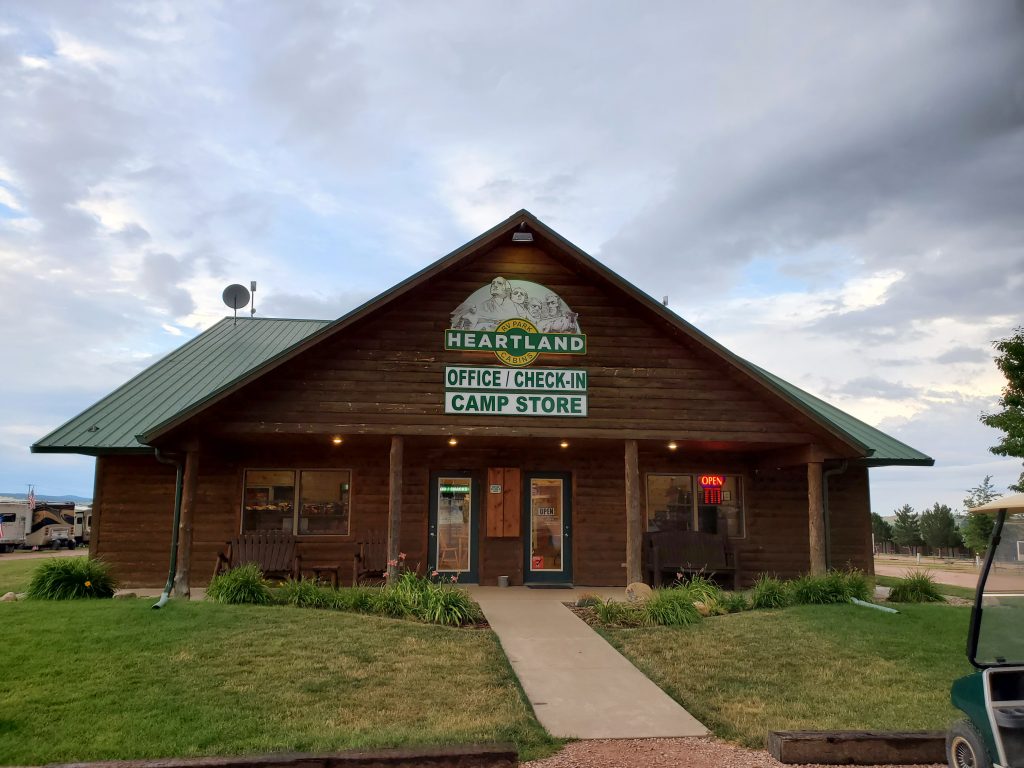 Pros & Cons of Heartland RV Park
Pros: The amazing service there started with booking our site (and then calling again to come a day early). It continued with friendly check-in. We've only stayed at a couple of campgrounds where someone guided us to our site (usually we are handed a map and sent on our way to figure it out). Not only did they guide us into our (pull-through) site but actually helped make sure that we were positioned properly so that neither of us needed to get out the truck to verify.
The sites themselves are perfectly level and reasonably sized with grassy lots. The utility area is marked off so that it actually doesn't feel like it's in your front yard. We observed the staff come through almost immediately after people left to check/clean the sites and even rake the gravel back into place when needed.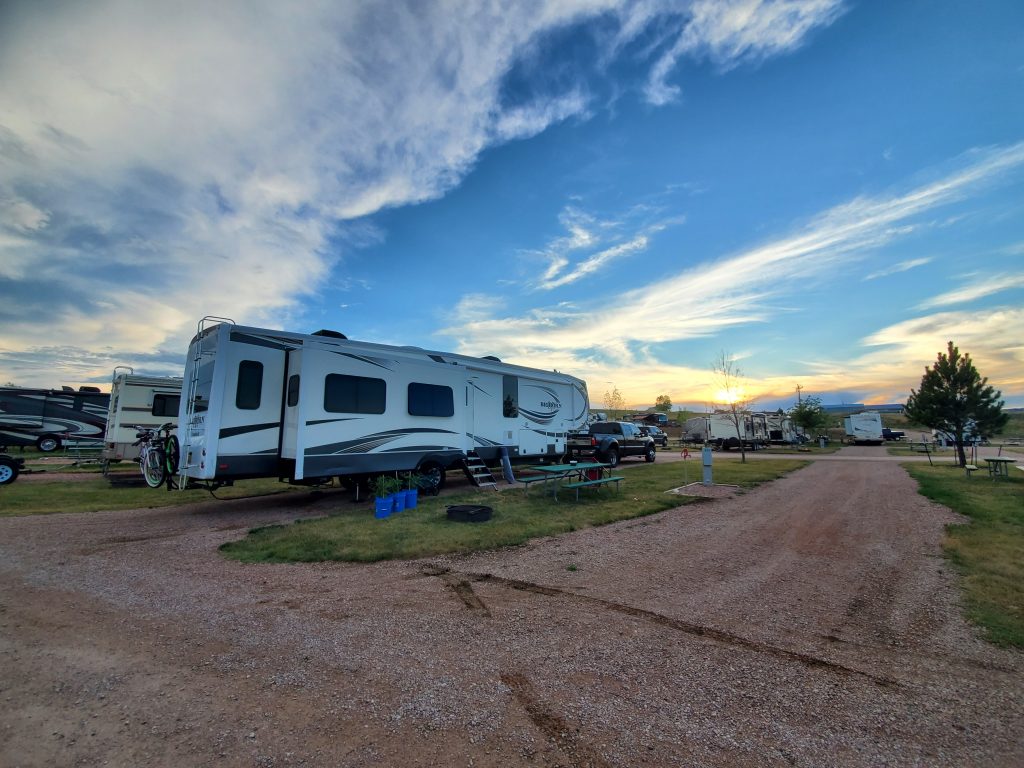 There's a huge event center where they serve breakfast in the morning and hold (almost) nightly entertainment including karaoke, sundae bar, line-dance lessons, margarita night with live music, and wine tastings, plus a roaming margarita cart that drives around the campground delivering margaritas.
They also have a well-stocked camp store with just about everything you could need including local wines.
With Passport America their prices are actually pretty reasonable for what you get. We stayed for about $43/night with the Passport America discount. In addition to Passport America, they also accept Good Sam and several other discount clubs.
The park is conveniently located to the southern Black Hills, Custer State Park, and Rapid City. Another great thing about the location is that since it's south of Rapid City they don't get as much of the Sturgis traffic. While the various towns around the Black Hills were filling up with bikers on our last weekend, Heartland was still fairly quiet.
The (three) modern laundry rooms and bathhouses were spotless. The individual private showers had locking doors. The laundry room was reasonably priced ($2 wash/$1.50 dry).
Cons: There really were not many cons to this park and none were great enough to make us avoid staying there.
Their regular rates are a bit high in our opinion (although, given other rates in the area they aren't unreasonable). They do make an effort to make the place worth the price with great sites, nightly entertainment, and reasonable drink prices (everything was $5). Overall, we found this place much more worthy of the resort name than anyplace we've stayed that had resort in the name.
It is located just off the highway so road noise is present (although not terrible). It's mostly quiet but the sound of the occasional diesel engine or air brakes in the middle of the night was enough to have us leave the bedroom fan on while we slept.
There is a lack of shade in the park, but generally we didn't notice it as a problem. Sites face mostly North/South, so we didn't have any issues with the sun beating in our windows and over-heating the rig.
There is really nothing in Hermosa and the closest grocery option is a Walmart that's about 20 minutes away. There's no Instacart delivery available. Thankfully, we had stocked up while we were in Piedmont. Our one trip to the nearby Walmart was less than pleasurable.
Although the pool and hottub were kept clean, they were small. Given COVID the pool was really only big enough for one family to enjoy at a time.
Where to eat in Hermosa, SD
Unfortunately, there's not much in the immediate area. The campground does offer dinner on Friday and Saturday nights. Lintz Brothers Pizza is also located just around the corner and they do offer gluten-free crust – it was just OK.
Hermosa serves well as a home base to access all that the southern Black Hills have to offer. While the city of Custer is about a 45 minute drive away, it's a fun drive through Custer State Park, that we made a few times during our stay. Custer has several great food offerings including Black Hills Burger & Bun. We made the drive just for their buffalo burgers.
What to do in Hermosa
Drive into the Black Hills and Custer State Park. The entrance to Custer State Park is less than 15 minutes away. From there you can visit the Wildlife loop, and drive the Needles Highway and Iron Mountain road. The drives alone are worth it. Bear Country USA is a fun 20 minute drive away.. Mt. Rushmore is about 40 minutes away. There is so much to see and do on this side of the Black Hills that the only problem you'll have is finding time to do it all.
Park Amenities
Free Wifi – no
Pool – no
Hot tub – no
Laundry – yes (FREE)
Showers/Bathrooms – no
Shaded Lots – no
Pull-though Lots – yes
Cell Service – Verizon and AT&T
Park Ratings
Park Ratings
Overall: ⭐⭐⭐
Accessibility: ⭐⭐⭐⭐⭐
Amenities: ⭐⭐⭐
Cleanliness: ⭐⭐⭐⭐
Quality: ⭐⭐⭐⭐
Service: ⭐⭐⭐
Noise: ⭐⭐⭐⭐⭐