We just wrapped up our first full month on the road and while we don't expect this will be indicative of our entire trip, we thought we'd share our experience so far, how far we went, where we stayed and how much it cost us.
First Month by the Numbers
30 days (June 20-July 20)
5 states
8 campgrounds
1505 miles
$2780 spent
How we spent our first month on the road
We moved a LOT during that first month. We covered 1500 miles over five states and stayed at eight different campgrounds. That's not something we plan to repeat.
We feel like moving so fast really wore us out and limited our enjoyment. Those first few weeks were pretty brutal. Going forward we plan to stay at least two weeks per location (preferably at a single campground) and will only be moving a maximum of 300 miles between campgrounds. This should help control our campground costs some, but will definitely decrease our fuel costs.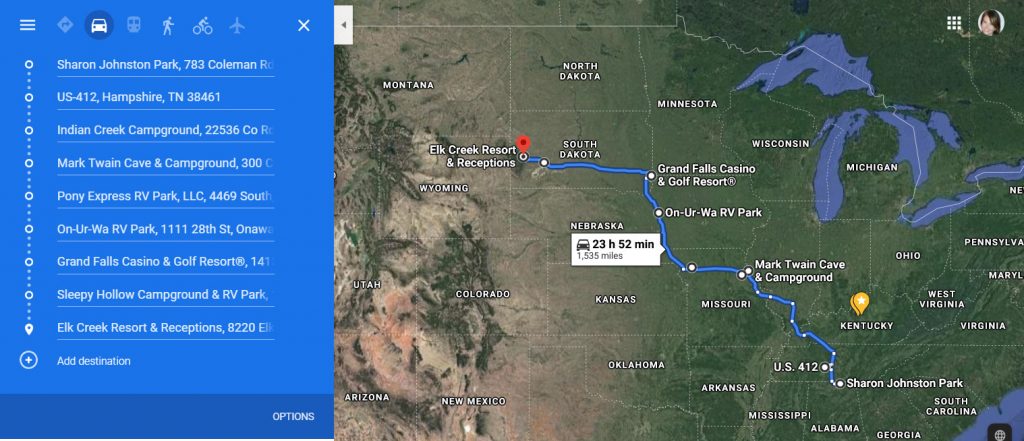 Where we stayed
We departed north Alabama and spent our first week in Clarksville TN at Clarksville RV Park. This was a perfect first stop and the park couldn't have been nice. Check out our full review here.
From there we drove about 400 miles to Monroe City, MO and spent one night at the Indian Creek COE park. It is a beautiful place right on Mark Twain Lake. If you are looking for a getaway and don't need cell signal, we'd definitely recommend it. Unfortunately, we do need cell signal so that we can work, so we moved after just one night, to Mark Twain Caves & Campground in Hannibal, MO. We spent five nights there and enjoyed touring both caves on the complex.
Next we drove across Missouri to Pony Express RV Park. It was July 3 and they only had one space available. Unfortunately, it was a double pull-through (they put two vehicles in one pull-through lane) and it was extremely uneven. We spent the night with our slides in because we could not get level in that site. At least we had electric so we could use our AC (because it was hot and humid). Not a fun stay.
The next day we drove about 200 more miles up to Onawa, IA and stayed at a wonderful little RV Park in a tiny little town. We'd definitely recommend On-Ur-Way RV Park if you are ever heading up 29 on the west side of Iowa. We would not have minded staying there longer. Instead we drove for the third day in a row and finally landed at the Grand Falls Casino just outside of Sioux Falls, SD (but still technically in Iowa – you could literally walk across the street from the casino and be in SD). It was a decent stay, but a bit far from anything.
After five nights there we loaded up again and drove across South Dakota. We spent one night in Wall, SD (visited Wall Drug and the Badlands, and wished we'd had more time in the Badlands). We did get to catch an amazing sunset in the Badlands.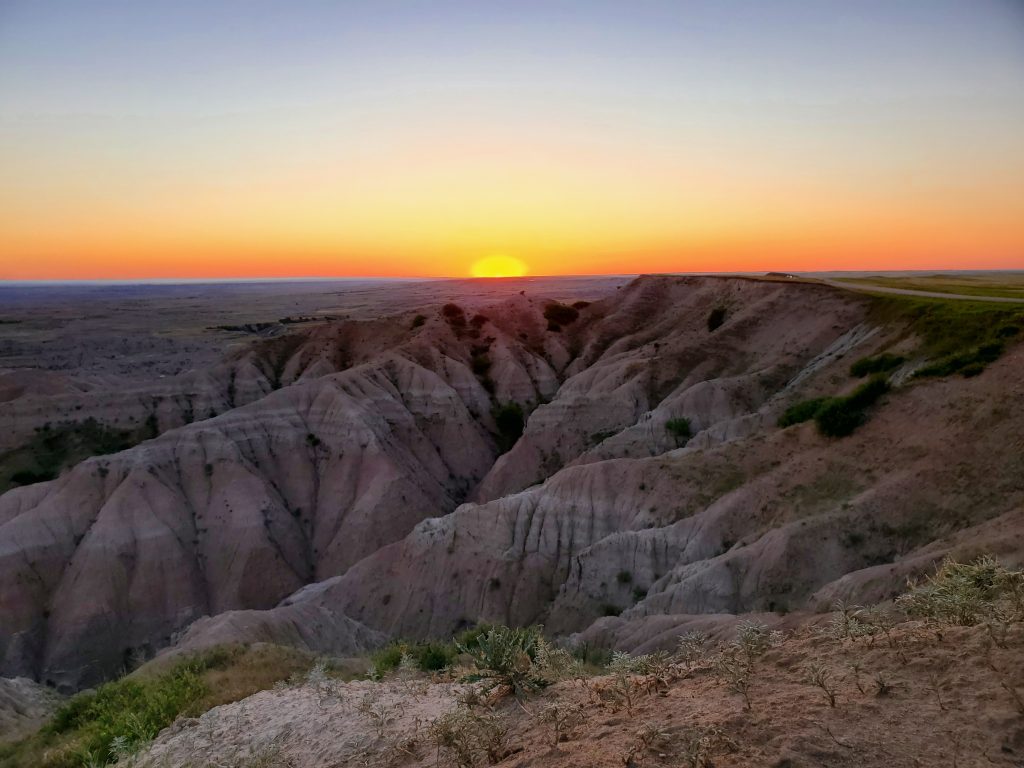 Finally, we finished out by driving another 60 miles over to the Black Hills where we spent two weeks at Elk Creek Resort, finishing out our first month.
I'm tired just typing all that out!
Cost breakdown of first month on the road
We paid an average of $32.30 per night stayed, for a total of about $969 for 30 nights. Not bad and within our original budget of $1000/mo. We don't expect costs to stay this low, especially as we've seen higher costs in SD and expect even higher in CO. The higher costs in CO may affect how long we actually stay there.
We spent about $800 on food during the course of the month. This included dining out on average of once per stop, but mostly we eat at home. We spent just under $600 on fuel, with about $380 on activities and other miscellaneous costs.
Overall, we both agree that this feels a bit high and we'll be working to find ways to reduce our costs where we can. Food and fun are the easiest to control by dining out less often (although it seems like groceries in SD are about as expensive as eating out) and opting for less expensive fun activities where we can (although, we already tend towards free and cheap fun).
While fuel isn't really something we can control the cost of, we will likely see that total decrease as we plan to travel shorter distances and stay in places longer going forward.
What we will do differently.
We will definitely slow down and enjoy every destination a bit more. There will still be occasional single week stops at in-between locales, but we will make those the exception rather than the norm, opting instead to spend at least two weeks at each stop. This will give us a full weekend to enjoy the location, and give us time to rest so that we don't feel quite so rushed or tired.
We will also be driving shorter distances. We started this trip off with the idea that we could do 400 miles in a day, and while we technically can. We pay for it, spending days recovering afterwards (especially, if we travel multiple days in a row). We will limit back-to-back travel days, and also limit our total distance on a single day to 300 miles (preferably more like 250) if only traveling one day (or 200 if traveling two days in a row).
We will be getting a generator and working towards learning water conservation. If we felt we could last at least a full week without needing to dump and/or felt we could manage completely unhooked, it would save us a bit. We could opt for cheaper parks that don't provide sewer. We do plan to get a generator soon that will allow us to at least occasionally boondock, saving even more money.
What we loved!
We loved the chance to see so much. Travel days have their pros and cons. Cons being having to pack up, hook-up, un-hook, etc. But, it's worth it for all you get to see on the road.
Our favorite stop so far was the Badlands. We really wish we'd scheduled more time there and want to return.
We loved stopping in small towns. We prefer those over big cities.
We loved the changes in scenery as we crossed the country.
We loved having our own bed to rest in at the end of the night (even if it and the bathroom were the only parts of our RV we could access with the slides in).