The trials and tribulations of finding the perfect RV mattress. Is there even such a thing?
If only there was one perfect RV mattress that was both light and comfortable for everyone. Alas, there is not. But, we've been searching for that one perfect RV mattress for us since we bought our rig.
From talking to other RV owners and reading various forums it seems that very few RVs come standard with a comfortable mattress. RVs aren't built for full-time living and the mattresses they put in are just one more example of that. It seems most RVs are stocked with the thinnest possible mattress, or something that is as hard as the wood it sits on.
RV mattresses vs regular mattresses
RV-sized mattresses are typically a bit shorter than standard mattresses, sometimes the sizes get even more complicated – with the need for rounded corners, specific heights, or other adjustments. There are a few companies out there that specialize in custom mattresses for your RV. The only problem is you'll be ordering a mattress online that you won't be able to try out first.
Our rig will fit an RV king mattress (which is just about as wide as a standard king but the length of a standard queen). We are fine together in a queen bed, so we opted to downsize to a standard queen, which gives us a little extra room around the bed.
Sleep Number RV Mattress
The previous owners of our rig had upgraded to a Sleep Number mattress. Everyone is shocked that we didn't keep this mattress. This was the second time that I've had a Sleep Number mattress and the second time that I wanted to just throw it out a window. Years ago I'd bought one for my house. It felt good in the store. It seemed so awesome that you could adjust it on each side so that it was the perfect firmness for whomever was sleeping on the bed.
Sadly, Sleep Number mattresses did not live up to the hype. It's basically a glorified air mattress (that's how you adjust the firmness) with foam around the outside (and a foam topper). We had to explain this to so many people as we tried to sell that mattress for next to nothing.
We slept on that mattress for about a month before we decided we'd just bring in one of the mattresses from the house. It was an older mattress but it still had some life in it, and at least we knew that mattress was comfortable. That worked for about six months until the mattress started breaking down. About a month before we were scheduled to depart on our journey, the mattress had reached a point where neither of us could sleep on it comfortably.
After a bit of research, we found the Wilderness RV Mattress company. The price was good, but more important (for a mattress we couldn't try before we bought) was their return policy. They provided a 90-night money back guarantee, AND you didn't have to send the mattress back to them (because how are you going to get that back in a box?). All we had to do was donate the mattress. With any luck, we wouldn't need to worry about it.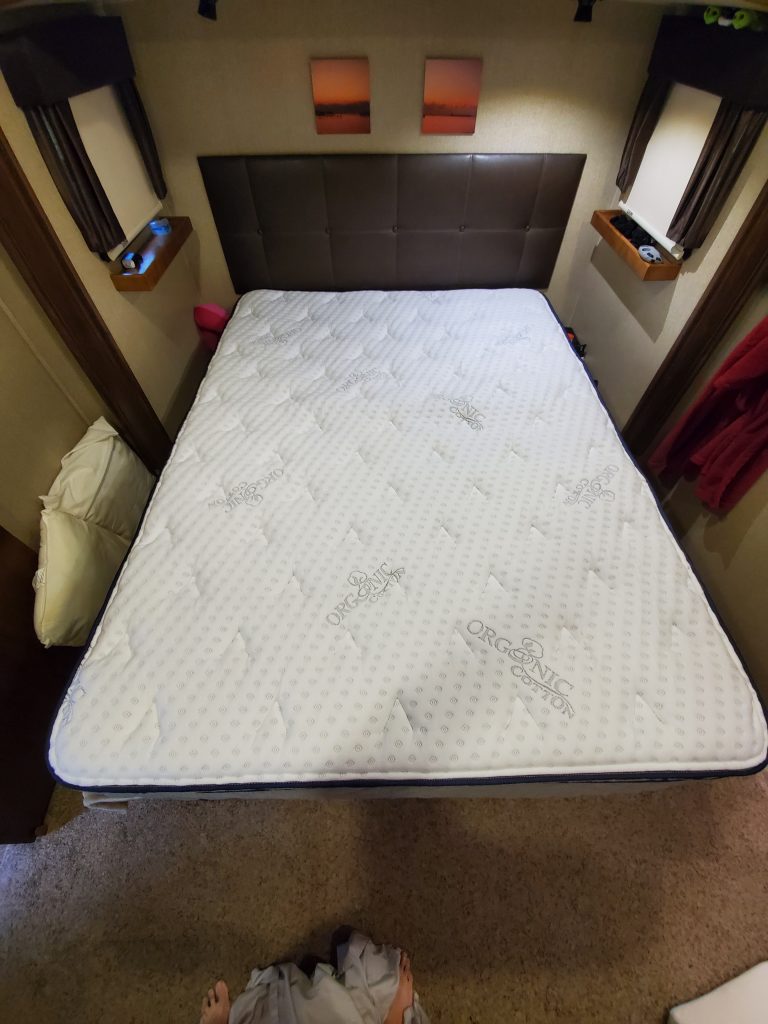 We ordered the 12″ Plush mattress and it showed up about three weeks later (thanks COVID!). When we first took the mattress out of the box it came in and put it on the bed, it felt amazing. So plush! It was so soft and plush, you'd just sink into it.
But, sleeping on it was another story. The first couple of nights on the mattress were terrible for both of us. We attributed it to an adjustment period and the need for the mattress to finish decompressing (after all it arrived folded up into a box about 1/4 the size of the mattress).
A month later, Brandon still wasn't sleeping well and had returned to sleeping on the loveseat, and I was sleeping on the mattress alone, but waking up with lower back pain. It felt like when you laid on your back, despite the super plush pillow-top, your butt would be pushed up forcing your back to arch without any support. Sleeping on your side had similar non-support issues.
Unfortunately, we were already on the road, and the idea of trying to find a new mattress, let alone find where to donate our old one was difficult to wrap our heads around. We didn't want to buy another mattress that we couldn't try in advance. We finally decided we'd head towards Denver where we could stop at IKEA and try their mattresses (and if necessary have access to other furniture stores). We also figured we'd be able to find somewhere that we could donate the old mattress.
After spending about 45 minutes feeling like Goldilocks trying all the different mattresses, finding them too hard or to soft, we found the one that seemed closest to "just right". Why is it so difficult to find a comfortable mattress?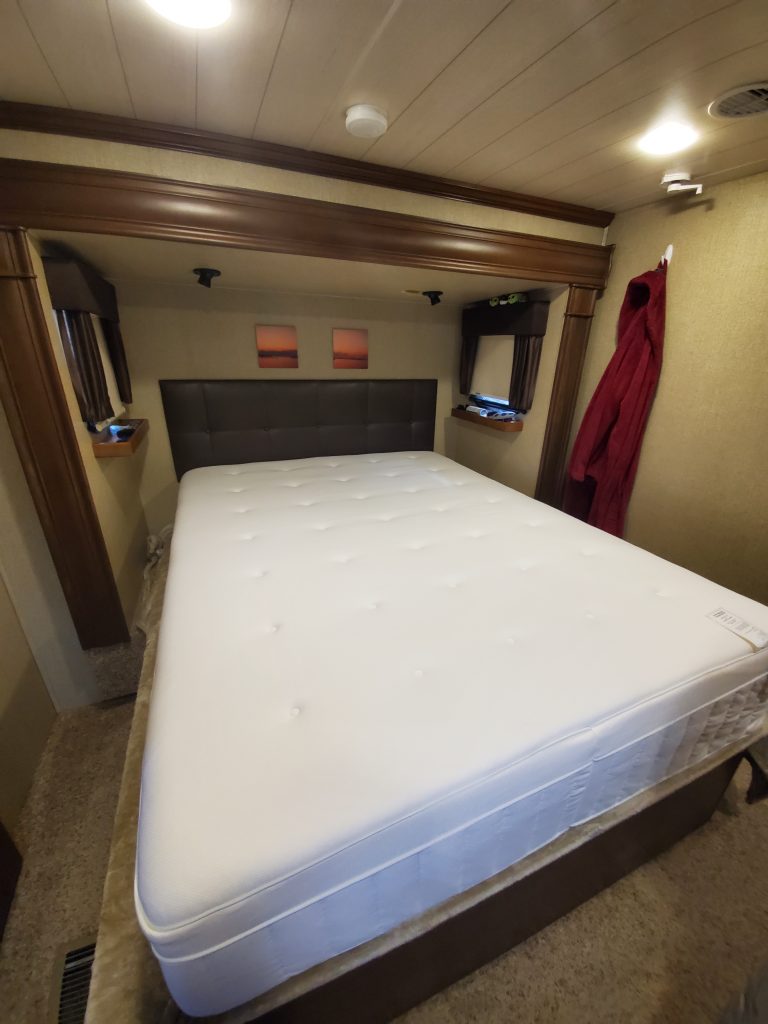 We opted for the Hesstun Eurotop mattress in medium firm. It's a standard mattress, which meant figuring out how to do the transition between mattresses was going to be fun. If it came compressed, we could take it home and wait to open it until after we'd donated the old mattress. But, with a standard mattress we had to figure out how to fit two mattresses in our RV until we could donate the old one.
It was a Sunday afternoon, and the earliest we'd be able to donate the old one would be Monday. If only it had been that simple….
We realized, after the fact, that we'd have been better off to just take time off work one day during the week to deal with the mattresses. But, after spending three hours (30-45 minutes of that was just standing in line to get into Ikea) we were going to take that new mattress home with us and figure it out.
What you should know about donating your old mattress
Donating your old mattress seems so easy, and in theory it is. But, the reality is that many places, like Goodwill where you'd normally donate used furniture and other items, don't accept mattresses. The reasoning is completely understandable. There's no telling what might be in that mattress and before they can sell it they'd have to completely sanitize it. Most thrift stores and donation centers don't have the facilities to do that.
In searching for a place near Denver to donate our mattress, I began to get a little worried until I ran across the Denver Rescue Mission and found that they do accept mattress donations. What I realized was that instead of looking at thrift stores, I should have been looking for services that serve the homeless as they could most likely use the mattress in their facilities.
These facilities are typically only open during typical weekday "office" hours, so consider that in your plan when you go shopping for a new mattress. We failed to do so, buying a new mattress on a Sunday.
Monday rolled around and I called the Denver Rescue Mission and was told that they'd gladly accept our mattress as long as it was in like-new condition, with no stains, rips, or tears. No problem. This thing was spotless. So, Monday afternoon we loaded it up into the truck and drove over to Denver. Unfortunately, between traffic and just not knowing the area we arrived at the Rescue Mission at about 3:50pm (they close at 4). The guys working the dock told us they were full for the day and basically shut the loading dock door in our face. They didn't tell us if they were just done/full for the day or if they were no longer taking mattresses period.
UGH! Now what?
We really didn't want to drive it back over there and have a repeat, so I called the Rescue Mission again just to be sure. It took a couple of days before I finally got someone on the phone that confirmed that yes they were taking mattresses. We figured it was really just a matter of getting there late in the day so Thursday we headed back to Denver early in the day and we were able to drop off the mattress without any issues. In fact, a couple of the guys working the dock said they'd like to have that mattress in their room.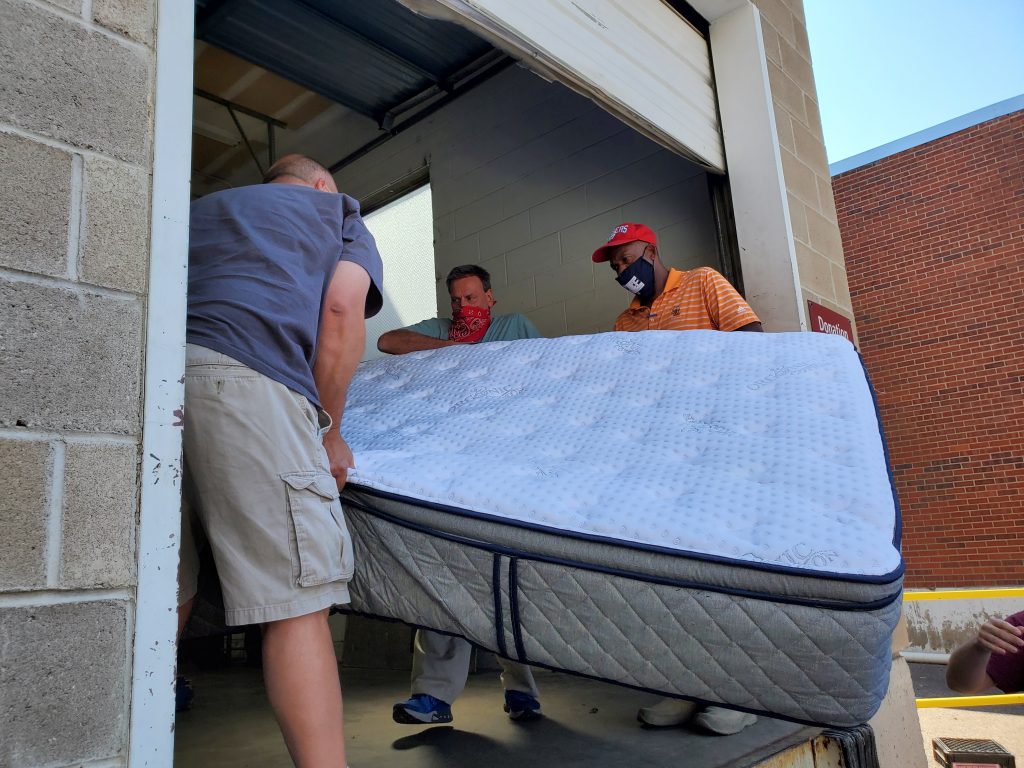 We've had the Ikea mattress for a few weeks now and it seems to be working out well. We are both sleeping well and waking up without extra pain. So, maybe this one can stay with us at least as long as we have this rig.
The one downside is that the mattress is heavier than even our previous standard mattress, which makes getting into the storage under the bed a little more difficult. But, we'll deal.
We'd love to know what mattress you've found for full-time rv travel? Do you have to have a special size/shape?