Our fourth month on the road found us traveling more than we really intended. Where we went, what we did and what it cost us.
We were back fully on the road again for month four, and traveled more than we really wanted to or planned to. Probably because we really didn't plan at all, and what little planning we did seemed to fall apart as we went.
Fourth month by the numbers
Dates: September 23-October 23
4 States
6 Campgrounds
1178 Miles
$2255 spent
If you've not read about our first few months on the road, you can find those posts here: Month 1, Month 2, Month 3. As a summary, We gradually traveled less and less each month and actually sat still through month 3. Month 4 was somewhere between Month 1 and Month 2. We moved just slightly less often and as far as we did in month 1. As a result, we really didn't enjoy this month nearly as much as we should have.
How and where we spent month four on the road
We started month four by finishing off our stay at Woods & River RV Park in Del Norte, Colorado. We really weren't sure where we wanted to head next until shortly before we departed. We originally wanted to head down into New Mexico but even though they had recently loosened their COVID restrictions enough so that we could stop there, campgrounds were still very limited such that we couldn't find a place to stop.
Amarillo TX
With New Mexico off the table we decided to head to Amarillo, TX. We stopped for one night on the way in Clayton NM, before landing at the Silos RV Park in Canyon TX (about 15 miles outside of Amarillo). This small RV Park is located on an old farm and as such is wide open with nothing to buffer the high winds in the area.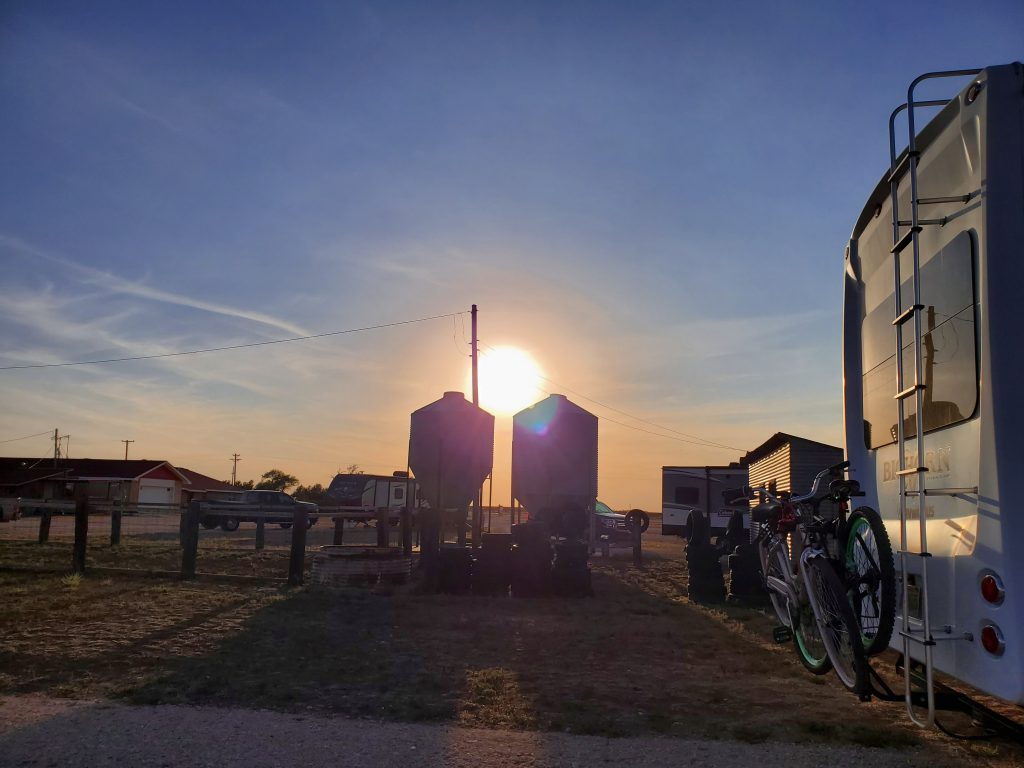 While we were in the Amarillo area we did manage to check out a few key sites including Cadillac Ranch and Jack Sizemore's RV Museum. We also enjoyed an evening in downtown Canyon and a trip to the Bar Z Winery in Canyon.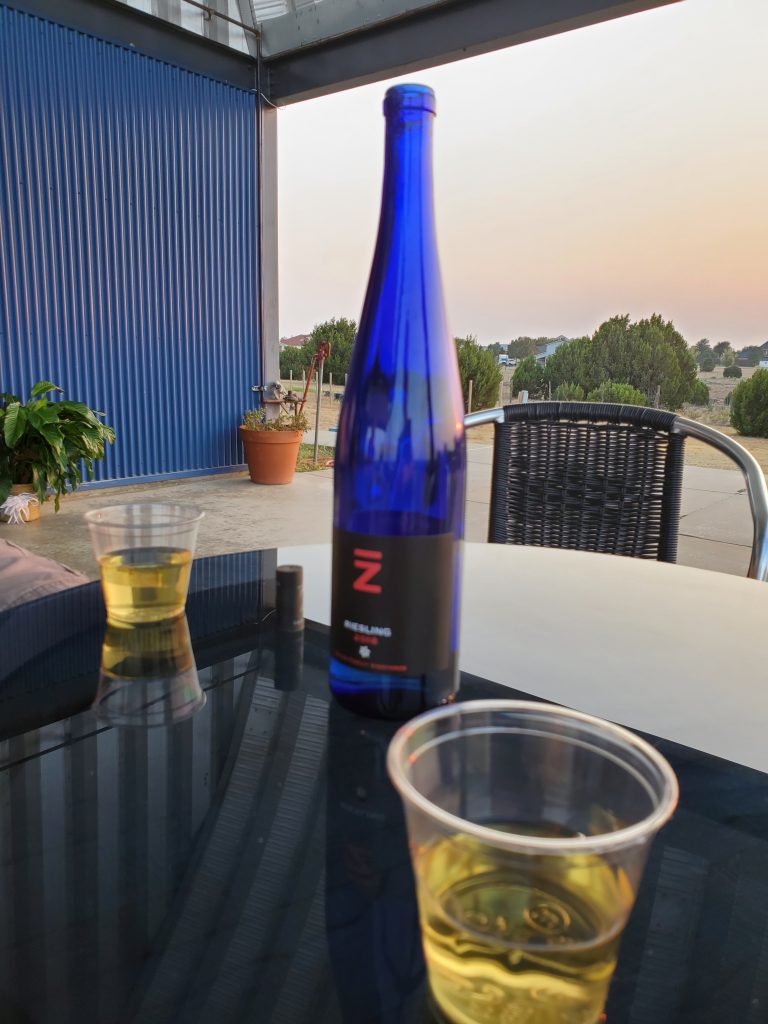 Bowie TX
After 10 days in Canyon we headed south to what looked like it would be a nice stop on a lake in Bowie TX. Unfortunately, we knew we'd made a wrong turn when we arrived. This was the park that made us finally understand what those reviews that complain about parks being full of permanent residents were talking about. We didn't really feel comfortable or even 100% safe, so instead of staying for a week and a half we quickly found somewhere else to go.
Athens TX
Our next stop took us to the southeast of Dallas-Fort Worth to the Texan RV Park in Athens, TX. This RV Park is home to the Big Red Schoolhouse and the National RV Training Academy. We stayed for a week and had their upcoming classes not been full we would have hung around longer and taken a class.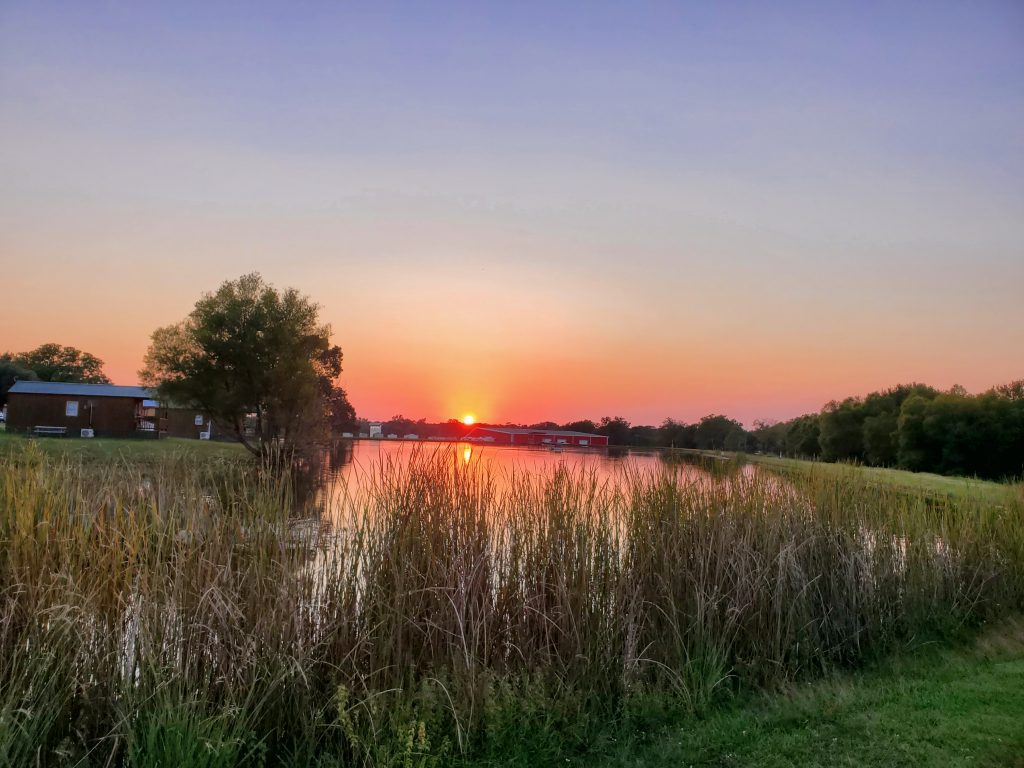 While there, we did find ourselves right in the middle of a Heartland RV Rally. We've not been to a rally before and if it weren't for COVID we might have sought one out before now, and/or been a little more excited to run into this one. As it was, we mostly still kept to ourselves. We did meet a few of the folks who seemed pretty nice (as most RVers are). Then the night before we left our friends, Ely & Tom of TheDoginUS arrived. They were coming in to take the upcoming training class. We wish we could have hung out longer but the park was full with the incoming class, so we had to hit the road again.
We also managed to get out and see a little bit of the surrounding area, taking a day to visit the East Texas Arboretum- a beautiful park, and a local tiny home seller. We enjoyed checking out the different tiny home floorplans and dreaming about what we want if and when we choose to settle down again. Oddly enough we thought most of those tiny homes were still too big.
Hot Springs, Arkansas
We'd had the feeling for a couple of weeks that we needed to head back to Alabama earlier than planned. And, at some point around the time we left Colorado we both started having some stomach issues, so we decided we should push in that direction. We looked at heading straight across Louisiana and Mississippi back to Alabama (the most direct route), but we couldn't find a stop along that route where we felt confident we'd be comfortable spending a week. Instead, we decided to head north again up to Hot Springs, Arkansas.
If you've spent time with us, you've probably heard that Brandon hates Arkansas. It's a running joke following our two previous stays in Arkansas. Our first stay in Arkansas was before we had a rig when we went to Heber Springs for the Workamper Rendezvous event. It turned out to be not quite what we expected and that left a bad feeling. The second stay was in W. Memphis Arkansas (just outside of Memphis TN). Stresses around that trip again left us with bad feelings. We really needed to turn that around.
We found Catherine's Landing in Hot Spring Arkansas and it looked amazing. The price was a bit above what we like to pay, but still cheaper than either of the KOA parks we've stayed at, and it looked a LOT nicer than any KOA park we'd seen. We booked a week with the thought of maybe staying two. We arrived and found it was every bit as nice as we expected, with large grassy sites, riverfront, and tons of amenities. We only ended up staying a week because the only negative the park had was poor cell signal (and while they have free wifi it was just as weak).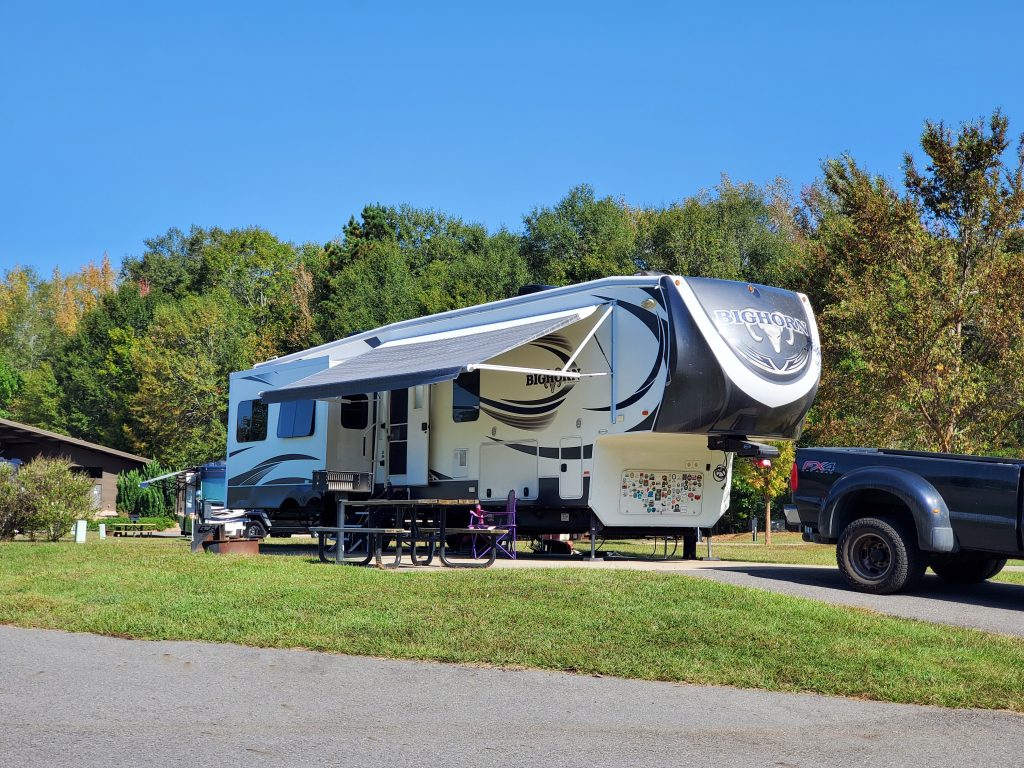 Overall, we really enjoyed our stay there, although we didn't really get out beyond the campground at all. Travel fatigue and the on-going stomach issues left us drained, so we were just happy to be sitting in a comfortable place.
Cost breakdown for our fourth month on the road
With all the traveling this wasn't the cheapest month we've had, but it also wasn't our most expensive month. It was actually our cheapest month that involved travel. With the exception of site rent our expenses were the lowest yet.
Our site rent total was $1019. We had about a week's worth of nightly rates that brought our total up above our $1000 goal.
Our dining out total was the lowest we've had yet, at $290 total for the month. Our grocery bill was almost the lowest we've had at $639 (just a few dollars more than we spent in month 3). Despite how much traveling we did, our fuel cost was the lowest we've had yet at $307. I'd say that this last bit was because we barely left our RV parks, but our first month on the road was very similar in that regard and we only drove a few hundred miles more (yet our fuel costs were almost twice as much).
What we loved
We really enjoyed our stay at Catherine's Landing in Hot Springs and we'd like to return there and actually spend some time checking out the National Park. The worst part of still working while traveling is trying to balance all the things.
We also really loved the Athens TX area and we'll be back there probably early next year to take a course at the NRVTA.
What we did differently
After using the demo/trial version of RV Trip Wizard for a bit, we went ahead and paid for a membership. We've found it extremely helpful in planning our trip, especially when we aren't 100% sure where want to go. The radius feature alone makes the membership worthwhile. You can set minimum, middle, and max distances that you want to drive and the app will show you a radius circle so that you easily see all the campgrounds (and points of interest) within that radius. But, unlike most radius tools you also have the option to use advanced radius that provides the radius based on the roads instead of just "as the crow flies." We put this tool to good use when we were trying to find the best way to go from Texas to Alabama and find good stops along the way.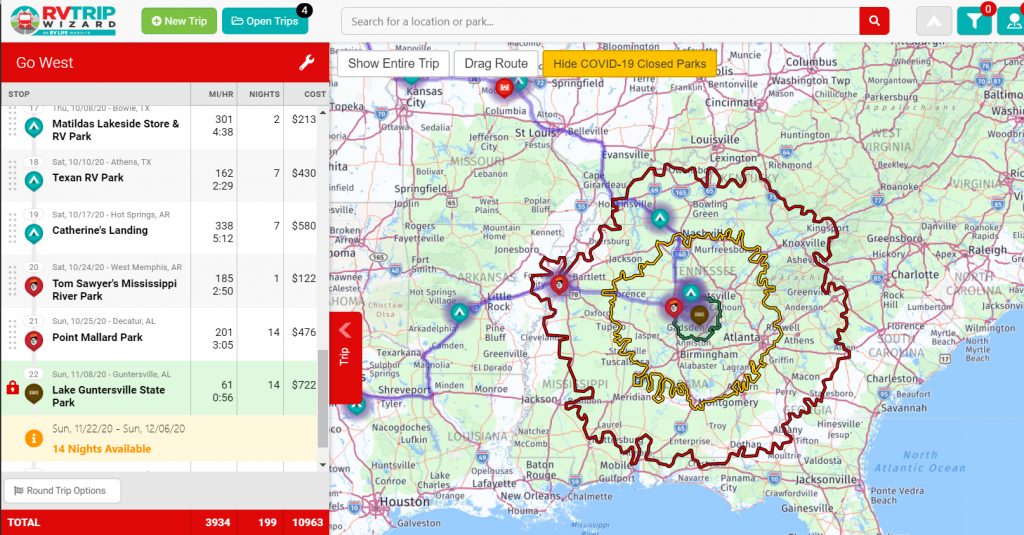 What we would do differently
With hindsight we would have just headed straight over to Hot Springs from Amarillo. But, we're also glad things worked out the way they did and we were able to visit the Texan RV Park and run into our friends there.
We'll dig a bit deeper into reviews in the future to avoid another stop like Bowie. Although, we realize the problem there wasn't that we didn't read the reviews (we did) but that the reviews of that park were combined with the reviews of their attached store, which skewed the overall ratings and reviews. We used both RV Trip Wizard and Google when looking at reviews and we generally find that ratings on RV Trip Wizard tend to skew lower than Google reviews, but at least we know that the reviews on RV Trip Wizard (or Campground Reviews, which is where they pull the reviews for the RV Trip Wizard app) are written by people staying at the actual park/campground and not just visiting an attached store or marina.
What will month five look like?
We'll be back in Alabama for month five (and six). While we'd originally planned to book a monthly site we opted to return to Lake Guntersville State Park and all of their monthly sites were booked (and way in the back of the campground). Instead, we'll stay weekly.
We'll be having a bit of work done on our rig while we are in the area, a key reason for staying in Guntersville rather than closer to our parents (plus LGSP is just nicer than the options closer to Huntsville).