FREE laundry, long pull-through sites, in a quiet farm setting, is what you'll find on this tiny RV park in Canyon Texas.
Headed south out of Colorado into Texas, our first stop was to be Amarillo, however we struggled to find a space in Amarillo for the time we'd be there, so we expanded the area of our search a bit. With a little help from RV TripWizard we found Silos RV Park in Canyon, TX – a small town about 20 minutes from Amarillo.
We love how easy RV Trip Wizard makes it to search a radius around a specific location. We don't mind a little extra drive if it gives us a place where we don't feel as crowded. While there are definitely advantages to being right in the heart of an area (as the main RV parks in Amarillo are), there are also disadvantages (typically tighter spots and more noise). Because we would be staying at least a week, we wanted to make sure we'd be comfortable.
Silos RV Park is a newer park, and very small. However, the few reviews available were good, and we liked that it sat out in the midst of farmland. We hoped that that would equate to a roomier more open feel. Silos is a small RV park with only about 12 sites, so we figured it would also be quieter than the busier parks in Amarillo. And, after spending a month 30 minutes from the closest grocery store, it didn't bother us at all that we'd be 20 minutes from Amarillo.
Booking Our Stay at Silos RV Park
While many of our full-time (and even part-time) peers will only book at campgrounds that offer online reservations. We actually don't mind calling. In fact, most of the time, even if only reservations are offered, we still end up calling just to verify the size of the sites and that the site available will actually fit our big rig. While a few campgrounds do provide the sizes of their sites online, we find that more often than not, that's not the case.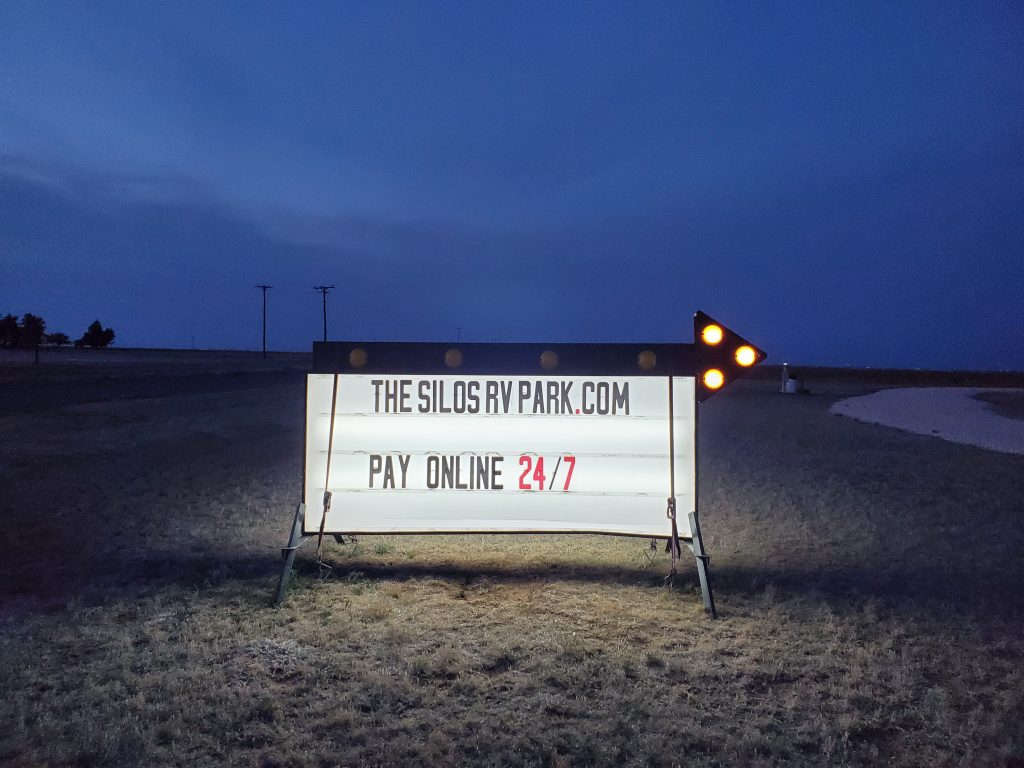 Silos RV Park prioritizes online booking. While you can book by phone, it's not as simple as just giving them a call. Their phone number is not easily accessible on their website. Instead, you have to put in a request on their website and they call you. Our intent wasn't necessarily to book by phone, but we did have a question that their website didn't answer (regarding the ability to receive mail) and as such went through their online form.
They called within an hour, answering our question and we were able to go ahead and book our site over the phone. She informed me that she only had one site left for the duration of our stay, Site 7 – which she said was the best site. From the map we could see that it backed up to the dog park, and opened out to a field (no neighbors on either side!). We booked it. The entire stay was billed to our card in advance.
She then texted me the address where I could have my mail sent and let me know that the camphost would bring it to me (or tape it to my door if we weren't home).
We'd originally only planned to stay a week. However, on the day we intended to depart, we had some issues and decided to extend. The site we were in was only available for four more days, so we booked that time online. When you book online you are billed through Paypal. We paid and thought we were good. However, the next morning around 10:30 I got a text message that our reservation balance was due and if it wasn't paid by 11am we'd incur a $20 late fee. Evidently, when you book online it only charges for your first night (even if you are booking the same day). Evidently, you are charged for one night then sent an invoice for the remaining nights. We found that rather frustrating.
Arriving at Silos RV Park
There is no check-in at Silos RV Park. You simply arrive and direct yourself to your site. The layout is a little weird but we were able to figure out which way to go to get into our site correctly. During our time there, we saw quite a few people drive around in circles trying to figure out how to best access their site.
Our site was as expected. The park is pretty much dirt road and dried grass with burrs. Watch out if you walk through that grass – I caught a burr and didn't realize it bringing it into the rig, only to step on it barefoot later – OUCH.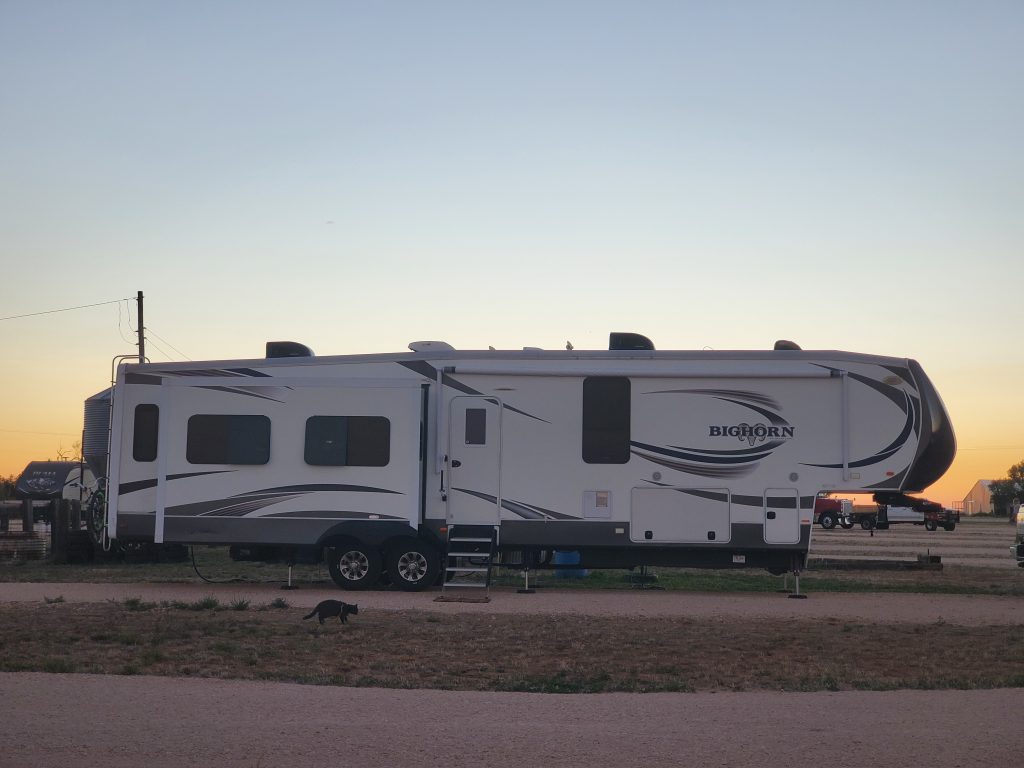 It was extremely windy when we arrived (around 25mph), making setup difficult as we had to fight the wind every step of the way. Thankfully, the wind was blowing from the south, the same direction the nose of our rig was pointed, or it would have made the next week much more stressful.
Once setup we hid inside, from the wind. We figured it was just a temporary thing… it wasn't. The winds stayed extremely strong throughout the course of our stay, limiting any desire we had to even go outside. While we had a nice open area in front of our rig and a great open view, we never really got outside to enjoy it due to the wind. We also didn't get out much in general because we just didn't want to fight the wind.
We don't know if it was just our timing or if it's the area. We have heard from others that that area is just extremely windy. So, it's definitely something to be aware of before you head towards Amarillo/ Canyon. We had maybe three days out of ten when the wind was low enough to spend time outside comfortably.
About the Silos RV Park
There is a camphost on site. His site is labeled with a number to call if you need him. We didn't need to call and only saw him twice during our stay. Once when he came by to tell us that someone was coming to do something about a water leak and our water may be off for a half hour or so. And, again when he brought the mail we'd had sent there.
There is an office in the process of being built. So, I don't know if they intend to have a more involved check-in process at some point or not. At the moment, with COVID, we certainly don't mind and understand a very hands-off approach.
Sites offer minimal amenities. There is a trash can at each site (near the hook-ups) which we greatly appreciated. However, we noticed that ours was never emptied in the 10 days we were there. There was also trash left on the ground from previous campers. There is a community picnic table and fire ring, and I saw mention on a review elsewhere that they do plan to add individual picnic tables once COVID (and sanitizing them) isn't an issue.
The campground offers a large dog run, a small play area for the kids, and our favorite amenity – FREE LAUNDRY!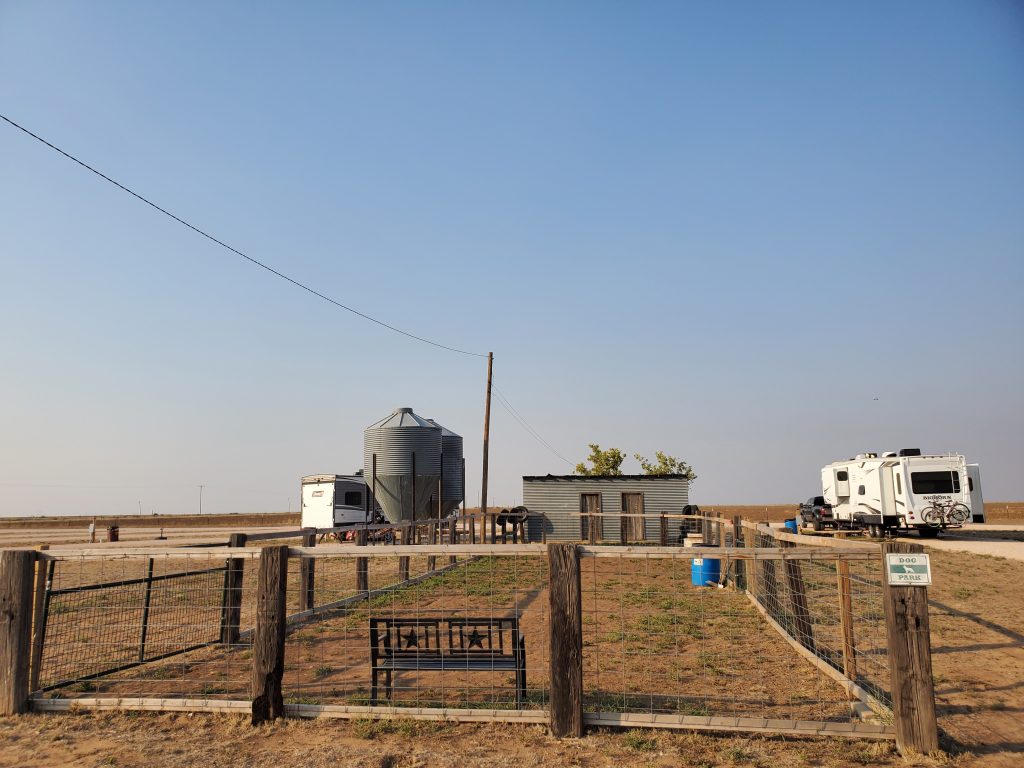 Had we not extended our stay we probably wouldn't have even discovered the free laundry. But, with the extension we had to get some laundry done. I thought I recalled seeing something about laundry on their website, but hadn't seen anyplace that looked like a laundry room. The RV Park shares the property of an AirBnB and I figured it might be in the house – but how do you access it? I returned to the text thread and messaged asking about the laundry. She quickly replied explaining that it was in the mudroom of the house, accessible from the backdoor. There is a sign, but unless you go up to the backdoor you aren't likely to see it.
The laundry machines are nice, new, and over-sized. While we have a washing machine in our rig and usually hang our clothes and towels out to dry. I rely on campground laundry facilities for drying sheets and bedding. I was happy to get caught up on all of that, and even dry our towels for a change.
Pros of Silos RV Park
Free Laundry. If we could name one under-rated perk, this would be it. We really don't use most amenities at campgrounds. Pools, we can take or leave them. We don't have dogs or kids, so dog parks and playgrounds aren't on our radar. Give us a roomy site and free laundry.
Location. The park is off the beaten path, but close enough to Amarillo and downtown Canyon to enjoy the local sites, and get anything you need. Canyon TX has the basics. Downtown offers several restaurants, and groceries are nearby. Palo Duro Canyon is just about 20 minutes away, as is Amarillo TX. There's also a winery in Canyon.

Cons of Silos RV Park
The online booking process needs work. While it's not uncommon to only be charged one night in advance as a deposit. The remaining nights are usually billed automatically at check-in. It needs to be much clearer that you are only being billed for one night and that it's up to you go manually pay an invoice for the remaining nights.
The RV Park is downwind from a feedlot. This probably just comes with being located in the farmlands of the TX panhandle (we really don't know). But, between the heavy winds when we were there and the smells from the feedlot, being outside was just undesirable most of the time.
All in all, The Silos was not a bad place to stay. However, I doubt we'd stay there again. Partly because I doubt we'll be back through that area for anything more than a one-night stop-over.
Where to eat in Canyon, TX
Sayakomarn's Restaurant – aka Soccer Mom's by the locals (LOL). We found this place before we arrived thanks to the Find Me Gluten Free app. Because we eat gluten-free we usually check out our options before we arrive. While FMGF doesn't list every restaurant that offers gluten-free foods, it's usually a good start. We'd been craving some Chinese food for a while, so we were happy to see this place listed and made plans to visit ASAP. They were only open for take-out, but we were not disappointed. It's located on the square in downtown Canyon along with quite a few other restaurants. Downtown is worth a visit even if you don't visit one of the restaurants.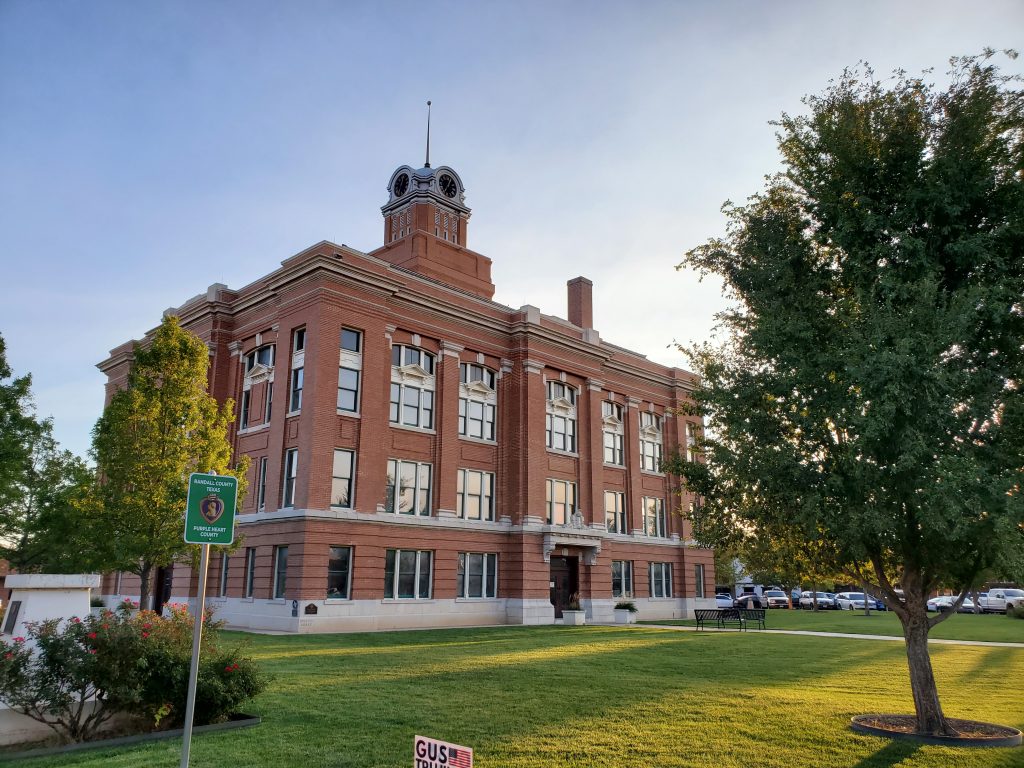 Buff's Diner – Located just across the street from West Texas A&M, it's obvious they draw in the college crowd. Offering up fresh-made burgers as well as huge breakfast platters. We visited for dinner one evening and the burgers are quite awesome, and they do offer gluten-free buns (as well as a Keto burger platter).
What to see in Canyon, TX
Being so close to Amarillo, it's easy to think that that's where everything is. However, one of the main sights on the Amarillo list is actually in Canyon. The Tex Randall statue (aka The Big Texan) is located in the heart of Canyon. This 47' statue was originally built to bring people into a western-wear store. It's since been moved a time or two. He even had his leg amputated by a car (he's been through surgery now and is standing tall again). Tex now stands tall in his own private park and can be easily viewed from the highway.
Palo Duro State Park – Palo Duro Canyon is known as the Grand Canyon of TX. It's second in depth only to the Grand Canyon, with a descent of 800ft. It's hard to imagine that this could be so close as you look around at the mostly flat plains in the panhandle. Unfortunately, we didn't get to visit during our stay, but this is one reason we'd like to return to the area.
Bar Z Winery – Head out towards Palo Duro Canyon and you'll likely see the signs for this winery. Thanks to COVID they weren't doing tastings but we were able to buy a bottle of their Riesling and enjoy it while watching the sunset and chatting with the owner and other customers. We really enjoyed the wine and would have loved to try their other varietals.
Jack Sizemore's RV Museum – This free museum is well worth a stop. Parking is a little tight (as it always seems to be at RV Lots – why do they never have enough parking for an actual RV?), but once you find a spot, head into the store and they will direct you back to the museum, where you can roam freely through many classic RVs, including the Gorneke bus from the Robin Williams' movie, RV.
Cadillac Ranch – this iconic stop is interactive. Feel free to bring a can of spray paint (or buy one at the entrance) and leave your mark on one of the Cadillacs buried in the ground. But, please do take your trash with you when you go. We were saddened to see how many people had just thrown empty (or not quite empty) pain cans on the ground.
VW SlugBug Ranch – similar to the Cadillac Ranch, you can leave your mark. We didn't get to visit this one, but we understand that in addition to the VW Bugs, there are also several old buildings you can explore.
Park Amenities
Free Wifi – no
Pool – no
Hot tub – no
Laundry – yes (FREE)
Showers/Bathrooms – no
Shaded Lots – no
Pull-though Lots – yes
Cell Service – Verizon and AT&T
Park Ratings
I'd love to give The Silos RV Park 5 stars, as I do feel like they are trying to do the best they can with what they have. BUT the negatives were great enough that we didn't feel we could give them more than 3 stars when it was all said and done.
Overall: ⭐⭐⭐
Accessibility: ⭐⭐⭐⭐⭐
Amenities: ⭐⭐⭐
Cleanliness: ⭐⭐⭐⭐
Quality: ⭐⭐⭐⭐
Service: ⭐⭐⭐
Noise: ⭐⭐⭐⭐⭐