Despite zero experience with RVs, we opted to make our first trip one that would span 900 miles. We made a few mistakes along the way, but it could have been much worse.
When we picked up our RV, we instantly set out on our first RV trip. Brandon had at least stayed in an RV (when he was a kid), but Julie had never even spent a night in one. Needless to say, we made plenty of mistakes on that first RV trip.
The good news is that by the time we finally made it "home" with our RV, we felt like pros. Trial by fire will do that.
RV Trip Mistake #1: Toll Roads
The first mistake was made before we even picked up our RV. We drove 900 miles to pick up Bessie, but that wasn't the mistake. On the way down, a fellow RVer on Instagram suggested an alternate route that would be a bit prettier.

We aren't sure if the route we took was the one he actually suggested. But, as we headed south, Google Maps alerted us to an alternate route.

Brandon: Do we want to take this alternate route?
Julie: Will it let us see the ocean?
Brandon: Yes, we do want to take this alternate route!

And thus began our introduction to toll roads. We are thankful we made this mistake on the way down and not on the way back as it would have been about 60% more expensive.

That said, it turned out to be a mistake worth taking, when the toll roads ended at the 7 Mile Tampa Bay Bridge and this amazing sunset over the ocean.
RV Trip Mistake # 2: Not Enough Water Hose
Once we picked up our RV, we drove all of 4 miles away and parked at the nearest RV Park. Seminole Campground was a lovely place, but after spending a couple of hours in the heat installing (and then re-installing) the Anderson Hitch coupler (someone put it on backwards the first time), we were ready to just get hooked up and showered and relax for a bit.

Thankfully, we were able to get a pull-through spot, so parking wasn't an issue. Unhooking was also not an issue. But, it was hot, so after turning the AC on in the rig to get it to cool down, we climbed back into the air-conditioned rig and watched this video from KYD several times to remind ourselves what we needed to do to set up.

We finally felt ready to attempt it, only to discover that one truth Mark mentions in that video is absolutely correct… get the 50′ fresh water hose. We had ordered all our gear off Amazon the week before leaving and only ordered the 25′ Zero-G fresh water hose. It wasn't long enough. We needed about five more feet.

Had we not been tired, frazzled, worn out, and generally feeling a bit over our heads we might have thought to see if we could just hook up and move the rig enough to make our hose work. But, those thought processes weren't working well.

Instead, we headed to Walmart to buy another fresh water hose. Had we had any idea just how nice the park was where we were staying and specifically how nice and huge their private bath/shower rooms were, we would have just made use of those and went to Walmart later. Unfortunately, we didn't discover those until the next day.
RV Trip Mistake #3: Forgot to latch the door
This wasn't a major mistake, but it could have been. We're also pretty sure it's a common mistake so we don't feel too bad about it.

Departing from Seminole Campground was our first real trip with the RV. It was our first time preparing the rig for take-off, including remembering all the little thing. Like latching the door.

In case you didn't know (because Brandon didn't), the handle/grab bar you use when climbing the stairs to enter the RV actually doubles as a secondary latch for your door.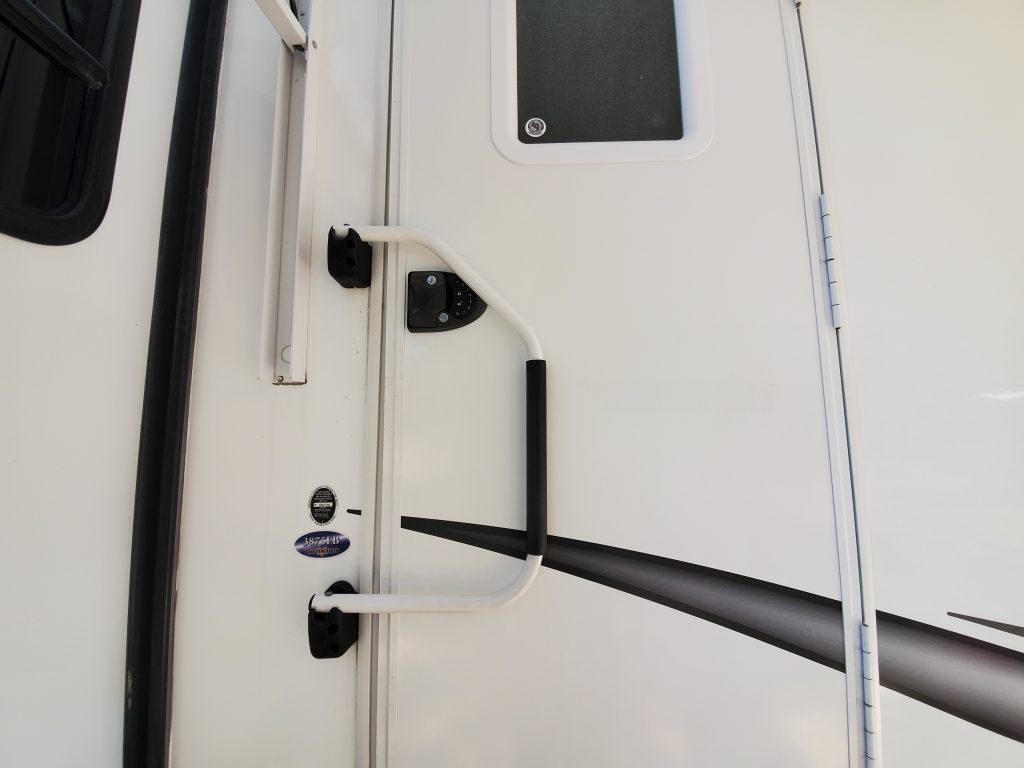 Before you hit the road, that latch should be firmly across the door. That way, on the slight chance that the door lock doesn't hold or isn't fully latched and attempts to come open, the handle latch will prevent it from blowing open (and potentially off) as you drive down the highway.

Thankfully, we didn't make it far before we realized this mistake, as we stopped for gas just a few miles from the campground.
RV Trip Mistake #4: Forgot to strap down the TV
Most RVs have straps that allow you to secure the TVs in transit – especially if your TV mounts allow movement. Our TV mounts definitely allow movement.
Our bedroom TV stays secured because we don't use it (at least we haven't yet). However, we do unstrap the living room TV when we are stopped for anything more than a single night.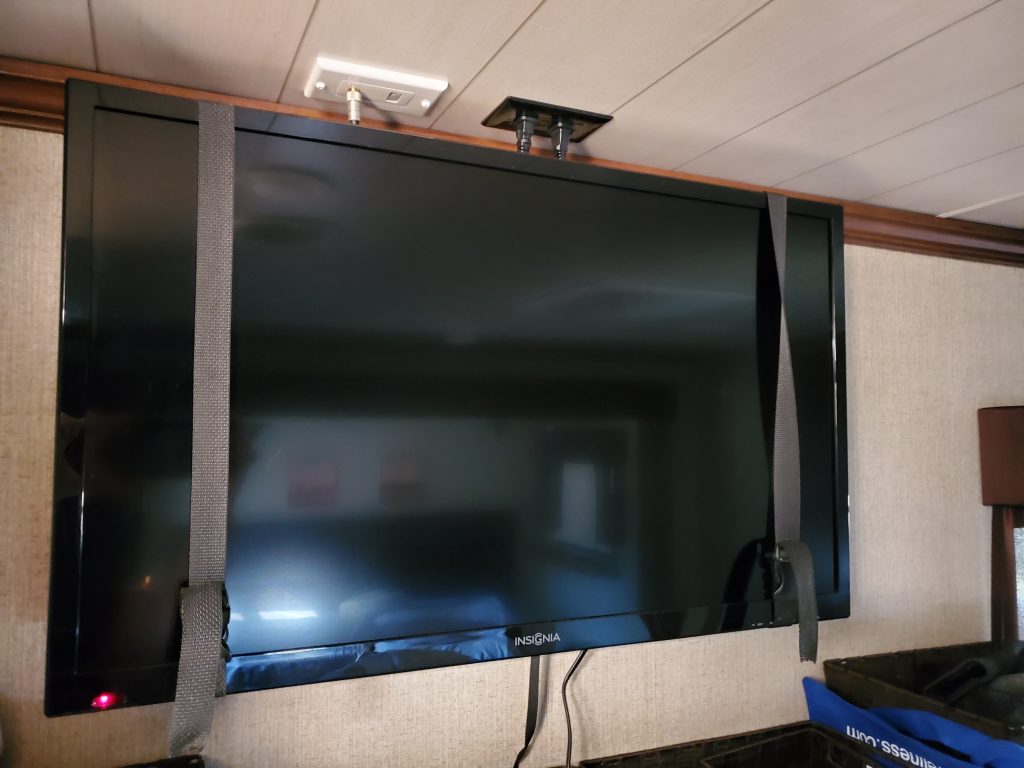 We did forget to secure the straps when we departed Seminole Campground, which meant that the TV was free to move during transit. Thankfully, this didn't hurt anything.

(We've since forgot to secure several items over the course of our various trips, and so far there's not been any real damage to anything. However, we still feel it's best to make sure things are secured rather than take that chance.
RV Trip Mistake #5: Forgot Snacks
The first leg of our journey was a long one, not in length so much as in time. It was actually the shortest leg of our journey in length but somehow it took us longer than any that came after.

We attribute this mostly to general unpreparedness and just not knowing what to expect. That lack of preparedness was most apparent when we got hungry and realized we had no snacks easily available.

When our slides are in our pantry is inaccessible, which meant our food was inaccessible.

In our inexperienced state we weren't really comfortable driving our rig, and tried to stick to truck stops, which don't always come up as often as you'd like. We did try to stop at a Cracker Barrel only to discover that our rig and truck combo are longer than what would fit anywhere in their parking lot (without sticking out in the path of other vehicles).
We were hungry though, so Julie offered to jump in the rig and grab the snacks that we forgot to put in the truck. Only after climbing in did she realized that there's no way to get to the pantry (and thus the snacks) with the slides in.
Hangry ensued.
All in all, we didn't do too bad. Things could have been much much worse along our first journey. And, probably would have been had we not taken the time to learn as much as we could from the many great RV'ers out there already sharing their stories on blogs and Youtube. Thank you to each and every one of you.