Full-time RV travel doesn't always mean moving every week, and in some cases it doesn't even mean moving every month. Such was the case for us during our sixth month of full-time RV travel life.
Our sixth month of full-time travel looked a lot like month five, which looked a lot like sitting still. We actually spent the entire month in a single site in a single campground – one of our favorite places – Lake Guntersville State Park.
As we shared in our month 5 update, we headed back to North Alabama at the end of October due to some health issues. We had planned to be there for the month of December for the holidays to see family, visit doctors, and to get a few maintenance issues taken care of the rig. And, that pretty well summarizes how the month of December was spent.
Month 6 by the numbers
Dates: November 25-December 25
1 States
1 Campgrounds
0 Miles
$2950 spent
Where we spent our sixth month on the road
Every bit of our sixth month was spent at Lake Guntersville State Park in Guntersville, AL. In fact, while we expected to have to move sites several times during our stay, we actually managed to stay put in a single site for the entire month, thanks to the amazing workampers at the park.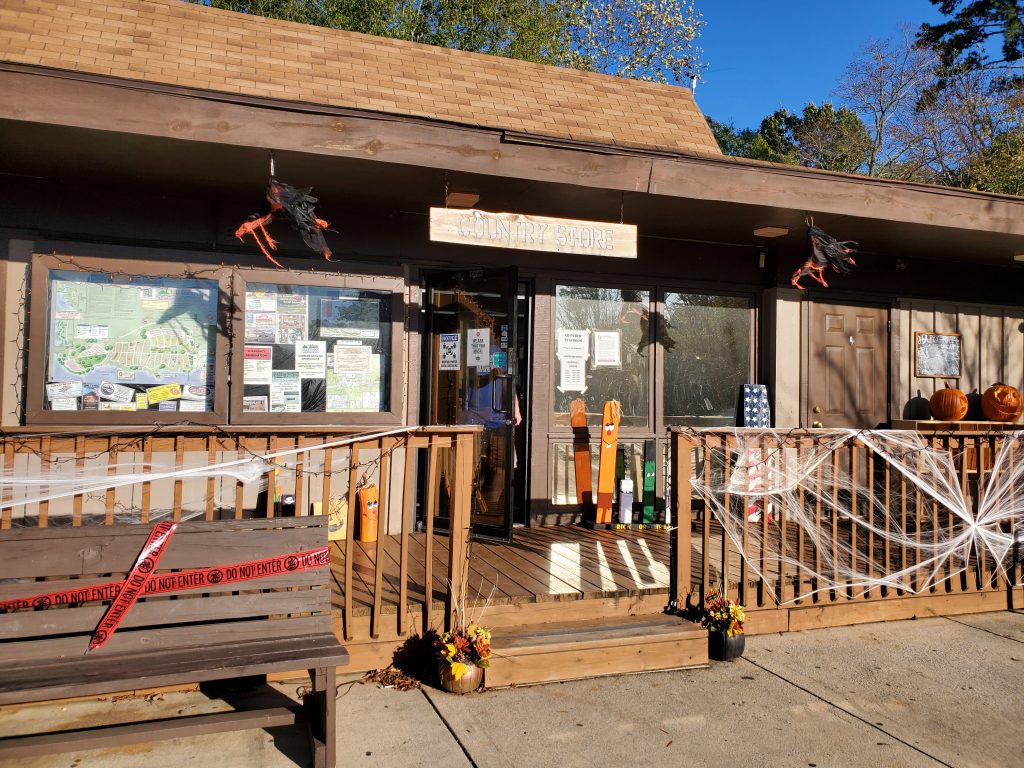 When we arrived at Lake Guntersville State Park at the beginning of November we had a reservation for three weeks and we figured we'd extend from there as we went. Once we got settled, I checked online about securing the week of Thanksgiving only to find that the entire campground was booked! We were not expecting that. There were a couple of 30amp sites available but they weren't really big enough for our rig.
Knowing that the folks in the office there are amazing, and having spent a night in overflow last Spring due to a reservation kerfuffle we figured if nothing else we could spend the holiday weekend in overflow (there's 50amp hookups and water but no sewer). As we were making arrangements to make that work, someone called and cancelled on a site we knew we could fit in, so we snagged it. While talking to the folks in the office we discovered that the park had a new rule limiting your stay in any one site to two weeks. This was a bummer as we'd really hoped to be able to sit still during our stay.
When we returned to the camper I jumped back online and booked sites out for us through the holidays, just to be safe. As planned we moved the Wednesday before Thanksgiving, but when we went up to the office to get our new parking permits they gave us hope that a monthly spot may be available for December.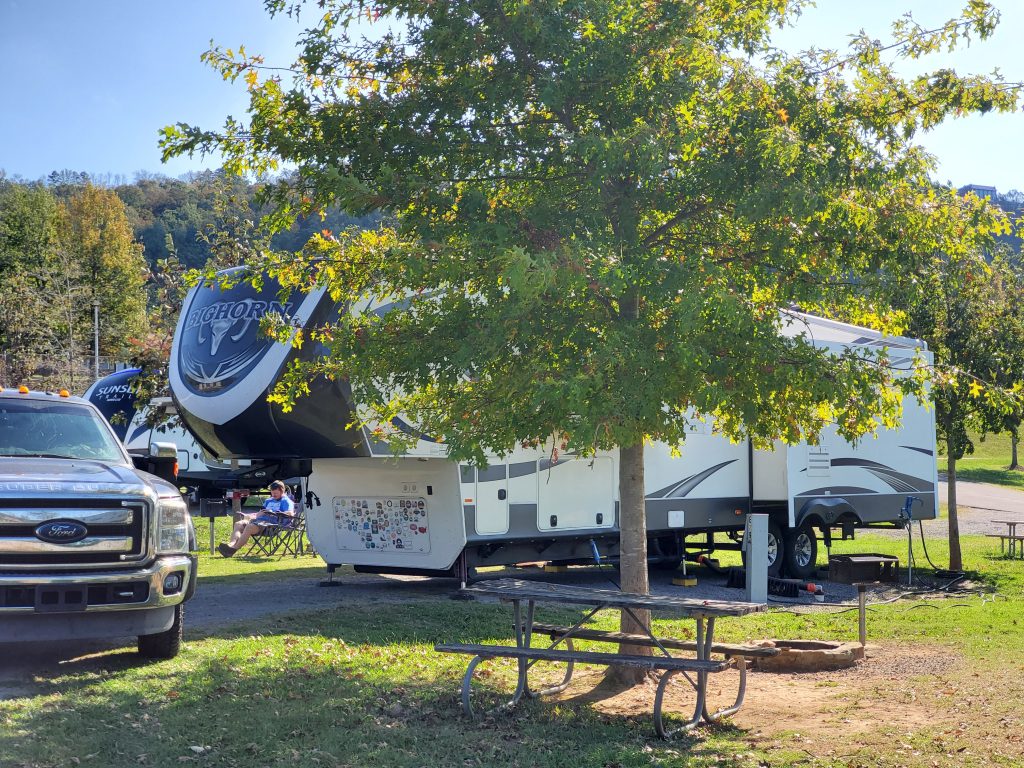 In prior years they had allowed any site to be rented monthly during the winter, but it didn't seem they were going to do that this year. However, someone was leaving and they were going to do their best to make it work so that we could get a monthly site for December. Thankfully, the man in charge decided as of the beginning of December to allow us to book any site monthly again, so we were able to just stay put in the site we'd moved into just before Thanksgiving, giving us a welcome holiday gift.
Cost breakdown of month six
Not considering RV repairs and maintenance, this was our cheapest month so far.
Our total site rent came out to $775 (the first 10 days of the month cost us about half that thanks to the difference in paying daily/weekly vs the monthly rate).
Our grocery bill came in at $748, despite having our groceries delivered by Instacart almost exclusively. We definitely see a bit of an increase using Instacart, but the lower grocery costs in Alabama (compared to out west) still kept our total grocery bill lower. And, the decreased stress of not having to deal with driving to the grocery store (which was about 25 minutes away) and the crowds definitely made it worthwhile.
Our dining expenses were almost non-existent. With Covid-19 spiking we made the conscious choice to avoid dining in at restaurants and only picked up take-out a couple of times. Taking that into account, I'm surprising our grocery bill wasn't actually higher.
Fuel costs were also extremely low since we weren't on the road, coming in at $150. We only filled up once the entire month.
The big expense was once again maintenance and repair, but we expected that – again that's a huge part of why we were back in North Alabama. Total cost of repairs and maintenance $1200 (this included some big repairs we had completed, two service calls, and parts to do some smaller things ourselves.
Without those repairs, this would have been our cheapest month on the road to date (coming in at $1745).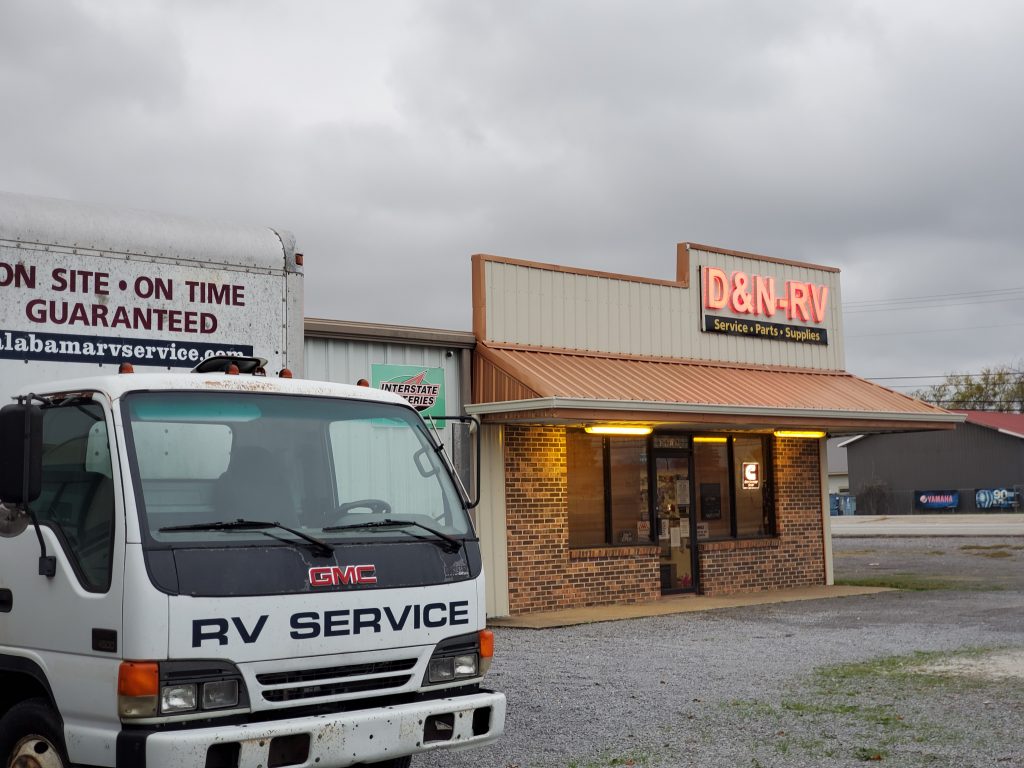 RV Repairs and Maintenance
The bulk of the $1200 we spent on maintenance and repairs went to repair/replace the basement door that was damaged last spring. The replacement finally came in so we had it repaired. At about midnight the night before we took it in our power suddenly flipped off for no reason. Of course, it was below freezing that night. Once we realized that we were the only ones without power, Brandon checked things out and ended up swapping out our power extension. The next morning we saw that it appeared that the extension we'd been using had shorted out, leaving scorch marks on our power plug (the one that actually goes into the rig). So, we had them check that out while we were there.
When we moved sites just before Thanksgiving, we noticed that it looked like something was leaking. We couldn't find the source so we called for an on-site visit. That cost us a couple hundred more and they found nothing. We believe it was simply where we'd put our water filtration system in the basement and it leaked, but at the time we didn't see the water in the basement. We've since purchased caps for the inlet/outlet valves and we put it in the back of the truck when moving just to be safe.
Additionally, we stocked up on some basic plumbing items at Lowe's so that we can do some general repairs and upgrades as needed. Our initial plan was to add a bidet to the toilet. And, while we did figure out how to make it work, it was going to be ugly, so we decided to wait until we either upgrade the toilet (to one without the rise in the back so a bidet attachment will fit properly) or find a different bidet attachment.
Even though the bidet plan didn't work out, buying those items turned out to be fortunate when on Christmas eve we found water in the bathroom floor and realized that the valve was not shutting off. Brandon was quick to install a shut-off on inlet pipes and then we just swapped out toilets since we aren't currently using the other one anyway.
What We Loved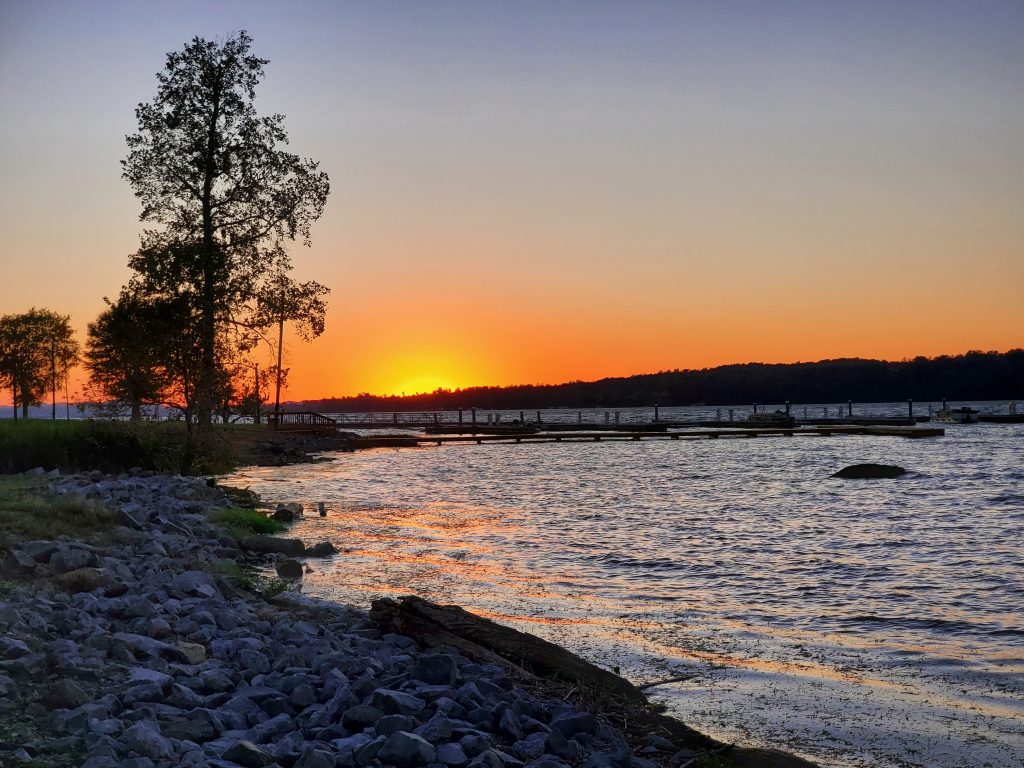 We loved every one of the amazing sunsets that Lake Guntersville blessed us with. We never tire of this view. And, we especially loved how quiet and empty the park is during the off season. They picked up on holiday weeks, but otherwise we were often one of only three campers in our entire section.
We also really loved being able to just sit still. We really don't know how some of y'all do it moving as often as you do.
What we did differently
We upgraded our fire! We are not the type of campers to have a fire every night. Do any full-timers do that? But, we do love a good fire on occasion. But, we hate the process of finding and dealing with firewood. We hate the smoke. And, unless the temperature is just perfect or we are hanging out with friends we rarely last more than 20 or 30 minutes, so it just feels like way too much effort.
As we traveled this summer, a fire wasn't even an option at most parks (even if it had been cool enough outside to bother). Most parks didn't have fire rings, there were burn bans in Colorado, and even when the park allowed a fire, finding firewood was usually a hassle we just didn't want to deal with. Oh, and in most states it's illegal to bring firewood in from out of state. So, we really didn't have many fires as we traveled.
While we were in Texas we saw someone with a very small propane firepit and we knew that was the answer! Even better was finding out that they aren't as expensive as we would have guessed. We ordered an Outland fire bowl that came with a cover, extra rocks, and a carrying case, and we love it. It's perfect for the two of us, and so easy to start that neither of us feels at all bad if we start it just to sit out there alone for 20 minutes. Others have suggested creating a reflective shield to focus the heat even better.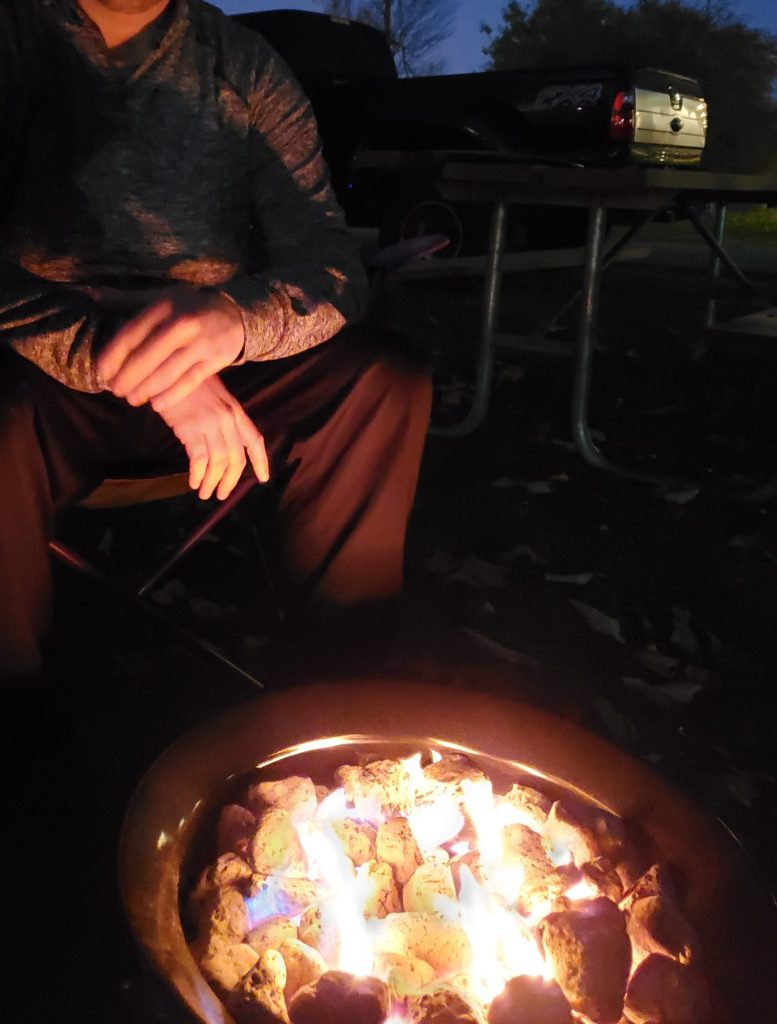 What we learned
Our biggest takeaway from the past month is that RV maintenance and repairs aren't nearly as difficult as we've made them out to be. RV maintenance has really scared us. Most of us grew up in sticks & bricks and just learn basic maintenance as we go through life. It's just there and we absorb it. If not, it's easy to find the answers because it's commonplace. RV maintenance isn't as common. Often, when we've sought out answers on Youtube they aren't really clear, they assume certain things, or they are specific to one particular type/ brand of product. But, even despite all of that there's a lot that overlaps.
We'd had a lot of debate about resealing the outside of the rig. Brandon thought it should be done one way based on how he'd understood what our RV tech had explained to him, and I (based on Youtube and watching other people) thought something else. It turned out we were both right. Our RV tech had given us the "ideal" way to do it – if you're 100% resealing everything. But, rarely is that what's needed… we really just needed to touch up spots as we went. Same with RV plumbing, the flexible pipe and Shark Bite stuff threw us for a loop because it was new and different. But, the reality was that when we finally decided to just do it, it wasn't a big deal.
What's next for us?
Month seven will put us back on the road. First, we'll head to Tuscaloosa, AL (Roll Tide!) for a week or so. From there we head back to Texas and the Texan RV Park, where we'll take RV Fundamentals at the NRVTA and hopefully become even more comfortable and confident working on our own rig.
We plan to stay there for a month, but with Covid-19, who knows what will actually happen.